Maybelline Lip Smooth Color & Care – Cherry Review, Swatches, LOTD
Product Claims: Refreshing tinted Lip Balm
Discover active moisture in tinted balm! Dry lips are usually dull, resulting in an uneven finish when colors are applied.
Lip Smooth Color & Care helps to repair dry lips thanks to its natural ingredients:- Jojoba Oil, Safflower seed oil.
It also contains Vitamin E to protect your lips from external aggressions.
Your lips will become more moisturized, soft and supple.
Color spreads evenly and gives your lips a subtle shiny tint.
Your lips look and feel renewed, luscious, incredible soft and smooth.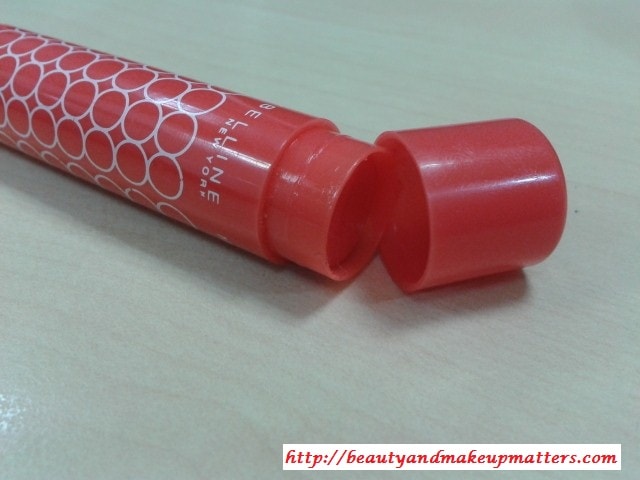 Ingredients:- It has huge ingredients List.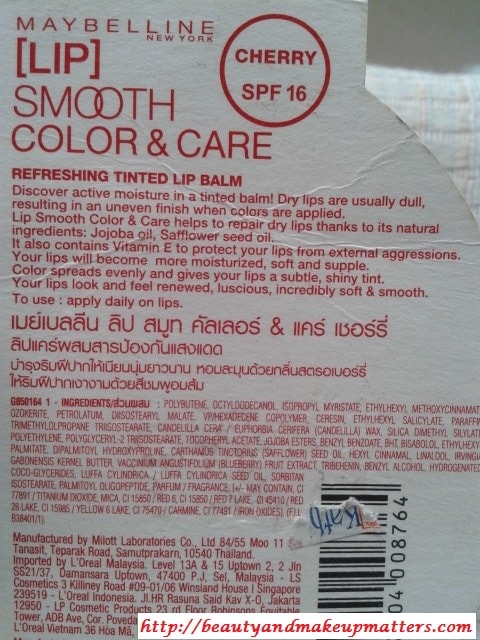 Price:- Rs.110 for 4.5 gm
Shelf Life:-  30 months from the Mfg date.
Available in 6 different flavors/Tints:-
Dolly Rose
Rose red
Mandarin
Cranberry Jam
Strawberry
Cherry (Under Review)
Packaging:- The lip balm is packaged in transparent plastic which  pasted over a cardboard paper which carries information about the lip Balm. The paper is colored with the similar Red color as the tube which signifies the Tint of the balm. The name of the Flavor/Tint of balm is specified at the bottom of the tube. The lip balm is in the form of twist tube with a small cap which is similar to the LipIce Lip Balm-Blueberry packaging.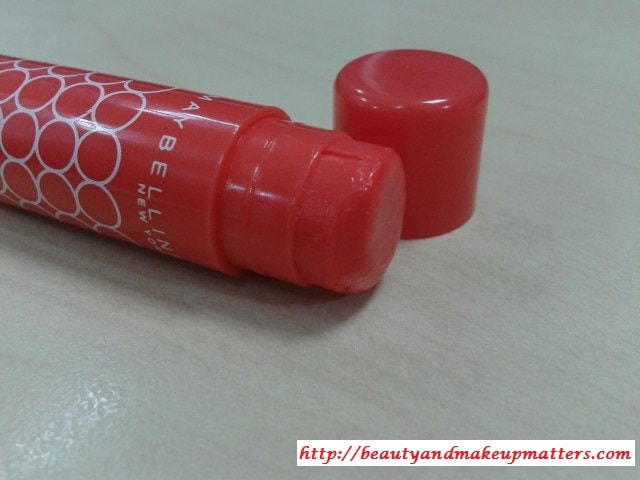 My experience with Maybelline Lip Smooth Color & Care – Cherry:-
When I removed the cap I was surprised to see the color of the lip balm. I was expecting it to be a clear balm with some tinting properties but it came out to be pinkish-red stick matching the color of outer packaging.
Texture/ Finish:- The texture of balm is smooth and light which glides easily on the lips. It doesn't give a glossy finish unlike Maybelline Bloom Lip Balm  but definitely adds a little shine to the lips. It is non-greasy, non-sticky lip balm which keeps my lips moisturized.
Pigmentation/Fragarnce:- The balm however is not very pigmented and gives a very light barely there pinkish tint to my lips. The lip balm doesn't smell of Cherry as the name signifies but has a delicious strawberry smell which I am fond of.
Swatches:-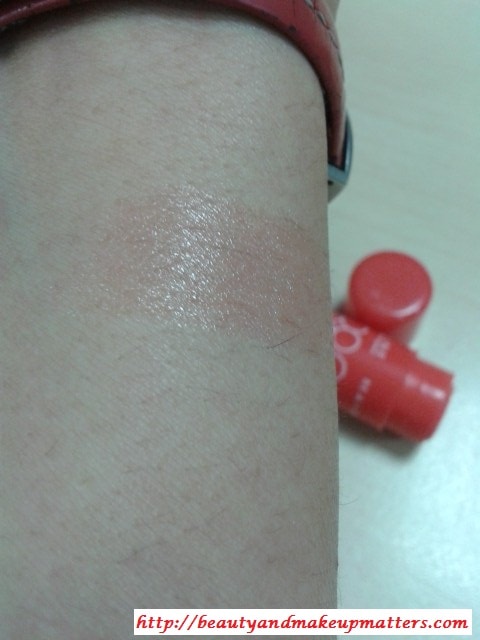 Staying power:- The staying power of the balm is good as it stays for 3-4 hours without food. It goes slightly waxy but not gooey which increase its staying power and provides moisture to my lips for longer durations.
Effect:- It has smoothened out my lips and made them soft. Lips don't feel dry even after the lip balm is gone. It gives a natural looking color to the lips which I like. It light non-greasy texture makes it a good daily wear lip–balm.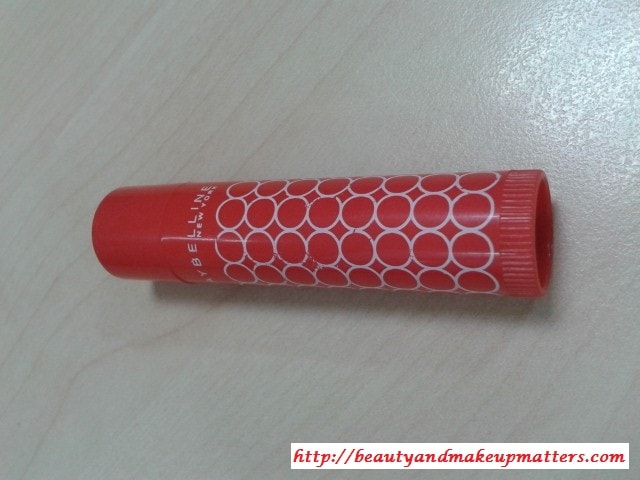 LOTD:-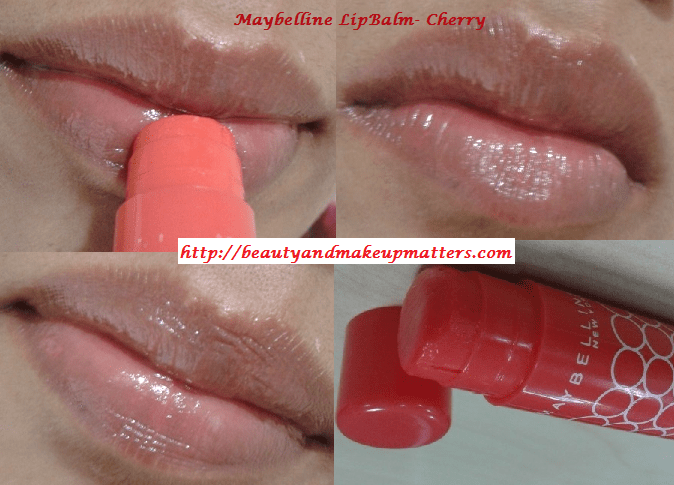 Pros of Maybelline Lip Smooth Color & Care -Cherry:-
Non sticky texture
Easy to use twist up tube type packaging which is easy to carry and reapply.
Outer packaging carries the color of the tint so it's easy to sort the stick out of the stash.
Has a mild yummy Strawberry fragrance.
Affordably priced
Contains SPF-16 to protect lips from tanning and sun –rays
Contains Vitamin E and Natural Oils which helps in moisturizing and retaining it
Available in 6 different flavors/tints
Cons of Maybelline Lip Smooth Color & Care -Cherry:-
The Maybelline Lip smooth lip balm -Cherry goes clear and barely give any tint to my slightly pigmented lips.
Recommendation:- The Maybelline Lip Smooth Color & Care – Cherry comes in small tube which is really cute and I love to move the balm up and down just like that. It is non-greasy, non-glossy and moisturizing lip balm. It is a must have for all those who prefer lip-balms over glosses or have dry or chapped lips.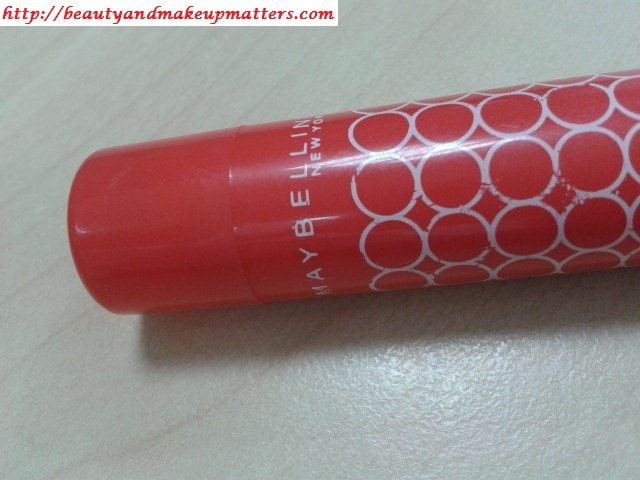 Rating:- 4/5
Have you tried Maybelline Lip Smooth Color & Care Lip balm? Which is your favorite flavor?