Hit Or Miss: Maybelline Lip Gradations
Hello Dolls,
Today, I will be reviewing the latest lip products in the Indian market from Maybelline, "Maybelline Lip Gradations" . These are marketed as Color Blur lipsticks in the States but here they have launched it as Lip Gradations. I got hold to 2 shades from the collection and let's see if I do find them good enough the hype, Maybelline Lip Gradations.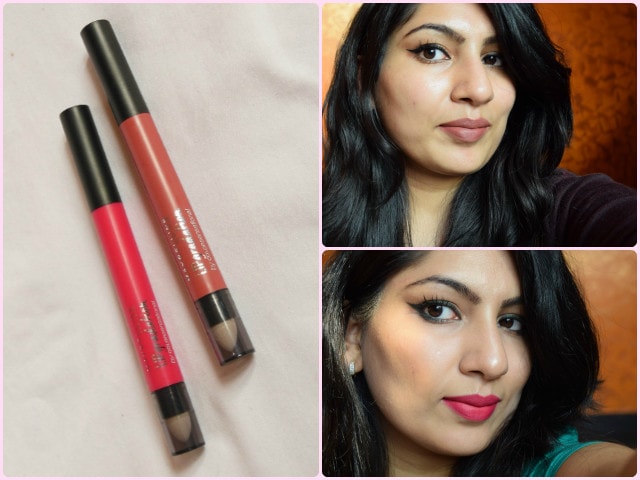 You can check the video review here 😀
Product Claims: A little more about Lip Gradation: NEW COLOR SENSATIONAL LIP GRADATION
Go Bold Or Graded And Sexy On Your Lips With The New Color Sensational Lip Gradation. It's time to experiment with your lip makeup.
For the sexy, bold and adventurous woman, Maybelline New York brings international trends with the newest Lip Gradation. Available in 8 bright, matte shades, this double-sided lip product will inspire you to experiment with your looks and bring out your unique style and personality.
The color stick at one end will give a gorgeous pop of color while the cushion blender tool at the other end will give a sexy, graded look. For a complete trend-on look, apply color on the centre of your upper lip and use the sponge smudger to extend the color to the outer edges till the contours of your lips or use it as a matte lip color or a lip liner.
Here's why you will love it:
8 bright, matte shades
Easy to apply
Fun, flirty, versatile way to color your lips
Innovative product with cutting edge technology
For Best Results: Apply Lip Gradation in the center of lips and blend outwards using the cushion blender.
Shades Available:
Red 1
Red 2
Pink 1
Pink 2
Fuchsia 1
Mauve 1
Orange 1
Coral 1
Price: Rs.500 for 1.13 gms
Shelf Life: 3 years from the Mfg date.
Packaging: Maybelline Lip Gradations comes in a plastic color coded, retractable pencil type packaging which is slimmer than most of the lip crayons in the market. It has a sponge tip at the bottom to blend in the color on the lips in case you plan to do ombre lips. I find the packaging really good as it is easy to use and travel with.
My experience with Maybelline Lip Gradations:
Shade: Maybelline Lip Gradations doesn't have very tempting names and are just tagged as pinks and reds based on their color category. I got Pink2 and Mauve1 which I feel are the prettiest from the collection.
Pink2: This is definitely one of the prettiest pinks I have ever tried on my lips. It is not the regular fuchsia pink but has a bright pink with slight berry tones which looks stunning on warm indian complexions. It looks like a neonish pink but very wearable. If you are into pinks that this is a must have.
Mauve1: Contrary to its name, it doesn't have any mauve undertones but is a pretty brownish nude which again looks very flattering on Indian skin. I have struggled to find a good nude but this one just hit that spot for me. Love it!!
Formula:
These Lip Gradations are super creamy and buttery so they glide on really easily on lips and gives an even coverage to the lips. I love that they apply smoothly and doesn't fill in fine lines or catch lip flakes like most of other lip crayons do. They made my lips look very smooth and nice.
Pigmentation:
Both the colors are richly pigmented and just one swipe of the color gives an opaque coverage, covering all the pigmentation I have on the lips. To make the color look even better I go for 2 swipes. I have tried layering the color on lips with multiple swipes as well and I loved that it didn't look cakey or goopy on lips
Finish:
I absolutely love the soft Matte finish of these lip gradations. Though they have a creamy formula but give a smooth matte finish on application. They feel slightly drying after 1 hour of application but are not super drying on lips and fare better if you have moisturized your lips in advance. They never turned flaky on me like other matte lipsticks do (read MAC Matte lipsticks) and I love these even more for that
Longevity:
This thing can actually make or break your love for these lip gradations because they don't last long. They have creamy texture which will transfer on the slightest touch to lips, so anything that comes in contact with lips is going to be stained with the lip color you have on lips. They last around 6-7 hours on me and even more if I don't eat anything. I have seen that they last better when they are left untouched for 30-40 minutes post application as it let the color set to some extent and hence less transfer
Recommendation: Maybelline Lip Gradations are retractable lip colors with a lovely packaging and some gorgeous shades to choose from. The formula is super creamy and pigmented which goes on really smoothly on lips giving an even and opaque coverage in a single swipe. They have a soft matte finish but the formula is not super drying on lips. The only drawback is that they are not transfer–proof and transfers very easily when touched, though if you let them untouched initially they will last better. On me, they last for 6-7 hours if I don't have anything or be careful when eating. Overall, I am a big fan of the finish and shades I have from the collection, Pink2 and Mauve1, a Hit for me.  Recommended!
Rating: 4.5/5
Don't Miss to Checkout:
Have you tried Maybelline Lip Gradations? Which one is your favorite shade?