My Issues with Maybelline Instant Age Rewind Concealer
Hello Gorgeous,
Let's talk about the most raved about concealer from Maybelline, Maybelline Instant Age Rewind Concealer. I know it is still not available in India but I have seen so many bloggers/youtubers raving about it that I couldn't help but ask a friend to pick this up for me from US. I so wanted it to work for me… but I find out few things about t that most of the bloggers didn't even mentioned.. so lets see what all are these!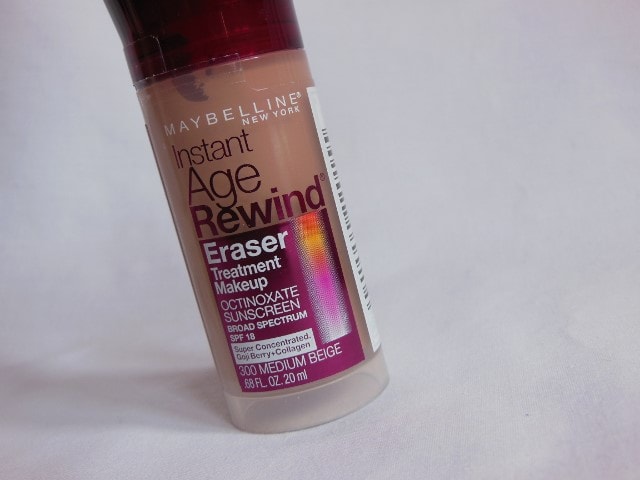 Product Claims:
Why You'll Love It
Patented Micro-Corrector Applicator micro-fills and smoothes imperfections on skin's surface
Super-concentrated formula with Goji berry and collagen reduce the appearance of fine lines and wrinkles
SPF 18 sunscreen helps protect skin from sun damage
Clinically proven effectiveness.
* 7 years of research, 5 patents, doesn't just cover; after 8 weeks of use reduces imperfections without makeup on.
Available in 12 perfecting shades
Direction for Use: For Best Results
Apply foundation directly to face with the Micro-Corrector Applicator, blending in an outward motion as needed.
The Eraser is protected with an anti-microbial system.
To clean the applicator, wipe off excess foundation with dry tissue only. Do not wet applicator.
For optimal results, apply Instant Age Rewind® Primer Skin Transformer before application.
Price: $7.50 /Rs. 450 for 20ml
Packaging: Maybelline Instant Age Rewind Concealer / Eraser Dark comes in a transparent, plastic tube with a twistable packaging and a sponge-bob head to apply the product. The sponge is nice and soft but over the time I feel it will be a little bit unhygienic to use, so I removed it and applying the concealer directly from the tube.
My experience with Maybelline Instant Age Rewind Concealer:
Texture: Maybelline Instant Age Rewind Concealer / Eraser has medium thin texture which spreads really nicely and feels very light on skin. I love how it blends into the skin with the slightest effort.
Coverage: The concealer provides light –medium coverage to me and does cover slight redness of acne marks, and around the nose but it doesn't do much for the under eye dark circles. If you have severe dark circles you definitely have to use an orange corrector or pick another concealer for better results.
Finish: The concealer dries to a natural powdery finish which is god and also holdup pretty well throughout the day.
My Issues:
I love the texture and blendability of the concealer but it has pink undertones which doesn't do much for my warm Indian complexion.
I got in a 2nd Darkest shade from the collection but still it has prominent Pink Undertones. I don't know why but I never seem to come across this point in any of its reviews. I so wish I had some yellow undertones but sadly.. No!
The color selection isn't great and if you are darker than NC42 ( MAC)  you wont be able to find your match for sure.
It doesn't do much for under eye darkness and needs to be set with a powder to avoid creasing because owing to its creamy formula it settles in fine lines pretty quick.
I have a dry skin and I feel it does better over a nicely moisturized and primed skin or it starts looking dry and patchy.
I am not a fan of such sponge tip packaging because they lead to wastage of product and are also unhygienic to use.
The brightener or neutralizer shade from the collection might be a better pick for brightening purposes as I don't feel like recommending it for under eye concealing on warm Indian Skintones.
As I got the Shade Medium Beige which pretty close to my skin tone except the fact that it doesn't have any yellow undertones, I am using this as an eye primer over the lids or for spot correcting on my face and it is doing a decent job. You can see it in action in my Makeup Tutorials videos on Youtube, don't forget to subscribe though.
Rating: 3/5
Don't Miss to Checkout:
Have you tried Maybelline Instant Age Rewind Concealer? Which is your favorite Concealer?