Maybelline HyperGlossy Electrics Eyeliner Lazer Green Review
Hello Everyone,
Black as an eye liner is a must but it can be boring at times and that makes me look for some colored eyeliner. I have got few of the colored eye pencils in my collection but if we talk about liquid Eye liner I have none. There are very few options available for liquid colored eye liners in India and most of them doesn't perform well on lids and lacks pigmentation. But today I have a gorgeous colored liquid liner from Maybelline Electrics range, Maybelline HyperGlossy Electrics Eyeliner Lazer Green.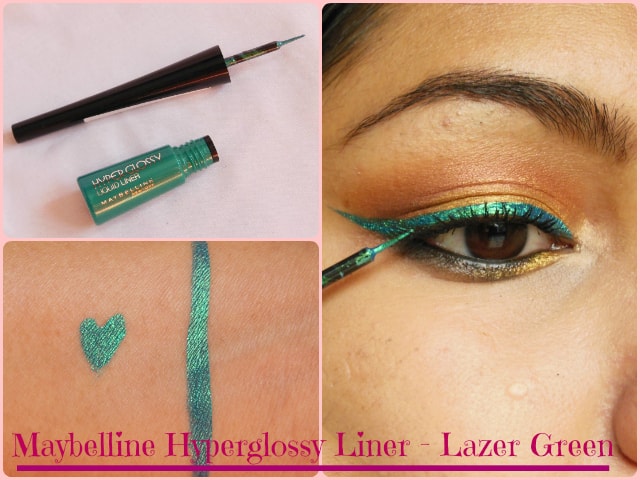 Product Claims: Get electrifying eyes with MNY Hyper Glossy Electrics Liquid Eyeliners
Straight from the runways, the Maybelline Hyper Glossy Electrics shiny liquid liner adds mesmerizing colour to your lids.
Infused with the Hyper reflective polymer technology and liquid metal combination, this dazzling liquid eyeliner imparts a striking electric sheen that lasts for hours!
Available in five eye-catching, trend-setting shades like Violet Volt, Lazer Green, Gold-lation, Electro-shock and Silver Trance, this shiny electric liquid liner lets you create interesting looks for your eyes everyday!
 Here's why you'll love it:
Delivers dazzling, electric hues that make your eyes pop
Comes in five super-glamorous shades
Is easy to apply and delivers color in a single stroke
Intense, electric shine lasts for hours
Price:- Rs. 275 for 3 gms
Shelf Life:- 3 years from the Mfg date.
Shades Available:
Lazer Green
Electro Blue
Violet Volt
Gold-ination
Silver Trance
Packaging:- Maybelline Hyperglossy Electric liner has the same packaging as the black one with a sleek bottle and long applicator handle but this time the they have colored bottoms which makes it easy to identify shades, hence no chances of confusion while picking up the shades.
My experience with Maybelline Hyper Glossy Electrics Eyeliner Lazer Green:-
Shade: Lazer Green is a vibrant peacock green shade with a duo-chrome metallic shine. The liner has ultra fine blue and golden shimmers blended in the formula that gives that striking bluish glossy sheen. The liner reflects more blue tones in sunlight and appears greener in white light. The shade is like brighter version of your regular forest green eye liner but can be pulled off with ease.
Texture: Maybelline Hyperglossy Liner has a slightly runny consistency but thin brush picks up the right amount to draw eyes easily. The liner gets applied smoothly giving an even coverage and can control the thickness of the eyeliner with much ease.
Pigmentation: The color payoff is excellent and it goes absolutely opaque in single swipe. I go for another coat just to even out the application. It sets super-fast to a beautiful metallic finish with a glossy shine. It does crinkle and gives slightly crushed metallic look after drying down.
Staying: The liner has an impressive staying power as it easily lasts for 6-7 hours on me with some fading from inner eye corners. On super-watery eyes it might get completely removed from the corners. If touched or stretched the liner will crack and flake but otherwise it stays pretty much intact on lids with no significant transfer to crease area. The formula is not water-proof but the formula doesn't bleed rather flakes out when comes in contact with water, so no raccoon eyes even if you wear it on a rainy day!
Don't Miss to Checkout:
Pros of Maybelline Hyper Glossy Electrics Eyeliner Lazer Green:
Bright Metallic bluish-green shade
Excellent pigmentation
Thin brush gives an easy application
Dries quickly
Lasts for 7-8 hours on me
Removes easily
Sleek packaging
Pocket friendly price
Available in many shades
Cons of Maybelline Hyper Glossy Electrics Eyeliner Lazer Green:
Gives a crushed foil like finish if layered
Flakes on inner eye corner
Slight transfer on super oily lids
Recommendation: Maybelline Hyperglossy Electrics Eyeliner Lazer Green is a gorgeous bright metallic teal green liner with a glossy metallic shine. The formula is immensely pigmented and the thin brush gives an easy application. The liner dries quickly and wears well for 6-7 hours, though it fades from inner eye corners on water eyes. The formula is not water-proof so on super-oily lids some might experience a bit of transfer on crease area but that also makes the liner easy to remove. Overall, a great pick if you are looking for affordable colored eye liners. I already have it in Gold shade and love it. Highly Recommended!
Rating: 4/5
Have you tried Maybelline Hyperglossy Liner Lazer Green? Do you prefer metallic liquid liners over pencil eye liners?