Maybelline HyperGlossy Electrics Eyeliner: Gold-lation Review
Hello Everyone,
Are you glued to gold or metallics on eyes this season?  I am and even more after stumbling upon this gorgeous metallic gold eye-liner. This new launch from Maybelline, Maybelline Hyper Glossy Electrics Eyeliner looks so amazing and made me drool over the gorgeous shades it came up with. I actually wanted to get all 5 shades, but have to resist till I test the quality of one of these metallic eye liners. So, today I am reviewing my first electric gold eye liner, Maybelline Hype Glossy Electrics Eyeliner – Gold-lation.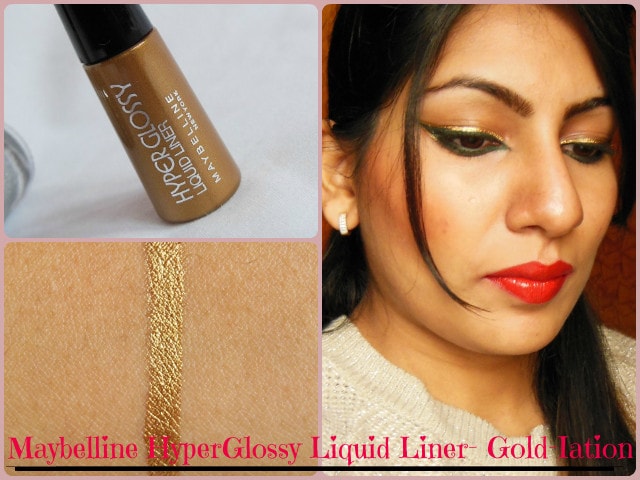 Product Claims: Get electrifying eyes with MNY Hyper Glossy Electrics Liquid Eyeliners
Straight from the runways, the Maybelline Hyper Glossy Electrics shiny liquid liner adds mesmerizing colour to your lids.
Infused with the Hyper reflective polymer technology and liquid metal combination, this dazzling liquid eyeliner imparts a striking electric sheen that lasts for hours!
Available in five eye-catching, trend-setting shades like Violet Volt, Lazer Green, Gold-lation, Electro-shock and Silver Trance, this shiny electric liquid liner lets you create interesting looks for your eyes everyday!
 Here's why you'll love it:
Delivers dazzling, electric hues that make your eyes pop
Comes in five super-glamorous shades
Is easy to apply and delivers color in a single stroke
Intense, electric shine lasts for hours
Price:- Rs. 275 for 3gms
Shelf Life:- 3 years from the Mfg date.
Shades Available:
Lazer Green
Electro Blue
Violet Volt
Gold-ination
Silver Trance
Packaging:- Maybelline Hyperglossy Electric liner has the same packaging as the black but this time the they have colored bottoms which makes it easy to identify shades, hence no chances of confusion while picking up the shades.
My experience with Maybelline Hyper Glossy Electrics Eyeliner Gold-lation:-
Shade: Gold-iation is a gorgeous bright yellow based gold with fine shimmers milled in the formula which gives the liner that pretty metallic finish. The shimmers are ultra-fine and well blended in the formula that they doesn't feel at all during application.
Texture: Maybelline Hyperglossy Liner has a runny consistency but it gets applied smoothly. The thin brush picks up enough quantity to draw eyes in one go and the bristles are so firmly packed that you can draw thinnest of the liner effortlessly.
Pigmentation: The color pay-off is excellent and it goes almost opaque in single swipe but I for a second one for maximum impact. It sets in a beautiful metallic finish with a glossy shine. I was happy to see that it doesn't crinkle or give that crushes metallic look after it dries down.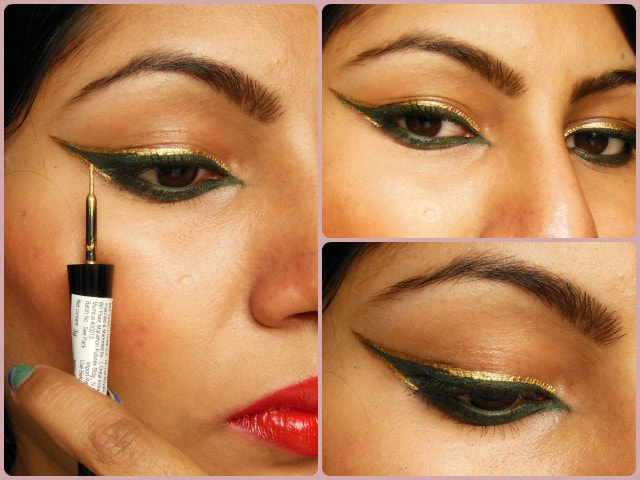 Staying: Being a liquid liner it lasts long on my eyes, well almost till i remove it. I do not experience any fading but on super-oily lids it might fade lightly towards the end of the day. The formula doesn't smudge or bleed, so you needn't worry about it. Once the liner is set, you are done for full day/
Pros of Maybelline Hyper Glossy Electrics Eyeliner Gold-lation:
Metallic bright gold eye liner
Good color payoff
Dries quickly
No fading or melting
Lasts for 8-10 hours on me
Great Quality
Doesn't flake
Affordable price tag
Available in many shades
Cons of Maybelline Hyper Glossy Electrics Eyeliner Gold-lation:
I couldn't think of any .. 😛
Recommendation: Maybelline Hyperglossy Electrics Eyeliner Gold-iation is one of the prettiest yellow-gold liner, with superb metallic shine. The formula is brilliantly pigmented and it goes absolutely opaque in 2 swipes without giving that crushed metallic look on eyes once it dries down which is common in metallic liquid liners. I have been looking for such metallic gold eye liner for long and I am happy that my favourite drugstore brand "Maybelline" came up with this. I am planning to add rest of the shades from the range in my collection too.. :D. Highly Recommended!
Rating: 5/5
Have you tried Maybelline Hyperglossy Liner Gold-iation? Do you prefer metallic liquid liners over pencil eye liners?