Maybelline Hyper Glossy Liquid Liner Black Review
Hello,
A decent black liquid liner is one that was missing from my vanity. Since the arrival of colored eye pencils from Faces I rarely use basic black shade on eyes but at times I do want to go back to basics. I got a Faces Long Wear Eye Pencil in Solid Black which is an intense black liner but I couldn't draw thin lines with it and winged style eye liner seem impossible. So, I ordered Maybelline Hyper Glossy Liquid Liner in Black to start my second innings with liquid liners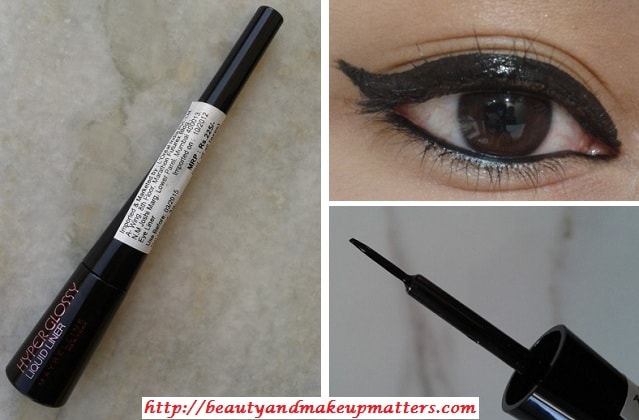 Product Claims
Glossy Intense Finish
Smooth &  Precise Application
Water-proof, Smudge- proof
Price:- Rs.225 for 3gm
Shelf Life:-  30 months from the Mfg date.
Packaging:- The hyper glossy liquid liner is housed in a cute plastic bottle with a long elongated handle. The packaging is similar to Lakme Fantasy Shimmer Eye liners with a difference that Maybelline one is a classy black from head to toe unlike Lakme Fantasy which have a golden handle. The glossy black packaging of the eye liner goes well with the name.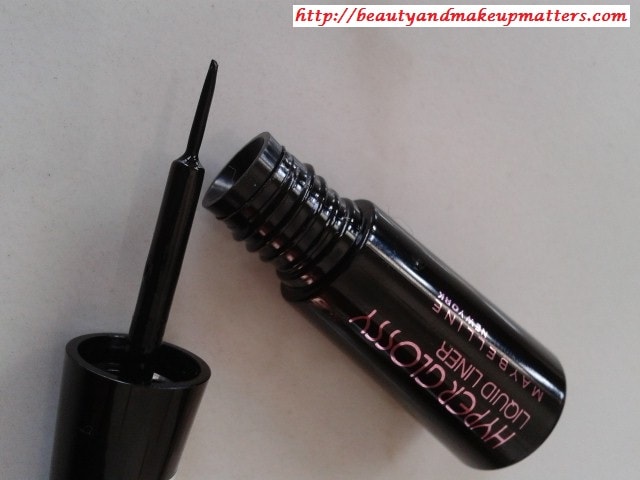 The brush is small and extremely thin which would make it easy to draw thin lines you would have ever dreamt off.
My experience with Maybelline Hyper Glossy Liquid Liner Black:-
Hyper Glossy Liquid Liner Black is an inky black eye liner with runny consistency but not watery. Formula is good as it doesn't sting my eyes even when applied closest to the lash line unlike Lakme liquid Eye liners (Shimmery Fantasy Midnight Moon, Nine To Five Olive) which gives a terrible stinging sensation when applied close to lash line.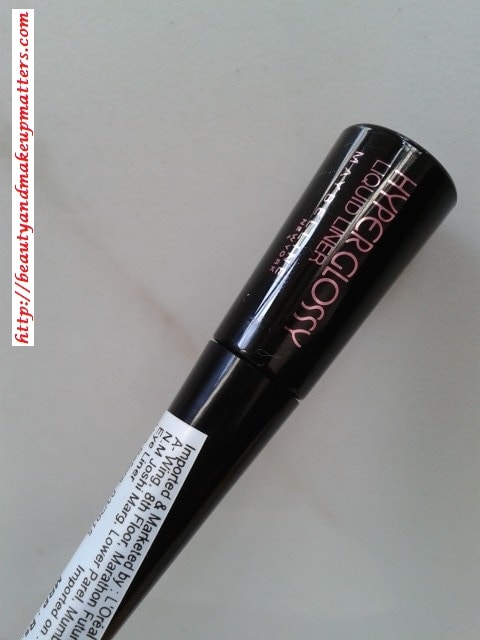 The liner liquid is incredibly pigmented and gives an even opaque coverage in single stroke, though I need to dip the brush times 3-4 times in the bottle for complete look.
Swatch:-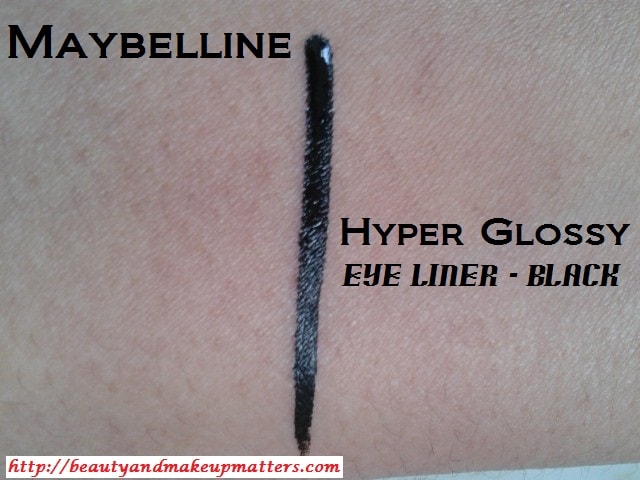 The skinny brush gives precise control and drawing thin lines is damn easy with this liquid eye liner. The liner doesn't dry instantly unlike Lakme Liquid liners and take its own good time to set completely. Due to its relatively high dry time I would suggest not to apply too much of the liquid at one go which makes it more prone smudging and get clumsy
Once set the liner starts reflecting light which give it a glossy shine. The lines won't fade or smudge during it wear but I wasn't at my best with this. It felt heavy and gave slightly uncomfortable feel like there is something on my lids. The liner lasts long but may flake a bit after 5-6 hours of wear if you have used thick coats
Don't Miss to Checkout: 
EOTD –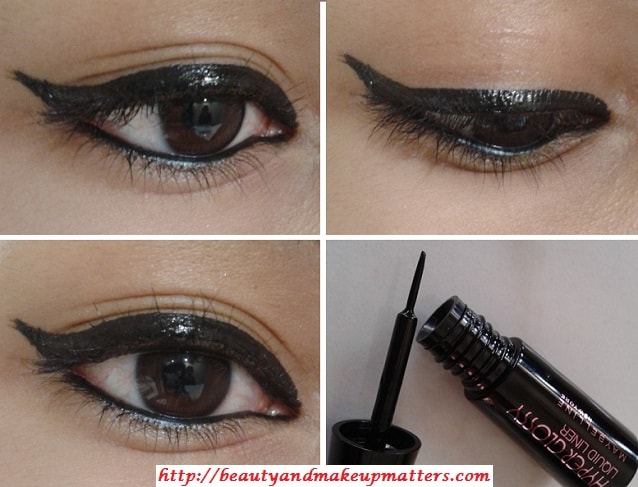 Pros of Maybelline Hyper Glossy Liquid Eye Liner Black:-
Intense Jet black color
Doesn't sting eyes
Easy Application
Comes with thin brush give precise application
Dries to glossy finish
Lasts long
Great for beginners
Easy on Pocket
Cute packaging
Cons of Maybelline Hyper Glossy Liquid Eye Liner Black:-
Difficult to draw thick lines
Takes relatively long to dry completely
Recommendation:- Maybelline Hyper Glossy Liquid Eye Liner Black is richly pigmented solid black eye liner which dries to give glossy shiny look. It comes in a pretty glossy black packaging and a thin brush which does a fabulous job at applying the eye liner precisely. I like its shiny glossy finish but I need to be patient while it dries and avoid blinking instantly. The dry time could have been better as it can be a mess if smeared mistakenly. The liner is perfect for thin liner but to get thick lines with this is really a task

If you are on the look out of an affordable shiny black liner than got to give this a try but matte eye liner lovers give this a passé.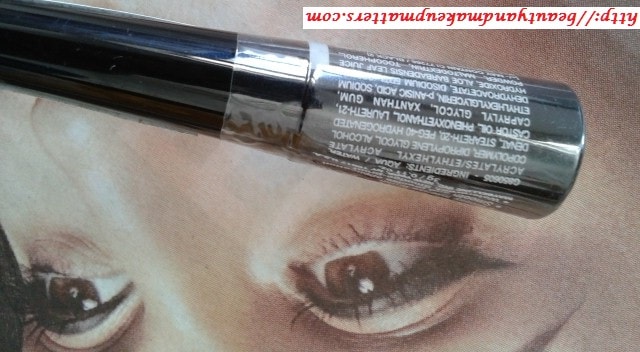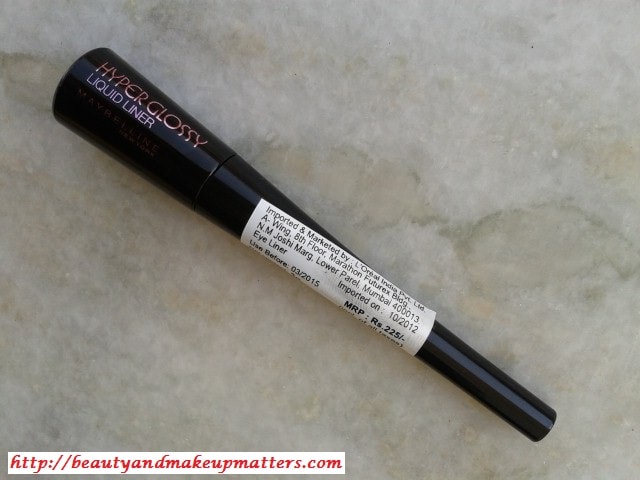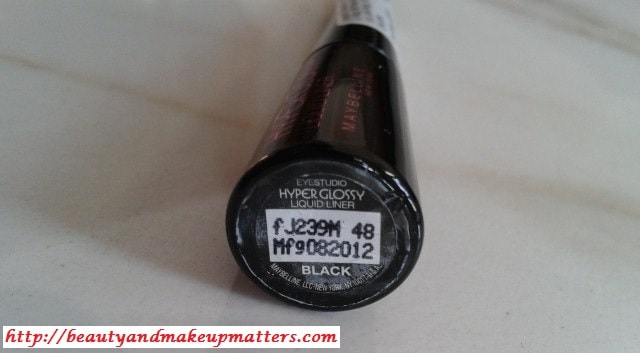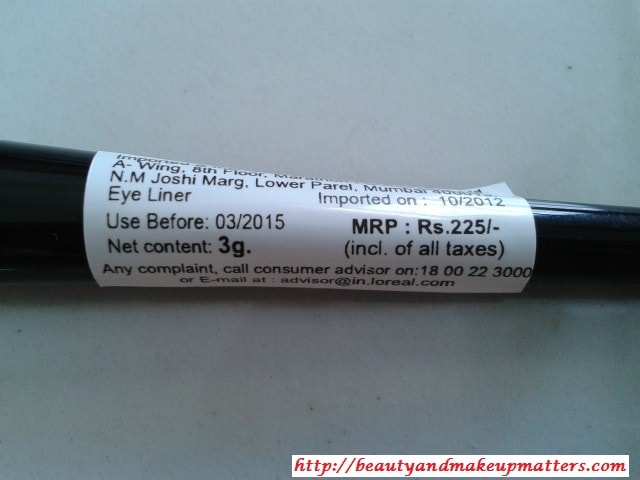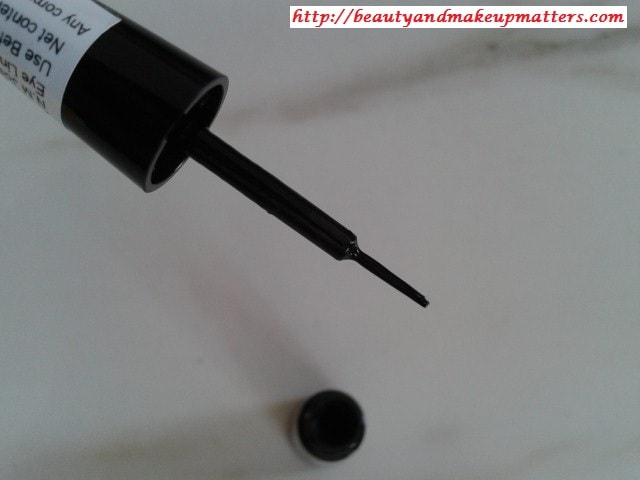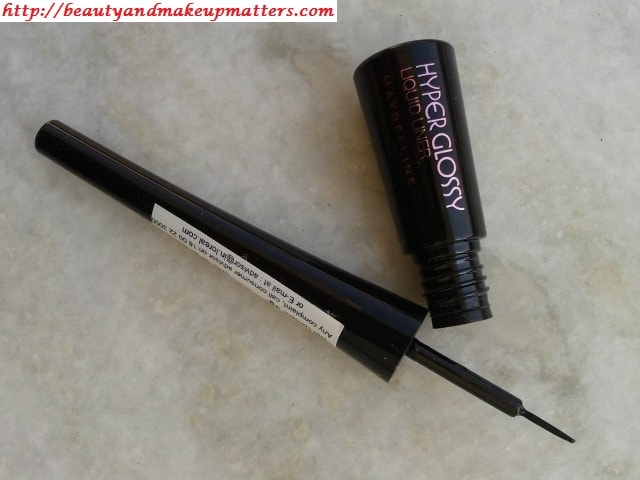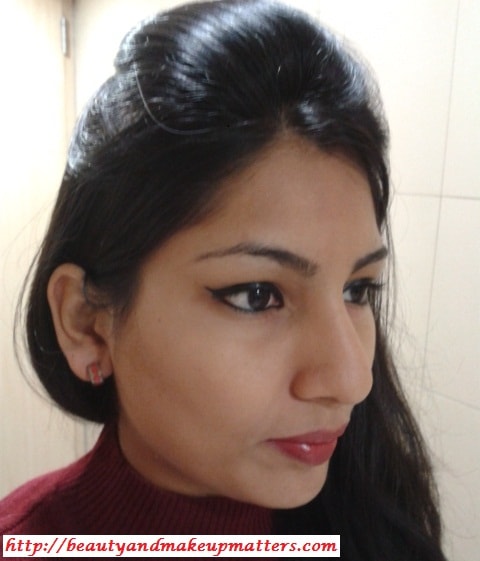 Rating:- 3.5/5
Have you tried Maybelline Hyper Glossy Liquid Eye Liner Black? Do you use Liquid Eye liner or Gel Liners more?