Maybelline The Falsies Push Up Drama Mascara
Let's about the hottest mascara in town, the Push-UP Drama from Maybelline. Maybelline new makeup launches always give me anxiety because they are so amazing! And this time when Maybelline announced their uber chic "Push-Up" mascara, I was like… #GiveitToMe ! I don't know if it's the name of the Mascara that excited me to try it or its bright pink packaging. But I tried it and would love to share what I felt about it. So, lets see if I liked this, Maybelline The Falsies Push Up Drama Mascara as much as I wanted to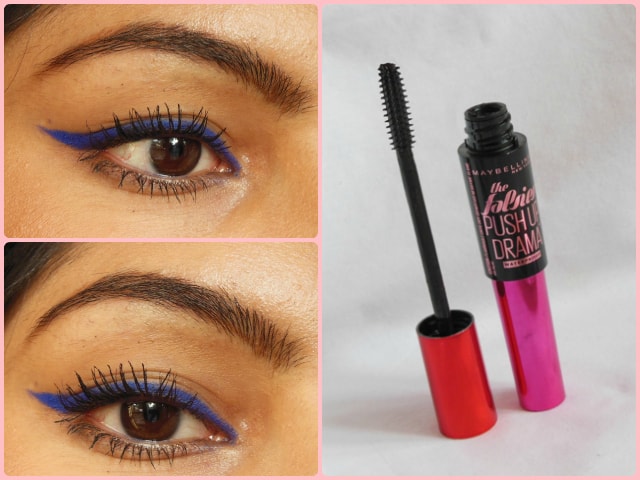 Product Claims: The Falsies® Push-Up Drama™ Washable Mascara. Cup-shaped bristles lift lashes while creamy, plumping formula gives instant volume and holds lashes in place.
Dramatic lift and volume for the Falsies® push-up effect
Our first cup-shaped bristles scoop and lift lashes from root-to-tip
Waterproof formula
Benefits:
Dare to get the push-up effect! This creamy, plumping formula delivers instant volume and holds the curl in place while the Push Up Cup Brush scoops and lifts from root to tip. Lashes look lengthened for a dramatic eye look.
Ophthalmologist tested.
Suitable for contact lens wearers.
How to Use/ Apply:
Step 1. Draw the Push Up Cup brush from root to tip of lashes.
Step 2. Repeat until desired lift and volume are achieved.
Step 3. Do not let mascara dry in between coats.
Step 4. Easily remove mascara with Maybelline Expert Eyes® 100% Oil-Free Eye Makeup Remover.
My Experience with Maybelline The Falsies Push Up Drama Mascara:
Maybelline the Falsies Push up Drama Mascara comes in the beautiful bright pink metallic packaging and is housed in a regular cardboard packaging carrying all the details regarding the product. It's actually a pretty long tube and I took as a dual ended mascara but its not :). The packaging's look chic and sassy.
Let's talk about the most unique thing about this mascara its "Brush" or you can say "Mascara Wand". This mascara has a specially designed applicator with push-up designed cups which gives a nice curl and a push up effect to the lashes. It is a plastic applicator with pointed spiky bristles.
I quite like the applicator for its unique design and the significant curl it provides to lashes but it feels a bit pokey because of its stiff plastic bristles.
It's a Jet black mascara and gives a rich color in a single coat. It goes on like a non-waterproof mascara and feels quite comfortable on lashes unlike Maybelline Barbie Mascara. Also, it doesn't makes lashes looks spidery or crunchy.
The mascara starts with providing just a nice curl in single coat and them building up the volume and length in next 1-2 coats. The texture is quite creamy which sets pretty fast and reduces any chances of smearing the formula on lids. The applicator is pretty long which makes it easy to apply.
The mascara lasts for long , basically all day (tested for 10 hours on me) as it is a waterproof one. So not even your tears can let it ruin your look. It requires a good oil based remover to take it off the lashes.
My inner self * it's a pain to take off waterproof formulas 😛 *
Recommendation: Maybelline The Falsies Push Up Drama Mascara is an amazing curling mascara. It adds that little extra oomph to the lashes with its push-up cup bristles which curls lashes to perfection. The mascara adds a good amount of length and volume to lashes. And its water proof formula makes it last long. I go for 2-3 coats of this mascara for voluminous looking lashes. Personally, I prefer noon waterproof formulas because they are easy to take off. Recommended!
Rating: 4/5
Don't Miss to Checkout:
Have you tried Maybelline The Falsies Push Up Drama Mascara? Which is your favorite Mascara?
PS: Product sent by brand for consideration but honest and unbiased opinion