Maybelline Express Finish Nail Enamel Turquoise Green Review

Turquoise Green is another metallic shade from Maybelline Express Finish Nail Enamel collection. I saw this on the counters with Khaki Green during my Birthday haul but at that time I couldn't get my hands on this shade but after a wonderful experience with khaki green I was determined to get this too and bought it with my Maybelline Shopping haul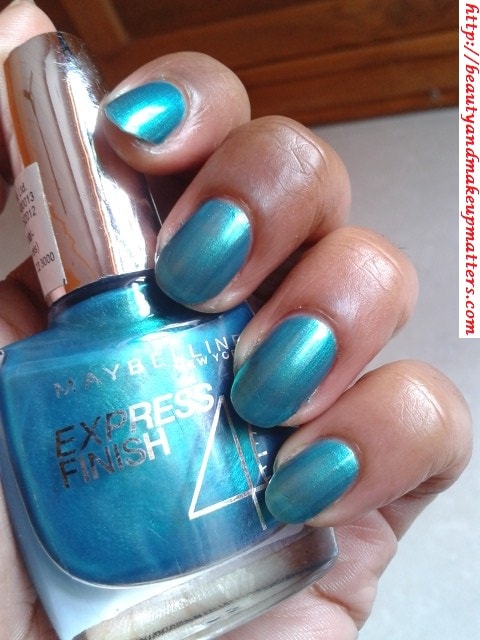 Product Claims: Why You'll Love It
Quick dry anti chip formula and vivid shades
Unique Control-Flow brush applies only the required amount of nail color for a smooth and even application
Long lasting color in 18 dazzling shades.
From wet to set in 40 seconds
Direction for Use:- Expert Tip:- With one sweep, paint the first line of nail polish up the center of your nail starting from the base to the tip. For the cleanest look, be sure to leave a small space at the base of the nail. Then apply color to the rest of the nail with additional sweeps of polish on each side of the original line. Let your nails dry before applying a second coat.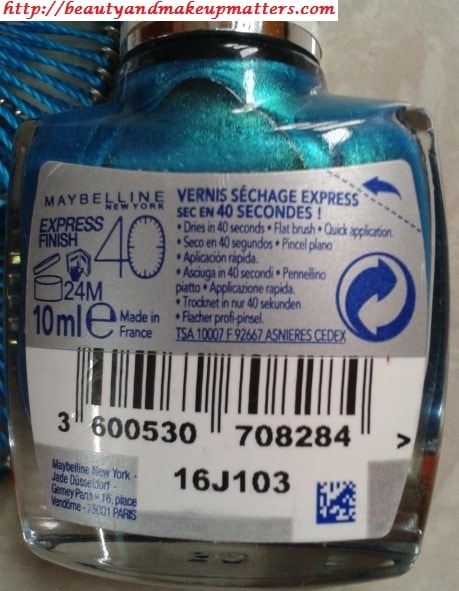 Price:- Rs.200 for 10ml
Shelf Life:-  30 months from the Mfg date
My experience with Maybelline Express Finish Nail Enamel – Turquoise Green:-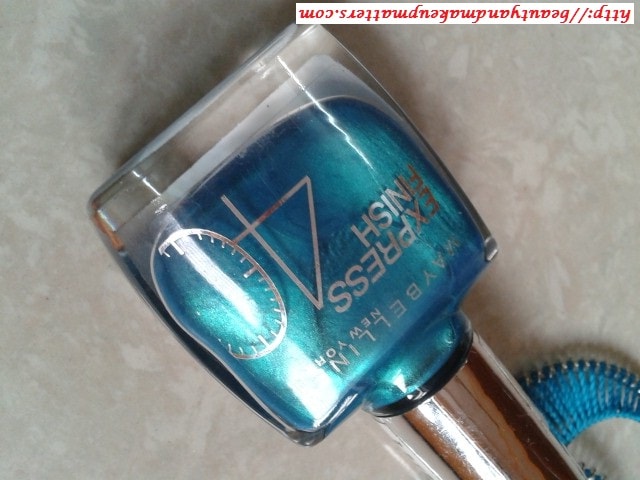 Turquoise Green is a brilliant metallic finish nail color. The nail paint has a blue base with obvious green shimmers which gives it an exquisite duo chrome effect. The vibrancy of the shade and reflecting green shimmers gives it a dazzling glazy finish which makes this a perfect party wear nail color.
The formula is superb, it appears slightly runny but absolutely smooth and streak-free over the nails
The large fluffy brush spread over the nails painting then evenly in a single swipe. The brush is big enough to cover the nail bed effectively.
It looks like the color isn't that pigmented as it goes pretty translucent in single coat but it really picks up the shade with 2nd coat. The coverage goes 100% opaque by 3rd one.
Most amazing thing about these nail colors is their super- quick drying property. The nail polishes claims to dry in 40 sec and it really stands true to its claim.
The non–streaky and super-smooth finish makes me fall me fall for the nail enamel collection. The nail paint dries to a creamy glossy finish with slight sheen but the green shimmers adds the
The shade and the formula are one the best combination available at such an affordable price.
Recommendation:-Maybelline Express Finish Nail Enamel Turquoise Green is one of the best metallic finishes and a gorgeous peacocky greenish blue nail color I have ever worn. Definitely a must have shade, Highly recommended!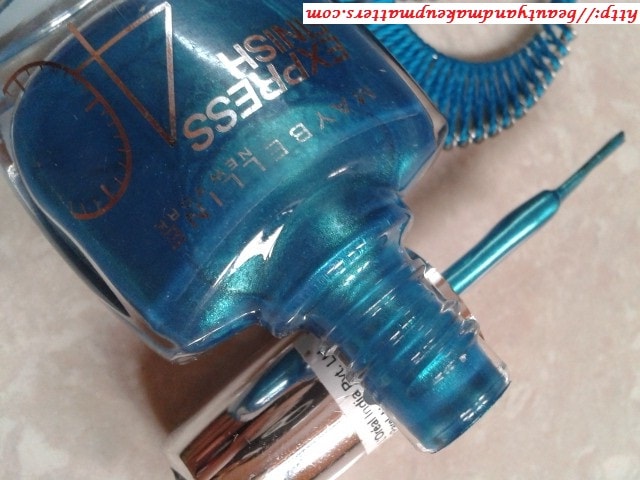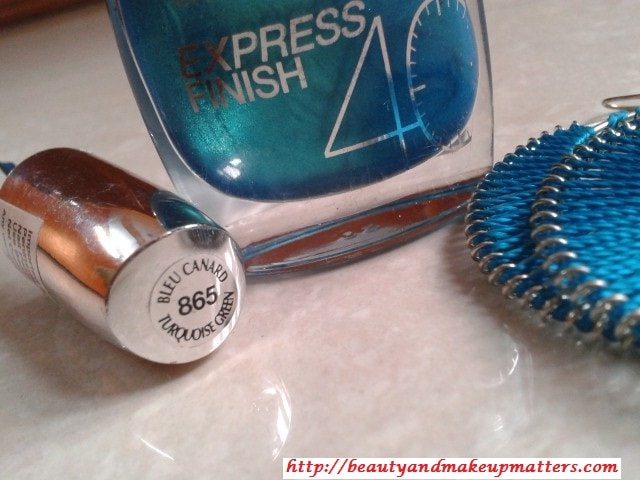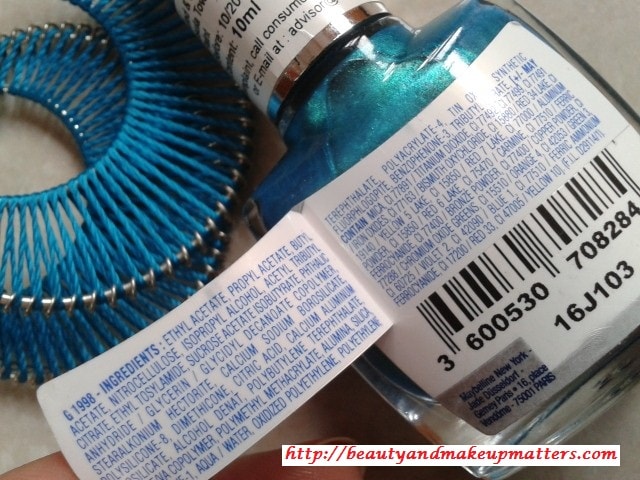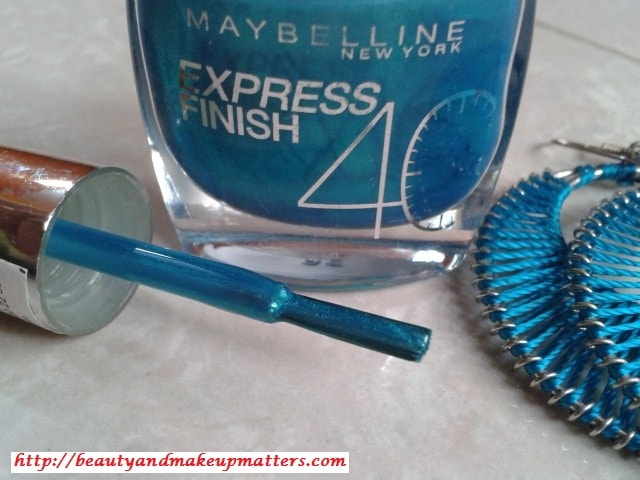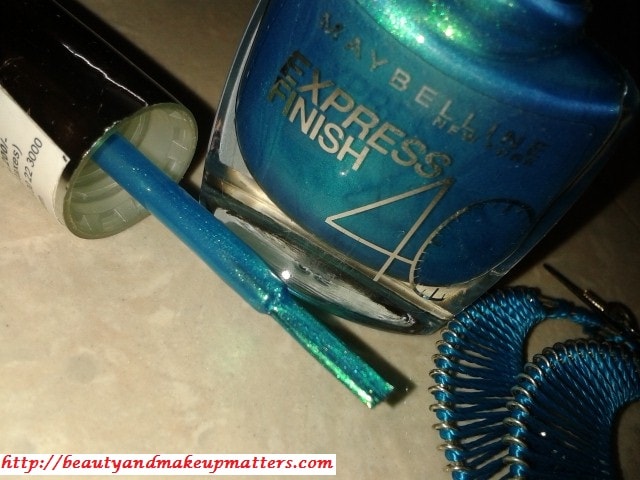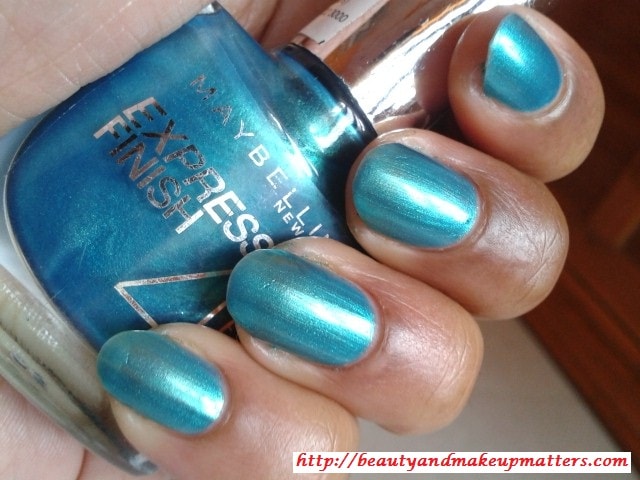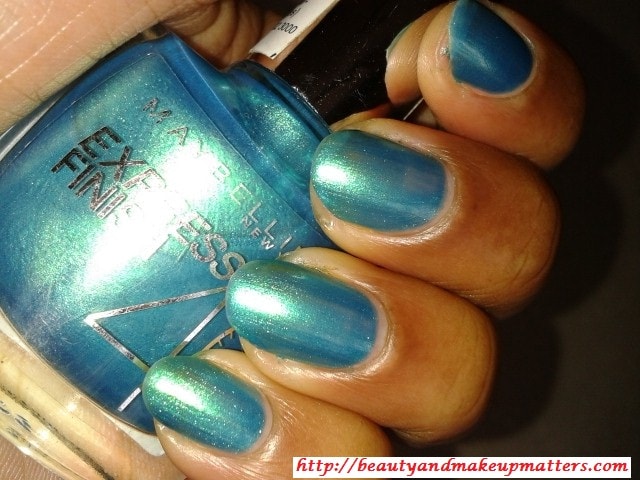 Don't Miss to Checkout:
Rating:- 5/5
Have you tried Maybelline Express Finish Nail Enamel – Turquoise Green? Have you tried any of these Metallic finish nail enamels?