Maybelline Express Finish Nail Enamel – So Natural Review, NOTD
Today I am going to review a n*de nail color from my Maybelline Express Finish Nail Enamel Collection that I bought with my Maybelline Haul. Till now I have tried only metallic green from this collection, Khaki Green
So here is my first neutral shade from Maybelline Express Finish Nail Enamel "So Natural".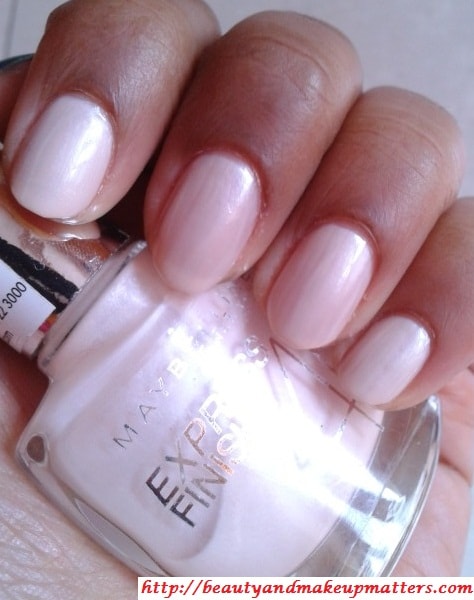 Product Claims: Why You'll Love It
Quick dry anti chip formula and vivid shades
Unique Control-Flow brush applies only the required amount of nail color for a smooth and even application
Long lasting color in 18 dazzling shades.
From wet to set in 40 seconds
Direction for Use:- Expert Tip:- With one sweep, paint the first line of nail polish up the center of your nail starting from the base to the tip. For the cleanest look, be sure to leave a small space at the base of the nail. Then apply color to the rest of the nail with additional sweeps of polish on each side of the original line. Let your nails dry before applying a second coat.
Price:- Rs.200 for 10ml
Shelf Life:-  30 months from the Mfg date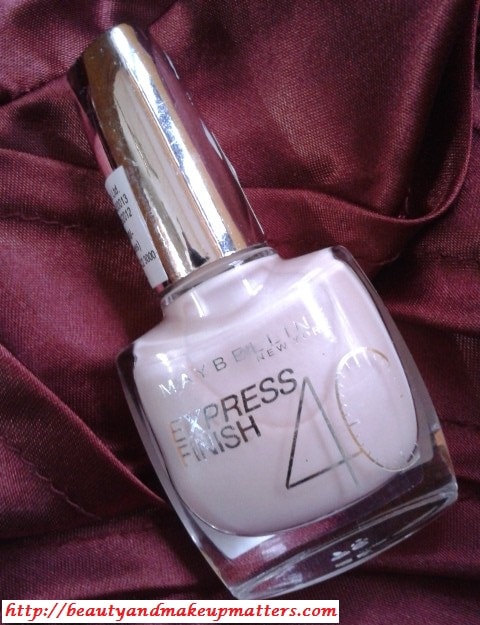 My experience with Maybelline Express Finish Nail Enamel – So Natural:-
Shade:- So Natural is a creamish white nail color with a hint of peachy hue. It is a pearl finish soft pastel shade from Maybelline Express Finish Nail Enamel collection. The shade is somewhat similar to a pearly off- white nail color on hands and looks much better than plain stark white shade like Lotus Herbals Color Nail Enamel in White.
Formula:-The formula is as usual super-easy to work with and spreads effortlessly over nails with the large fluffy brush. The brush gives an absolutely smooth and flawless coverage.
Color Payoff:- The nail enamel goes almost transparent in the first coat and needs at least 3 coats for an opaque coverage but that isn't a problem as it dries really fast. It dries extremely smooth but the glossy shine doesn't last which leaves the nail enamel with a little bit of pearly sheen.
Drying:- The quick drying feature of these Express Finish Nail Enamels makes me go crazy, as most of the time it dries even before I reach last finger nail. No matter how thick I apply them on nail they never disappoint me or leave me with a patterned impression.
Wearability:-I am amazed by the staying power of these nail enamels. They stay like forever on nail, (not forever literally .. ) but the longest any nail enamel has been able to survive on my nails. It don't chip-significantly even if you do household work like dish washing and all.
Don't Miss to Checkout:
Pros of Maybelline Express Finish Nail Enamel – So Natural:-
Lovely peach toned off white nail color with pearly finish
Awesome formula
Smooth creamy finish
Amazing brush
Streak free application
Dries quickly
Lasts Long
Cons of Maybelline Express Finish Nail Enamel – So Natural:-
I liked the pearly finish but wish it had retained its glossy shine for long
Recommendation:- Maybelline Express Finish Nail Enamel – So Natural is neutral creamy white nail paint in pearly finish. It has some peachy tones but aren't much noticeable. I love smooth, creamy application and its excellent brush which a perfect non-streaky finish. The color is buildable and gives complete coverage in 3 coats but its quick drying feature eases up the pain of multiple swipes.

Overall formula, brush, finish and staying is superb but shade isn't that appealing. I am not much into neutrals so an average shade from that perspective.  Recommended for neutral lovers.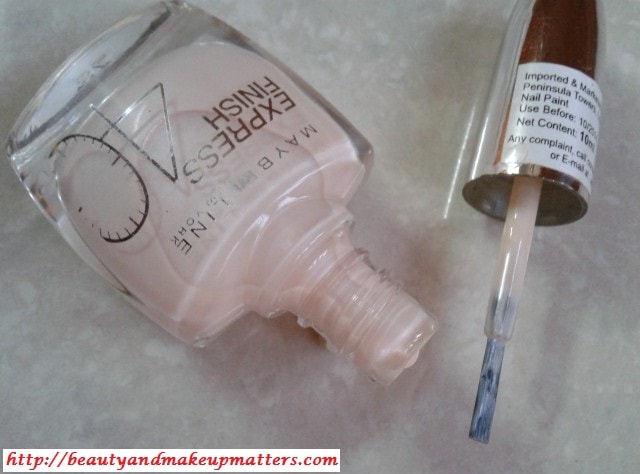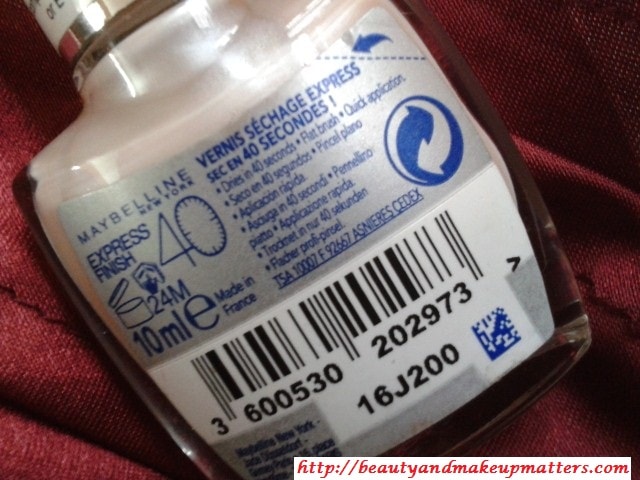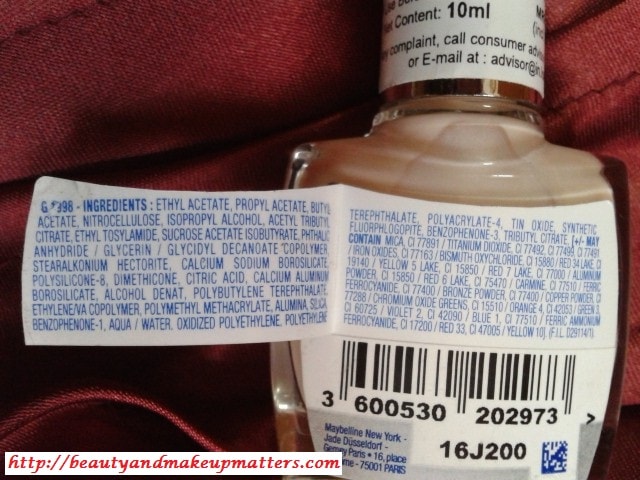 Rating:- 3.8/5
Have you tried Maybelline Express Finish Nail Enamel – So Natural? Have you tries any of these Metallic finish nail enamels?