Maybelline Express Finish Nail Enamel – Pearly Pastel 405 Review, NOTD
Khaki Green was the first nail enamel that I tried from this Maybelline Express Finish Nail Enamel collection. But after getting introduced to this awesome Nail enamels, I was desperately waiting to try more. Bought a few during my Maybelline Haul and still doesn't feel satisfied and want to get more and more of these.
I got this Maybelline Express Finish Nail Enamel – Pearly Pastel as a part of one of my online shopping spree. I must tell you that it was really difficult to select the shade by only looking at those online swatches, so chose only one.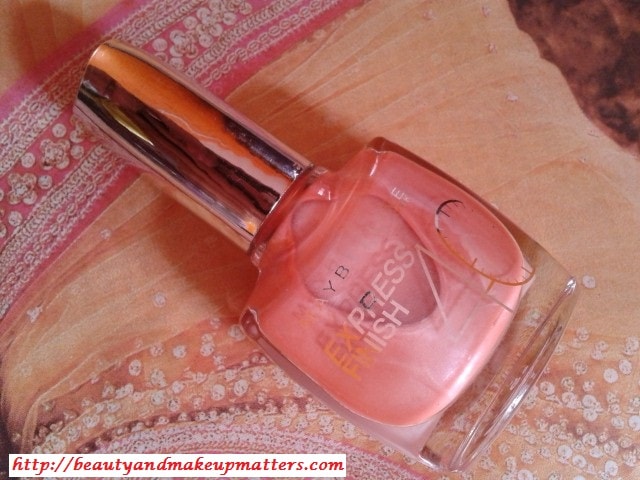 Product Claims: Why You'll Love It
Quick dry anti chip formula and vivid shades
Unique Control-Flow brush applies only the required amount of nail color for a smooth and even application
Long lasting color in 18 dazzling shades.
From wet to set in 40 seconds
Direction for Use:- Expert Tip:- With one sweep, paint the first line of nail polish up the center of your nail starting from the base to the tip. For the cleanest look, be sure to leave a small space at the base of the nail. Then apply color to the rest of the nail with additional sweeps of polish on each side of the original line. Let your nails dry before applying a second coat.
Available in 15 gorgeous shades
Price:- Rs.200 for 10ml
Shelf Life:- 30 months from the Mfg. date
Packaging:- Maybelline Express Finish Nail enamels comes in a cool chic packaging. The stylish rectangular bottle with a stunning silver metallic cap looks really appealing. The long neck also does a good job at getting rid of excess nail enamel from the brush without messing up with the cap.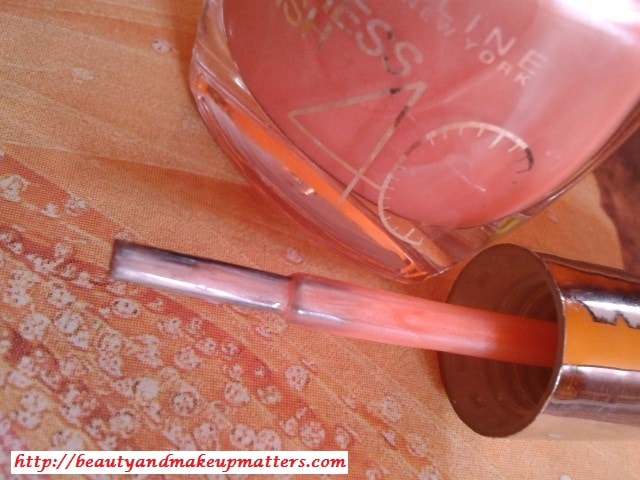 My experience with Maybelline Express Finish Nail Enamel – Pearly Pastel:-
Pearly Pastel is light peachy nail enamel in pearly finish. It is a very sober pastel shade with muted orange tones. The color looks pretty in the bottle but on my nails it doesn't look that great.
Formula-The formula is amazing as it gives an absolute smooth coverage in single swipe. The consistency is slightly runny but streak-free application with that fabulous brush makes it an effortless job.
Color Pay Off-The nail enamel goes almost transparent in a single coat barely giving a hint of the peachy tones. But with the second coat it builds up to its peachy pastel shade. Third coat provides absolute opaque coverage to the nails.
Dry Time– The dry time is a major plus for these nail enamel as it dries straight in its claimed 40 seconds of time even with the thick coats.
Finish-The nail enamel dries to a silky smooth finish absolutely crème. There is a bit of shine and glossiness immediate after application but the shine just fades away as soon as the nail enamel dries.
Don't Miss to Checkout:
With Flash:-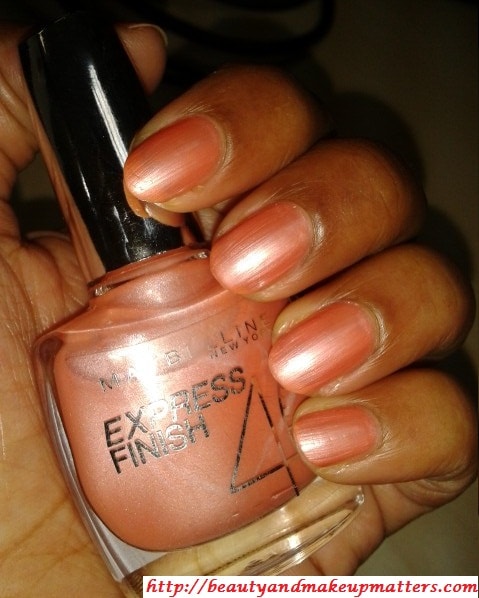 Wearability:- The staying power is truly commendable as the nail enamel stays on and on. The chip-resistant formula made them last almost a week on my nail without any major chipping.
NOTD:-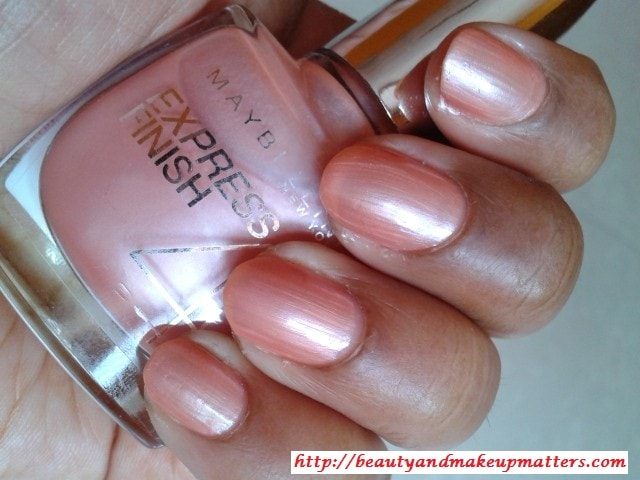 Pros of Maybelline Express Finish Nail Enamel – Pearly Pastel:-
Soft peachy pastel shade with pearl finish
Streak-free application
Smooth creamy finish
Amazing brush
Dries pretty quickly
Chip-resistant formula
Stays for very long duration
Chic packaging
Cons of Maybelline Express Finish Nail Enamel – Pearly Pastel:-
Needs 2-3 coats for opaque coverage
The shade loses it shine post-application which makes my hands look pale.
Recommendation:- Maybelline Express Finish Nail Enamel – Pearly Pastel which is otherwise a lovely muted peachy pastel shade makes my hands look dark and dull.  A nice pastel shade for the pastel lovers but not for me may look better on fairer skin tones. I will check out other pastel shades from the collection and this time on the counters for a better idea of the color.

I totally love the formula of these Express Finish Nail Enamels but this particular shade doesn't work for me.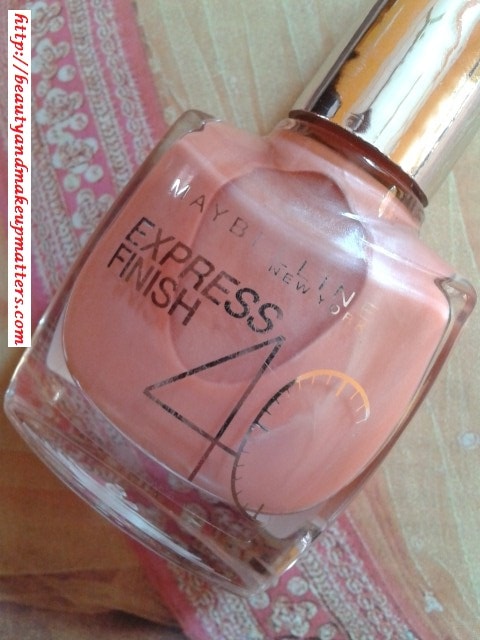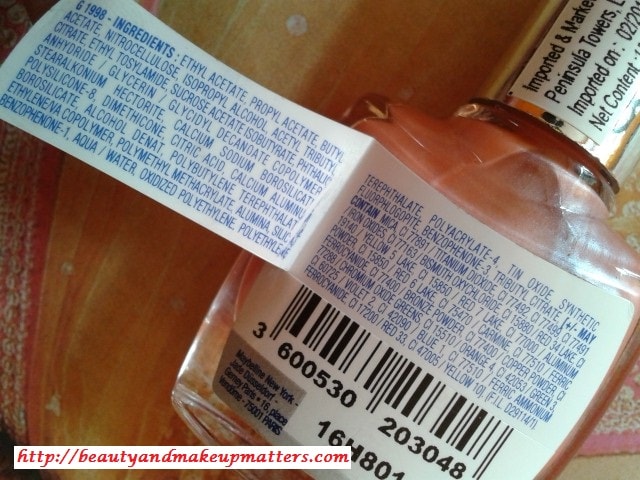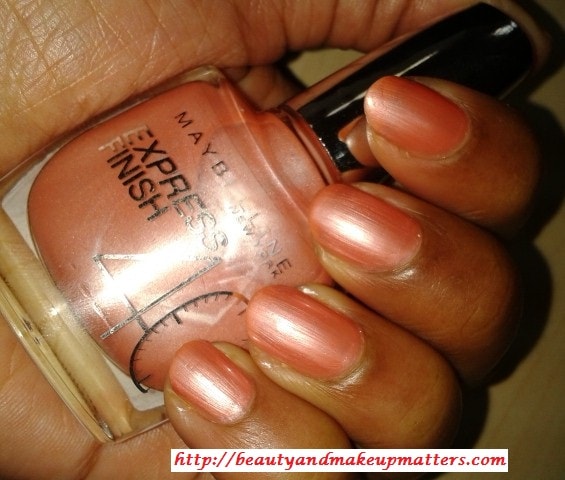 Rating:- 3/5
Have you tried Maybelline Express Finish Nail Enamel – Pearly Pastel? Do you like pearl finish nail enamels?