Maybelline Express Finish – Khakhi Green (850) Nail Paint Review, NOTD

Product Claims: Why You'll Love It
Quick dry anti chip formula and vivid shades
Unique Control-Flow brush applies only the required amount of nail color for a smooth and even application
Long lasting color in 18 dazzling shades.
From wet to set in 40 seconds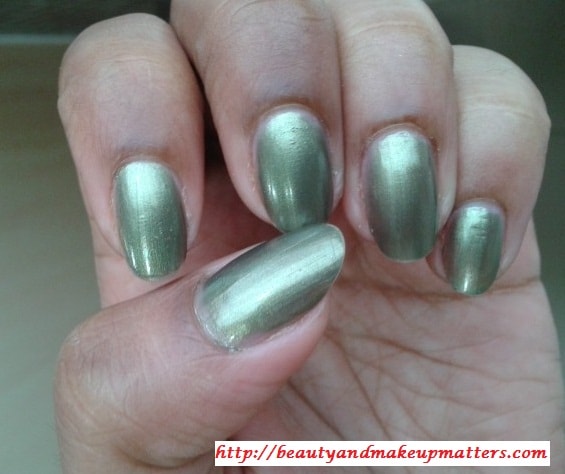 Direction for Use:- Expert Tip:- With one sweep, paint the first line of nail polish up the center of your nail starting from the base to the tip. For the cleanest look, be sure to leave a small space at the base of the nail. Then apply color to the rest of the nail with additional sweeps of polish on each side of the original line. Let your nails dry before applying a second coat.
Available in 15 beautiful shades
Ingredients:-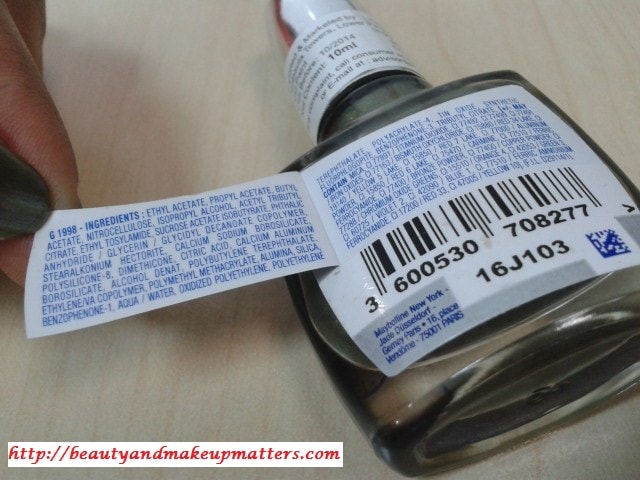 Price:- Rs.200 for 10ml
Shelf Life:-  30 months from the Mfg date.
My experience with Maybelline Express Finish – Khaki Green :-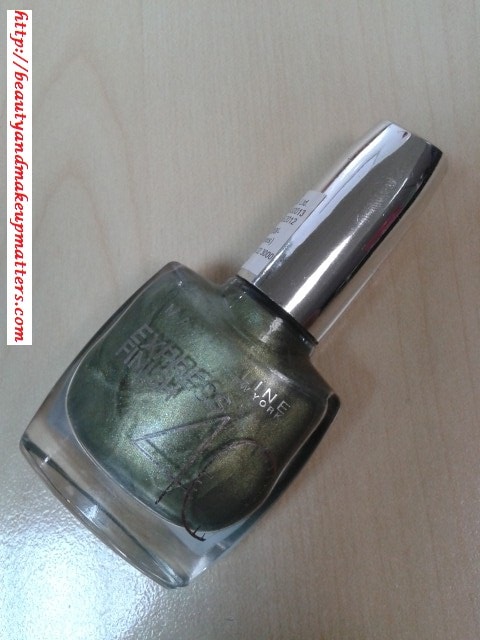 The nail polish is packed in a sleek rectangular shaped bottle with a shiny silver metallic handle. The bottle has an extra long neck with a medium length applicator which prevents excess amount of the nail polish being picked up by it unlike Lotus Color dew Nail enamels.
I loved the formula of this nail enamel. It is a bit runny but spreads brilliantly with the long and wide bristles of the applicator to give an absolutely smooth application
It is a stunning metallic finish olive green shade with fine golden and green shimmers. The shimmers are ultra smooth and accentuate the color really beautifully.
The nail enamel goes sheer in single coats but builds up to completely opaque finish with 3-4 coats.
You might not like the above said fact regarding the sheer coverage of the nail enamel but will definitely be impressed by the time it takes to dry fully. It dries super- quick even with multiple coats and sets within 40 seconds or even less as claimed.
The staying power is pretty decent as it stays good 2-3 days without chipping or loosing its shine.
Don't Miss to Checkout:
NOTD:-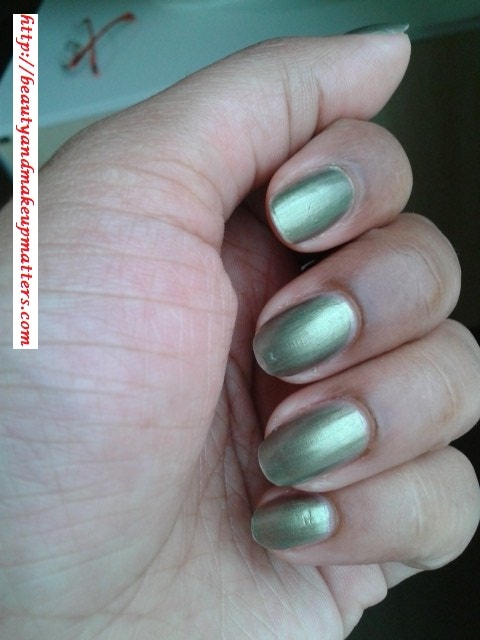 Recommendation:- Maybelline Express Finish – Khaki Green  is a gorgeous metallic green shade with obvious golden and green shimmers which gives a lovely duo chrome finish to it. I love the intelligent bottle design and the wonderful brush which applies the nail polish evenly giving a smooth application. The formula spreads nicely to give a streak-free application and gives complete overage in 3-4 coats but the dry time is so less that I don't mind the extra coats.

Though they are slightly expensive but everything about this nail enamel is so good that they easily outperformed my current favorite Lotus Herbals Color Dew nail enamels. It is my first nail enamel from Maybelline Express Finish and loving it to the core. I will be picking more of these metallic finish nail enamels from Maybelline Express Finish range.
Rating:- 4.2/5
Have you tried Maybelline Express Finish – Khaki Green? Which is your favorite metallic green shade?