Maybelline Dream Touch Lumi Highlighting Concealer Honey
Hello Everyone,
Today I am will be reviewing another amazing product from Maybelline, Maybelline Dream Touch Lumi Highlighting Concealer. The views on this concealer are divided because some liked it to the core and other hated it like anything. I debated for months before getting this concealer in my vanity as I wasn't sure whether this concealer/highlighting thing would work for me, but I love taking risks so played for it. Now, you want to know whether I liked  Maybelline Dream Touch Lumi Highlighting Concealer Honey or not.. read on!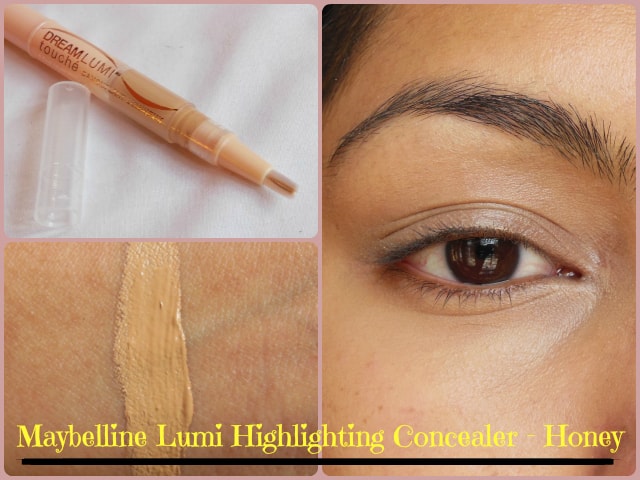 Product Claims:
Gel-based formula diffuses light.
Illuminates as it conceals
Why You'll Love It: A brighter idea in concealers:
Gel-based formula diffuses light to provide on-the-spot perfection in just one touch
Illuminates as it conceals
Dermatologist, Allergy Tested
Non-comedogenic
Suitable for sensitive skin and for all skin types
Direction for Use:-
To brighten face, apply over brows as well as to the inner and outer corners of eyes and blend with tip of finger.
Apply to sides of nose and on chin and blend to give your face a luminous glow.
To sculpt and highlight facial features, apply in small strokes to the cheekbones and blend.
To make lips look fuller, outline lips with lumi concealer and blend.
To cover imperfections, dot concealer onto desired area and blend.
Ingredients:-
Price:- Rs.500 for 1.5ml
Shelf Life:- 3 years from the Mfg date.
Packaging:- Maybelline Dream Touch Lumi Concealer comes in a sleek pen type packaging with a brush applicator on one side. I am really not a fan of the pen packagings because it hard to control the amount dispensed and overtime the brush will get dirty and accumulate germs. The packaging is see through, so I can actually see the amount of product left in the tube. To get product out of the pen I need to twist the bottom, for the first time it takes like 20 twists.. (yeah that much) but further just 2-3 twists would be enough but be careful as once the product is out on brush, it can't be made go back into the tube.. so wastage!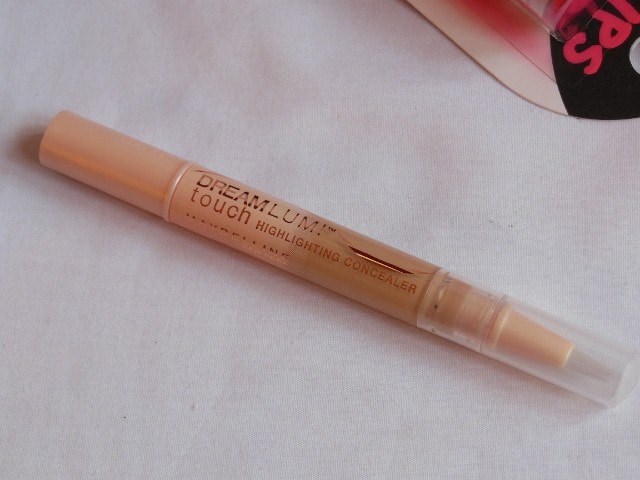 My experience with Maybelline Dream Touch Lumi Highlighting Concealer:-
Shade: I got this Maybelline Dream Touch Lumi Highlighting Concealer in the shade Honey, the darkest of all the 3 shades available in India. It is medium beige shade with micro fine pearly shimmers which are barely visible post application but adds a lovely natural shine to the skin.
Formula: The concealer has a medium-thin texture which applies easily with brush applicator. Due to its thin texture it blends quickly into the skin with minimum effort. I usually using finger tips to blend it in but any of the concealer brush can do the job as well.
Coverage: The coverage of the concealer is light-medium which is just enough to cover any light pigmentation under the eyes. The formula has an illuminating effect on the skin so I would not recommend it for spot concealing rather it can double up as cream highlighter, you can opt for lighter shades for highlighting purpose.
Finish: The concealer has a lovely dewy finish which my dry skin loves. It is best to set it with a powder when used under the eyes to avoid creasing. The formula even if heavily applied doesn't look cakey or fill in the lines. In summers, oily skin might not like it as much as my dry skin do but in winters it makes up a lovely skin brightener for both the skin types.
Staying Power: I was super impressed with the long lasting abilities of this concealer. I applied it in the morning 9 am and when I removed my eye makeup at 7 pm the concealer was still there.
 Don't Miss to Checkout:
Pros of Maybelline Dream Touch Lumi Highlighting Concealer:-
Light weight texture
Blends beautifully
Light -Medium  coverage
Adds a natural glow to the skin
Double up as highlighter
Doesn't look cakey
Lasts whole day on me
Can be layered over regular concealer
Great everyday concealer/highlighter
Cons of Maybelline Dream Touch Lumi Highlighting Concealer :-
Not for heavy dark circles
Limited shade selection (Only 3)
I would have preferred a doe-foot applicator packaging
Quantity is less for the price paid
Recommendation:- Maybelline Dream Touch Lumi Highlighting Concealer Honey is a light coverage under eye concealer that doubles up as skin highlighter. It can used over your regular under eye concealer for a brightening effect. The thin texture and easily blendable formula makes it great option for layering over the products. It contains subtle pearly shimmers but they are almost undetectable on skin, though adds a lovely natural glow to the skin. I love the way it brightens up my under eye area. Recommended!
Rating:-4/5
Have you tried Maybelline Dream Touch Lumi Highlighting Concealer? Do you prefer such highlighting concealers or a good coverage concealer?