Maybelline Diamond Glow EyeShadow Quad Lilac Mauve Review
Product Claims: Why You'll Love It
Glow you eyes with diamonds with the creamiest powder shadow ever launched by Maybelline NY!
The most glowing diamond effect in 4 simple steps
Exclusive technology with gem-like sparkles that do not crush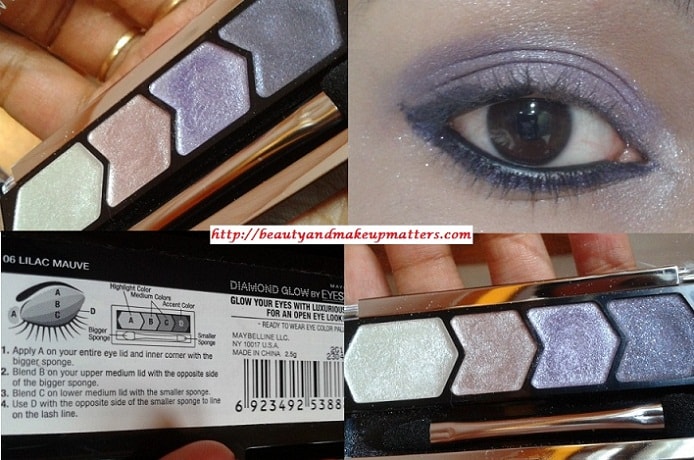 Direction for Use:- Expert Tip
Apply A on your entire eye lid and inner corner with the bigger sponge.
Blend B on your medium lid with the opposite side of the bigger sponge.
Blend C on lower medium lid with the smaller sponge.
Use D with the opposite side of the smaller sponge to line the lash line.
Available in 5 shades:-
01 copper brown
02 wine pink
03 grey pink
04 ocean blue
06 Lilac Mauve
Price:- Rs.450 for 2.5gm
Packaging:-  The quad comes in slim rectangular plastic case with a transparent glass lid. It has a long dual end sponge tip applicator but sadly doesn't have a mirror in the case.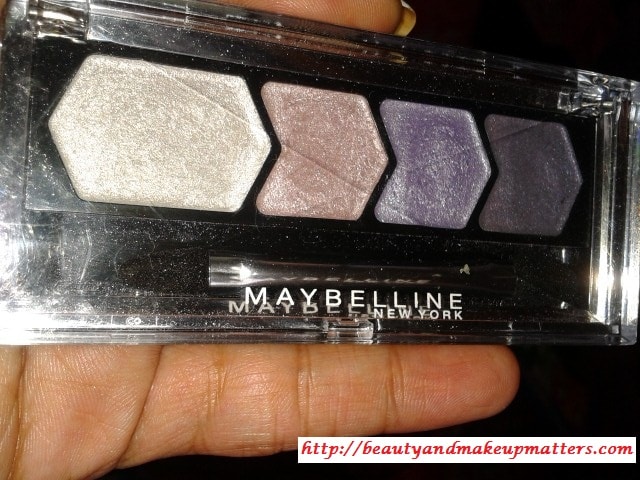 My experience with Maybelline Diamond Glow Eyeshadow Quad Lilac Mauve:-
Dark Purple – It is dark purple color with purple and blue color shimmers. It is the darkest shade of the quad but also the least pigmented of the four. It doesn't show up well and turns up more of a glittery shade.
Light purple – It is a pale purple shade with subtle shimmers. It is a gorgeous lilac shade with mauve colored shimmers and fine silver specks which looks adorable on the eyes.
Peachy brown – It is a muted peachy brown shade with silver sheen to it. It shows hint of lavender tones when applied on lids
Pearly Silver – It is a creamy white shade with prominent silver shimmers. It is used for highlighting purposes. It is the lightest shade of the quad but very pigmented unlike other highlighters that comes with trios/Quads.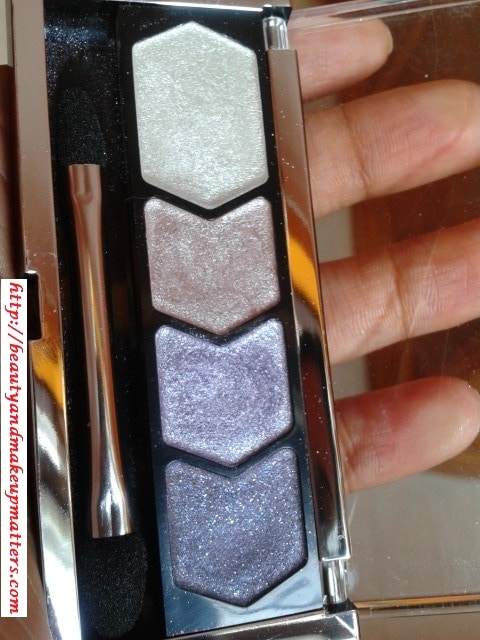 This quad has if full of shimmery colors but it has just the right combination of dark and light shade that can be used together to get that wonderful purple smoky eye look. The eye shadows have soft, creamy texture which gets applied nicely on the lids. I also find it pretty easy to blend the colors.
Silver Shimmers are dominant in each shade of the quad which gives a gorgeous pearly finish to the middle shades and a shimmery metallic finish to highlighter/the lightest shade of the quad. The last shade of the quad (dark purple) has comparatively larger shimmer particles which gives sparkling glittery effect.
Swatches:-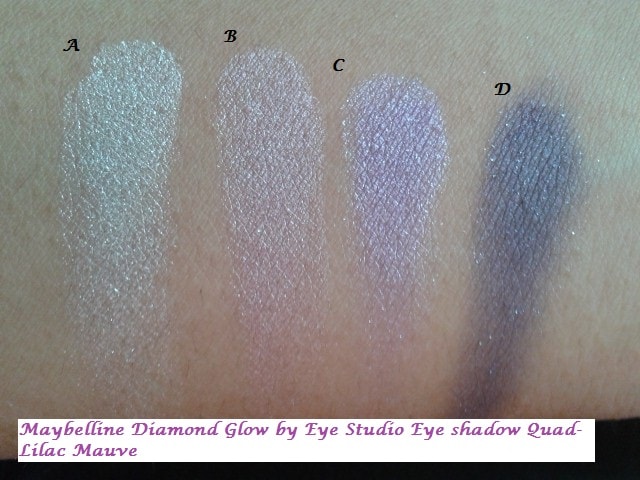 With Flash:-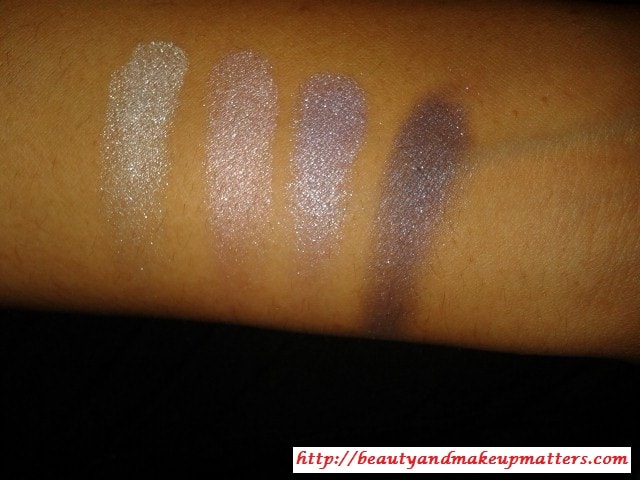 The eye shadows are not powdery but it has a definite shimmery fall out. Also, eyeshadow creases without a base underneath due to their creamy texture but the wear-ability can be increased with a good eyeshadow base. Few of the shimmer particles sticks to the skin even after removing it with creamy cleanser
Don't Miss to Checkout:
EOTD:- I have paired it with Faces Long Wear Eye Pencil in Purple and filled the waterline with Bourjois Kohl & Contour Noir Expert Pencil.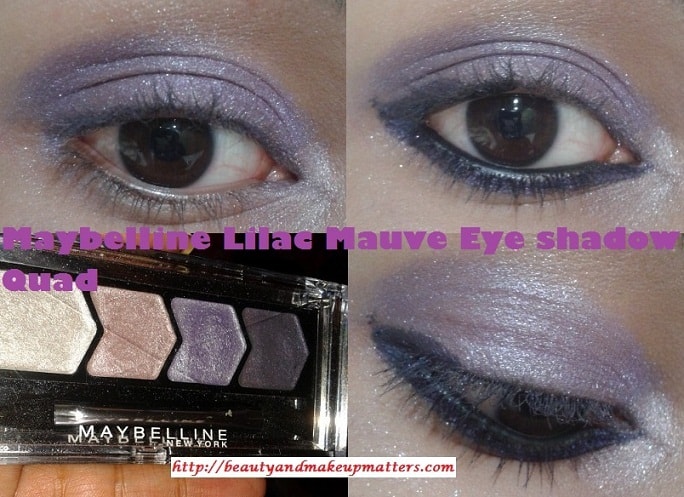 Pros of Maybelline Diamond Glow Eyeshadow Quad Lilac Mauve:-
Except the dark shade other shades of the quad are decently pigmented
Easily available
Reasonably priced
Silky smooth texture
Blends nicely
I like the middle 2 shades of the quad very much.
Cons of Maybelline Diamond Glow Eyeshadow Quad Lilac Mauve:-
The color pay-off of dark purple shade isn't very good
Has shimmery fallout which makes you look like a disco ball by the end of the day.
Colors will crease on oily lids due to creamy texture
Too much sparkle in each shade.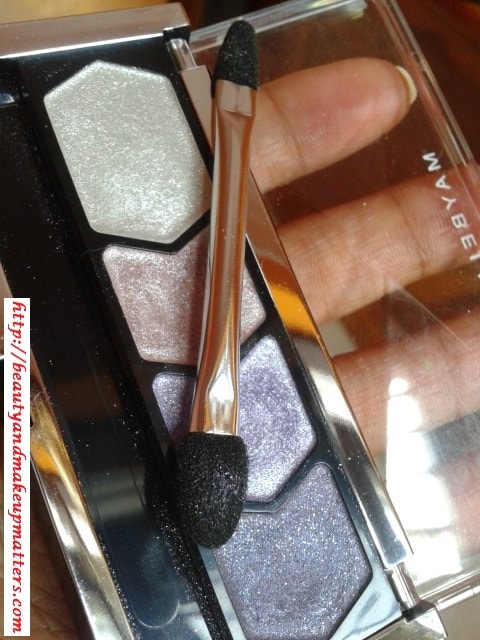 Recommendation:- Maybelline Diamond Glow Eyeshadow Quad Lilac Mauve is a fantastic quad with gorgeous mauve-purple shades in satiny finish. On its own, the colors are shiny and extremely shimmery. So, I would prefer to mix the colors with matte shades to get a more wearable and less shiny look. I enjoy working with this eye shadow due to its silky soft texture but if the colors of the quad had less shimmers with matte and well pigmented darkest shade than the quad would have been much better.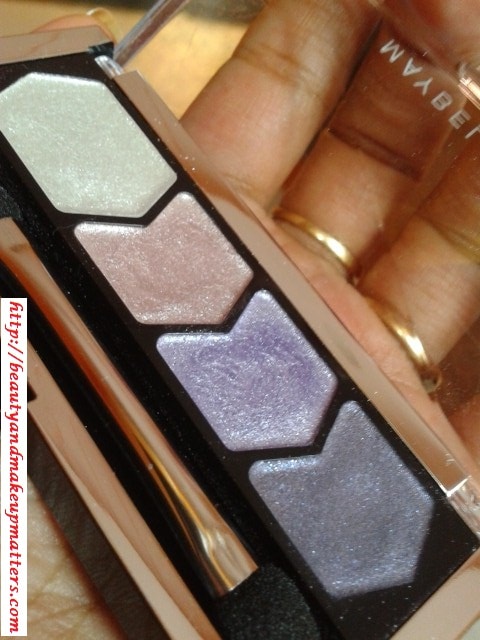 Rating:- 3.5/5
Have you tried Maybelline Diamond Glow Eyeshadow Quad Lilac Mauve? Do you wear all shimmery look or mix matte and shimmer shades?