Maybelline Colossal Volum' Express Waterproof Mascara Review, Swatches, EOTD
I was quite fancied by the Revlon Million Lashes Mascara advertisement in which model flaunts the lashes to die for. I would love to have such thick, dense lashes but in reality it is not possible only with mascara and you need to adore your lashes with falsies to get that mesmerizing and dramatic look.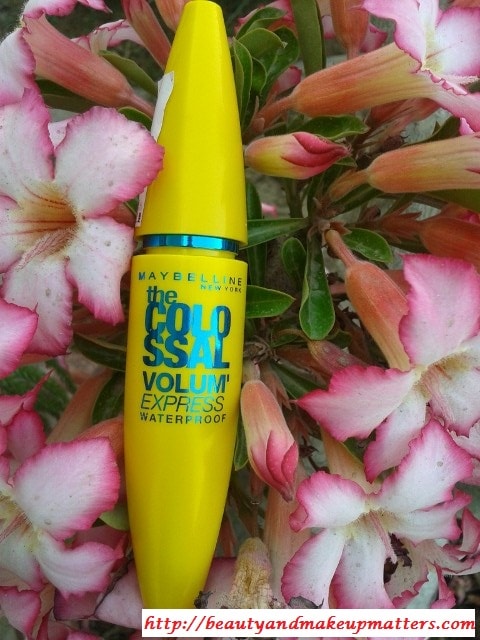 I started looking for pocket friendly mascara to start with before actually going for the Revlon one. I have quite watery eyes and can't take the risk of using non-waterproof mascara so, bought this water-proof version of Maybelline Colossal Volum' Express Mascara. I have been liking Maybelline a lot. Its moisturizing lipsticks, non-sticky glosses, tinted lipbalms and now its mascara.
Product Claims:
Waterproof Mascara
Upto 7X more volume
Instantly – in just one coat
No clumps
Colossal Brush
Collagen Enriched Formula
Why You'll Love It:- (From the Website)
Creates really big lashes, in one single coat
Patented MegaBrush + unique Formula plump lashes one by one
Available in 2 variants- washable and waterproof
Removes easily with soap and water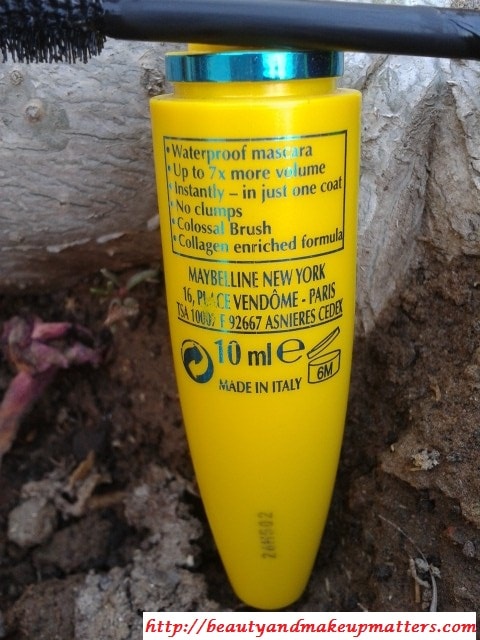 Expert Tip:- Move brush upwards from root to tip to plump individual lashes and achieve dramatic volume. Continue applying to lashes until you reach your desired look. Do not let it dry between coats. Repeat for lower lash line.
Price:- Rs.275 for 10ml. This mascara is also available in non-waterproof version.
Shelf Life:-  3 years from the Mfg date and 6 months from the date of opening.
Packaging:- Mascara comes in a curvy bright yellow tube breaking the legacy of sleek black color mascara tubes. The packaging is quite attractive and eye catching and its bright yellow color makes it easy to spot this in your make-up trash (oooops) its stash.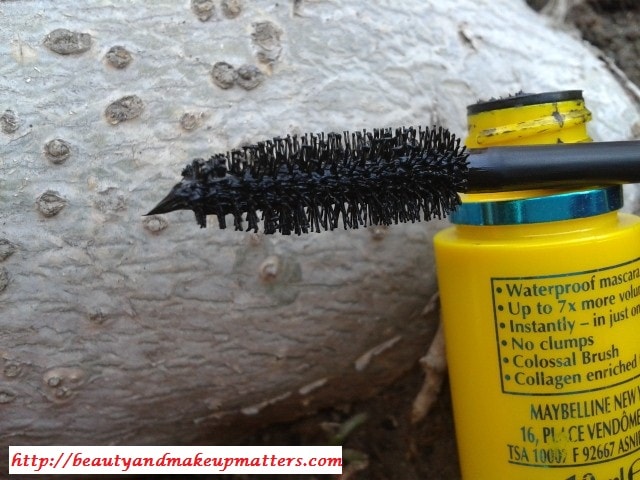 My experience with Maybelline Colossal Volum' Express Waterproof Mascara:-
The long & curvy mascara wand gives a good grip. The applicator is pretty long and has densely packed bristles which are tapered towards the end which cover the lashes in a single stroke even the smaller ones. The bristles pick up ample amount of mascara from the tube to evenly coat the lashes. The formula is not thick or creamy but thin and slightly liquidy which gives an ample control on the amount of the mascara to be applied covering all the lashes.
You will need only 2-3 quick coats of this Maybelline Colossal Volum' Express Waterproof Mascara to get those intense black and thick lashes. It adds volume and bit of length to lashes but not exactly like lengthening mascaras. Just dip the brush once into the tube and wiggle it on lashes 2-3 times and you are done.
The mascara dries super-fast and doesn't feel heavy. It keeps the lashes curled for 4-5 hours with an eyelash curler. The staying power of this mascara is also good. It stays intact on the lashes for whole day without bleeding or fading. Removing water-proof mascara was not an issue for me as I use a creamy cleanser to remove liners, lip colors and all at the end of the day.
One thing that I loved in this mascara is it doesn't make me shed even a single lash on removal. I was staying away from mascara because of my bad experience with a local brand mascara which made me lose 2-3 lashes each time.
Don't Miss to Checkout:
EOTD:-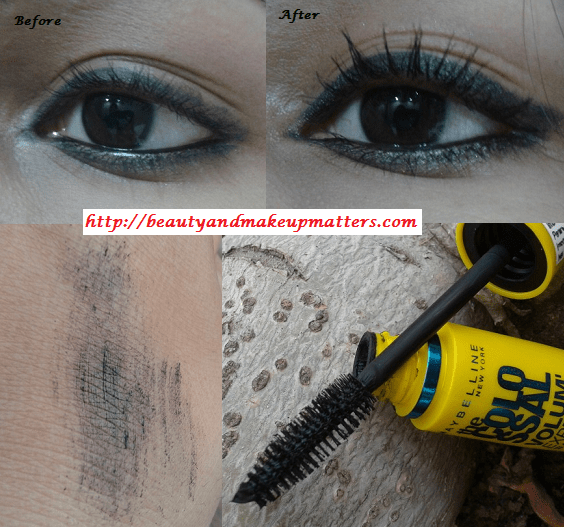 Pros of Maybelline Colossal Volum Express Waterproof Mascara:-
The mascara comes in a striking yellow and curvy tube packaging which looks quite attractive and makes it easy to find it in your makeup vanity.
The applicator wand is easy to work with. The applicator is pretty long and has dense bristles which cover each and every lash even the smaller ones near the corner but with a bit of precision.
The mascara has a good consistency neither runny nor thick or creamy. The mascara dries quickly on the lashes and doesn't mess with the eyemakeup.
The mascara adds volume to the lashes. Lashes look pretty thick and dense and open up my eyes immediately.
Mascara doesn't clump and you can easily apply 2-3 coats of this
It stays for all day long with out bleeding. It gives a nice curl look to the lashes which can be enhanced with an eyelash curler.
Absolutely smudge-proof and water proof. I have even splashed water on my face wearing this but it didn't budge. So, you can express yourself without worrying about ending up with raccoon eyes and makeup mess.
Wont make you lose lashes not even a single one when removed.
Quite affordable compared to the other mascaras.
Maybelline products are easily available.
Cons of Maybelline Colossal Volum Express Waterproof Mascara:-
Being a water-proof you will need a makeup remover or creamy cleanser to remove this but the mascara comes–off easily.
It would been better if the applicator had smaller bristles near the tip. It would have made the job easier to apply it on those hard to reach areas (inner corners) and lower lash line.
It adds volume but not 7x as claimed but I love it for whatever it delivers.
It can clump eyelashes badly if you re-apply the mascara on its dried up coats. So be quick while applying and re-application.
Recommendation:- I love mascaras for the definition and volume that they add to the eyes and make them look so beautiful and with this wonderful mascara you can make your eyes look dreamy. If you are looking for a water-proof mascara and don't have much budget for it go ahead and buy this. The mascara won't disappoint you even if you want to go out in monsoons and enjoy pool parties and shed a tear or two in weddings.

But keep in mind that you have to be quick. It may give a clumpy look if you let it the mascara dry on lashes and follow with another coat. You will need 2-3 coats quick of this mascara to get that desired open-eyed look and thick black lashes. Highly Recommended!!
Rating:- 4.5/5
Have you tried Maybelline Colossal Mascara? Which mascara do you prefer Waterproof or non-waterproof?