Maybelline Colossal Kohl Turquoise Review, Swatch, EOTD
I love colored eye pencils and they are a must have in my makeup Kit. I have a huge wish list of colored Gel Eye liners and newly launched Eye pencils from Sephora but their prices are haunting my wallet. I want to add them all in my makeup stash not leaving even a single color out (especially minty green and yellow colored eye pencil). Till I wait for them to fall into my pocket lets checkout this pretty Blue Eye Pencil launched by Maybelline a month back, Maybelline Colossal Kohl in Turquoise.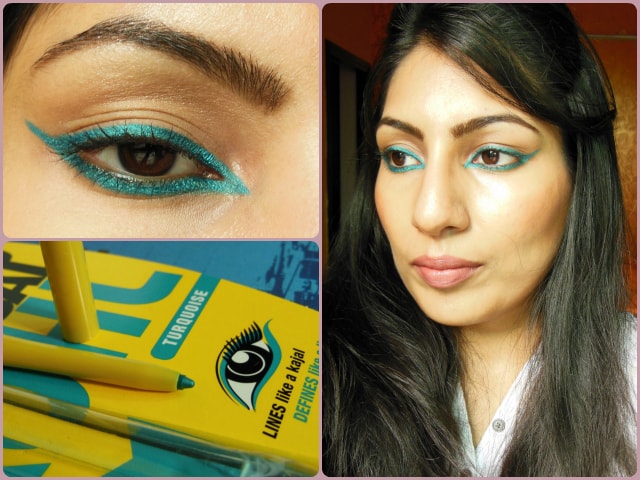 Product Claims:
12 hours of smudge free turquoise intensity
Color doesn't smudge or fade
Enriched with nourishing ingredients and Vitamin E to soothe the eye
Features a unique tip that glides smoothly for an even application
100% suitable for your eyes
Price: Rs 249 for 0.35 gm
Packaging: Maybelline Turquoise Kohl comes in the similar bright yellow sleek retractable packaging like Maybelline Colossal Kohl black but with a shiny colored strip of the shade on the body. Also, the name engraved on the body is in the same glossy blue shade.
My Experience with Maybelline Colossal Kohl Turquoise:
Shade: Turquoise is a beautiful teal-blue shade more on the blue side than green with a pearly sheen.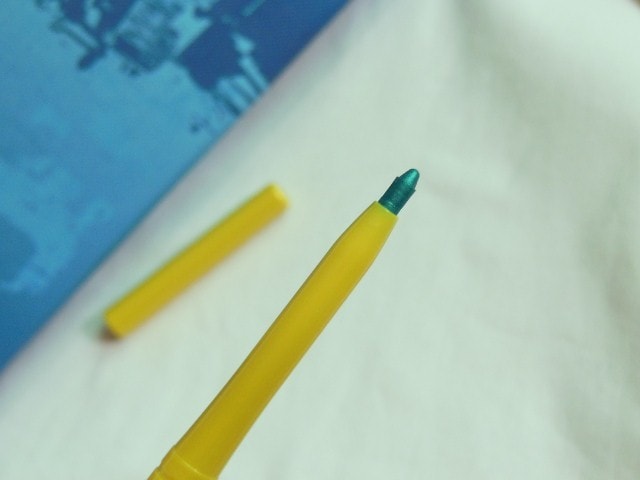 Texture: The consistency of the liner is just perfect not too creamy and neither stiff which applied smoothly on lids without any tugging or pulling.
Pigmentation: It provides a rich color payoff and almost opaque color coverage in a single swipe, I like to go for second for that deep color and solid colored line on the lids
Staying Power: The liner has an amazing staying power. I go gymming with this liner on upper lash line and it stays intact no transfer, no smudging.. absolutely budge-proof! . I tested it on my upper lash line and it didn't budged ( or whole day just slight fading by the end of 10hrs. It passes it 12hr test on me though on lower lash line it smudges a little bit after 5-6 hours.
I read many reviews complaining about the tip-breaking due to pressure but for me it broke just like that, I am sure I haven't applied much of a pressure but still a part of it fell if from the color stick. 🙁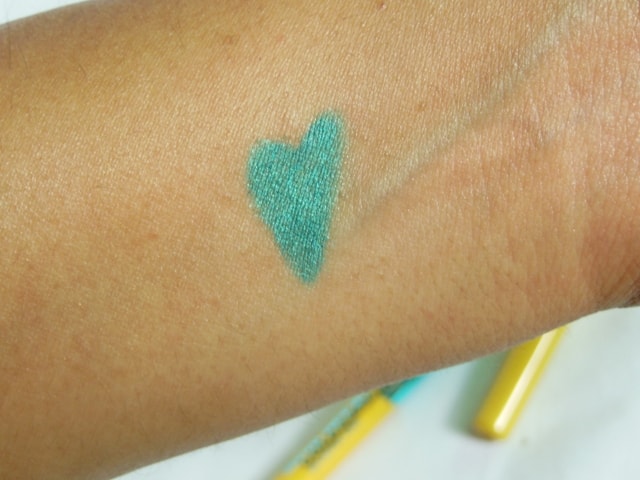 Pros of Maybelline Colossal Kohl Turquoise:
Gorgeous metallic Teal Blue Shade
Smooth Creamy Texture
Even Application
Rich pigmented formula
Long Wearing Formula
Stays intact for 12hrs on upper lashline
Doesn't fade or transfer
Affordably priced
Convenient to use retractable pencil
Cons of Maybelline Colossal Kohl Turquoise:
Tip breaks on its own
Recommendation: Maybelline Colossal Kohl Turquoise is a metallic teal blue shade with smooth creamy texture that gives an effortless application. It has impressed me with its formula and the rich colored pigments which give intense color in a single stroke. The best part is its absolutely smudge-proof, transfer-proof and fade-proof formula. One of the best colored Eye Pencil available in the Indian Market at such pocket-friendly price tag. I am loving this Kohl from Maybelline and waiting for more shades to be added in the collection. Highly Recommended!
Rating: 4.5/5
Have you tried Maybelline Colossal Kohl Turquoise? Which is your favorite brand for colored eye liners?
PS: Product has been provided by brand for consideration