Maybelline Colossal Kohl – Smoked Silver Review
Hello Everyone,
Today I have yet another colored eye pencil to share with you but this time it is not the usual green or blue but silver from the newly launched Maybelline Colossal Kohl colored collection. I have been looking for a nice silver liner but the options are so limited but finally was happy to see this silver shade in Maybelline, Maybelline Colossal Kohl – Smoked Silver.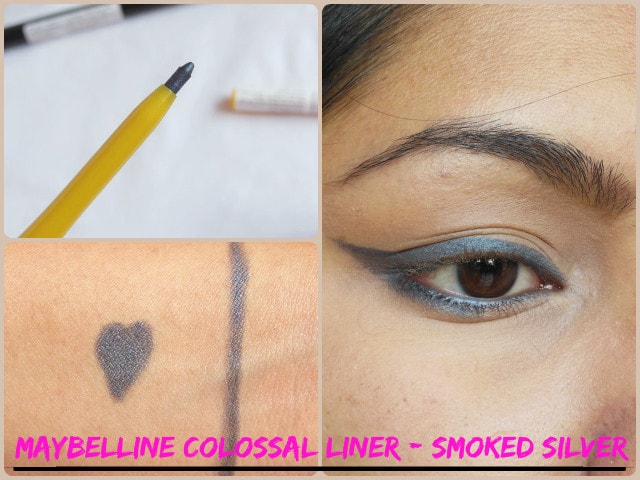 Product Claims: Maybelline Colossal Kohl Kajal enhances the appearance of your eyes.
Infused with nourishing ingredients and vitamin E this kajal gives soothing effect to your eyes.
Smooth texture of this kajal glides effortlessly onto eyes.
Color stays for minimum 12 hours without fading.
It features a unique tip which makes application easy and comfortable
Price:- Rs. 249 for .35 gms
Shelf Life:- 3 years from the Mfg date.
Packaging:- Maybelline Colossal Kohl comes in a twist up mechanical pencil type packaging in the signature yellow color. So, there is no need of sharpening or product wastage. There is a colored band on the pencil to indentify the shade but a fully colored outer body would have been much better as sometimes I miss between this and black one if I don't look at the color band.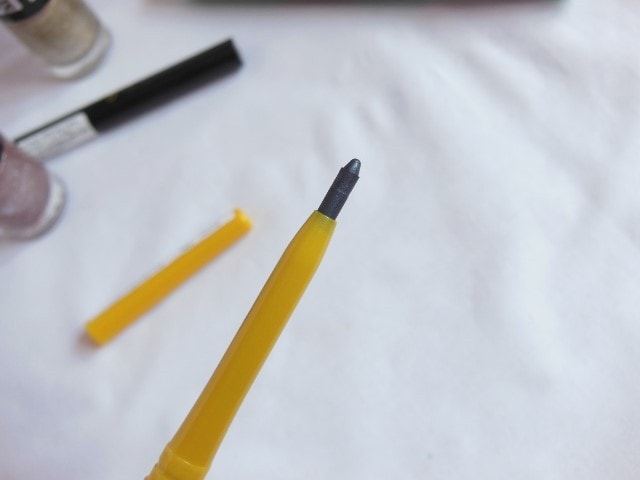 My experience with Maybelline Colossal Kohl Smoked Silver:-
Shade: Smoked Silver is a medium gray shade with slight silver pearly sheen. The shade is no where close to shimmery silver that I was looking for but it can be option to break the monotony of creamy black liner. If you dont want that stark black liner then this gray aka smoked silver could be a great pick.
Formula: The kohl has a creamy smooth texture which is slightly slippery compared to the Maybelline Colossal Kohl Black. It does apply smoothly without any tugging or pulling.
Pigmentation: Surprisingly, the liner lacks pigmentation and it takes time to show up on lids. I have to swipe it 2-3 times to get a decent color on lids. On waterline, it gives just hint of gray. I would rather use it on lower lash line for a smoked out effect
Staying Power: The kohl has a decent staying power and it lasts as long as 6-7 hours on me but it does start smudging quite early. I can see slight transfer to the lids area in 2-3 hours of application but being a gray shade it isn't as prominent as any black one. The kohl will last long if you mattify eyes before application with a compact so that oil from the lids doesn't come in contact with liner causing it to smudge.
Don't Miss to Checkout:
Pros of Maybelline Colossal Kohl Smoked Silver:-
Creamy texture
Applies smoothly
Easy on pocket
Lasts 6-7 hours but with little smudging
Colored band for identification
Can be paired with black for smokey eye looks
Convenient to use packaging
Available in 3 colorful shades
Cons of Maybelline Colossal Kohl Smoked Silver:-
Needs at least 3-4 swipes to show up
Transfers on oily lids
Doesn't show well on waterline
Recommendation:- Maybelline Colossal Kohl Smoked Silver is a nice gray colored liner with creamy smooth texture that glides easily on lids. The formula takes 2-3 swipes to give a rich color on lids but it wore well for 6-7 hours with slight transfer. It can be used with black eye shadow for a smokey look as it not 100% smudge-proof. The color might suit girls with heavy dark circles as gray can make them look grave and prominent. Otherwise a nice shade to try if you are bored of intense blacks.
Rating:- 3.5/5
Have you tried Maybelline Colossal Kohl Smoked Silver? Which is your favorite silver/gray liner?