Maybelline Colossal Kajal Review
Product Claims:-
COLOSSAL INTENSITY :- Our Deepest black pigments + unique tip deliver the blackest black shine ever. Color glides on smooth and so intense!
COLOSSAL WEAR :- Never before 6 hours of smudge resistant wear. Our exclusive color fix formula gurantees intense color results that won't smudge, budge or fade. No more touch ups.
COLOSSAL CARE :- The ultimate in care with a combination of 5 caring ingredients. Formula enriched with Vitamin E soothes the eyes.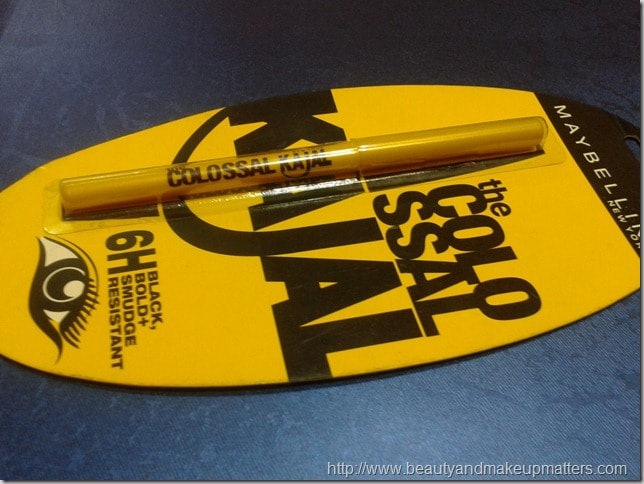 Price:- Rs.150 for 0.35gms
Shelf Life:-  24 months from the Mfg date.
Packaging:- The kajal is packaged in bright yellow cardboard with a molded plastic that contains the kajal. It comes in a sleek retractable pencil form just like any other eyeliner. The kajal is encased in yellow outer cover with the product details in Black. The cap shuts tight with a click sound. Packaging is sturdy and travel friendly.

What I liked about Maybelline Colossal Kajal :-
The kajal (liner) is soft and glides smoothly but I find it difficult to use on water line as it doesn't give that desired intense black kohled look. The kajal looks dark and gives its true color (intense black) when swatched on hands or used on lash lines but it is goes sheer and very light on the water line.
Kajal that can be used as a liner because of its smudge – resistant property. I love using it on lower lash line for tight lining.
Absolutely Smudge-proof as I try to rub it hard but it doesn't moved a bit. So, it won't give you raccoon eyes unlike normal kajals.
Stays put on my eyelids for whole day until I remove it with a cleanser.
Doesn't irritate my eyes.
Reasonably priced.
I liked the bright yellow packaging. The kajal stands out from other liners that are usually encased in black outer covers.
What I disliked about Maybelline Colossal Kajal:-
Ingredients list is absent. Claims to have 5 caring ingredients, but apart from Vitamin E, nothing else are mentioned.
Doesn't give an intense black color when applied on waterline. Doesn't give any shine as claimed
Its a bit difficult to take off. It doesn't get removed with normal face wash and have to remove it with cleanser or makeup remover.
Don't Miss to Checkout: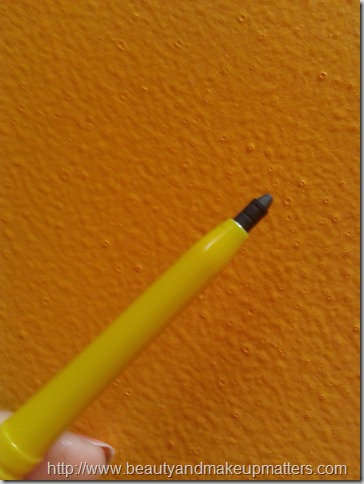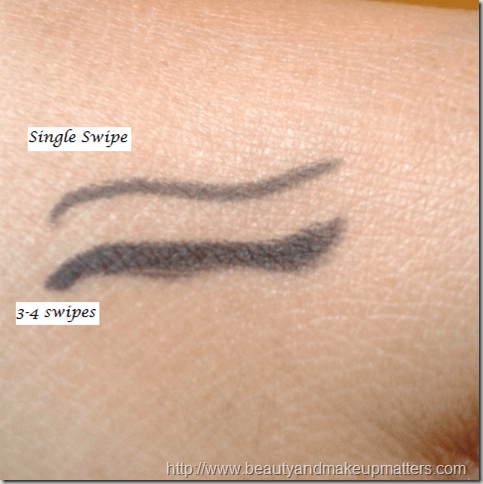 Recommendation:- I was looking for a smudge proof kajal but Maybelline Colossal Kajal one satisfy only half of my needs. I don't like this much because as a kajal it doesn't give that shiny black kohled eyes but being smudge proof it can used as an eye liner. I would call this a Kohl-liner and not a kajal as it is quite slimmer than kajals and glides on like a liner. You must try it out once if you still haven't and this won't pinch your pocket much.

If you are looking for black smudge proof eye liner that can be safely applied to lower lash line or love doing tight lines then go ahead and get this but if you want some intense black kajal then it can be ignored.
Rating:- 3.2/5
Have you used Maybelline Colossal Kajal? Did you liked it as kajal or liner?