Maybelline Color Sensational Lipstick Hooked On Pink Review, Swatches, LOTD
Maybelline Color Sensational  range has a huge variety of shades and some of the lipsticks in Color Sensational range are also available in the lip glosses form and Hooked on Pink is one of them. I have been lusting for the Hooked on Pink Lip gloss since long but while finalizing the order I selected the lipstick instead the gloss. So, let check out how I liked the Maybelline Color Sensational Lipstick Hooked On Pink lipstick.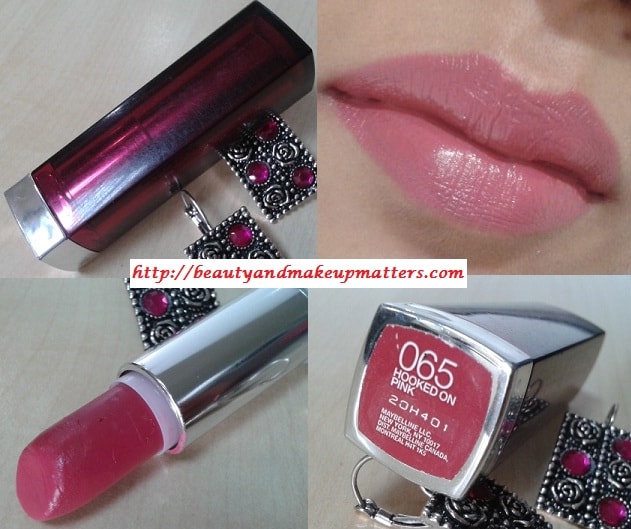 Product Claims: (From the website)
Crisper color from pure pigments.
Creamier feel from nourishing honey nectar
Lipcolor so rich, so stunning… it's sensational
33 Captivating Shades
Expert Tip:- Apply your lip color by starting in the center of your upper lip. Work from the center to the outer edges of your lip, following the contours of your mouth. Then glide across the entire bottom lip.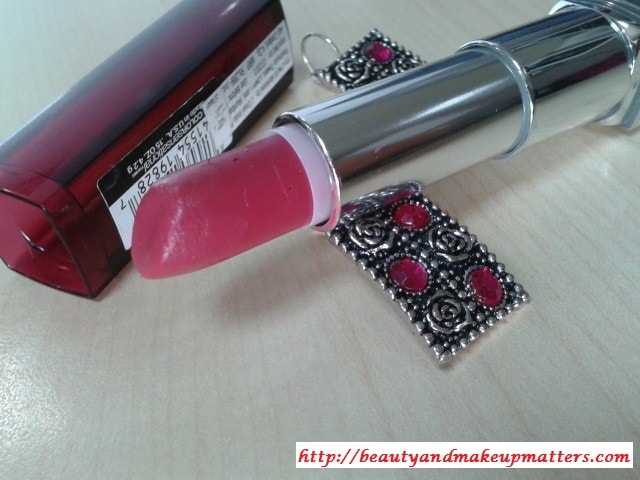 Price:- Rs.299 for 4.2gms
Shelf Life:- 3 years from the Mfg date.
Packaging:- Maybelline is a drugstore brand but the pretty packaging gives a tough competition to expensive brands too. Maybelline Color Sensational lipsticks come in stylish square cases. The translucent glass cap is colored based on the shade family of the lipsticks like brown, pink, plum or Red. Hooked on Pink belongs to the pink family so it has a pink colored cap. The silver metallic tube with a square base has a lip color sticker pasted over it. The sticker also has the shade of the bullet written over it.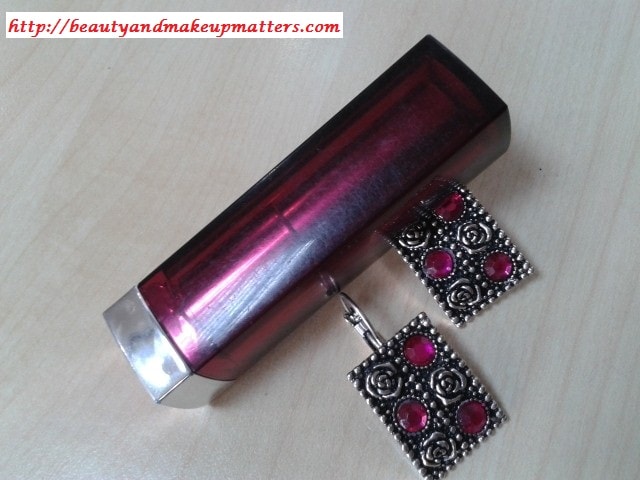 My experience with Maybelline Color Sensational Lipstick Hooked On Pink:-
Shade:- Hooked on pink is a beautiful deep pink shade with a hint of fuchsia. It is a medium bright pink with some berry undertones. I love to pair this up with brown Smokey eyes and a light pink blush to balance out the color.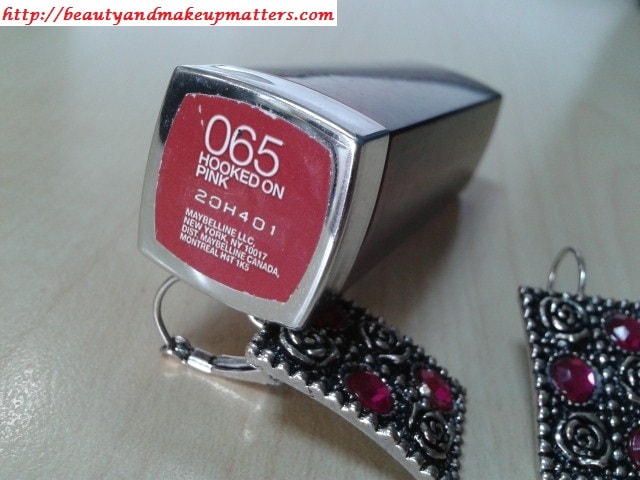 Pigmentation:- It is not sheer lipstick but provides full coverage in 2 swipes. It is superbly pigmented and gives a rich deep pink color to the lips. It is a nice matte shade and doesn't have any shimmers or frosts. The lipstick is light but might look cakey if you swipe it more that twice.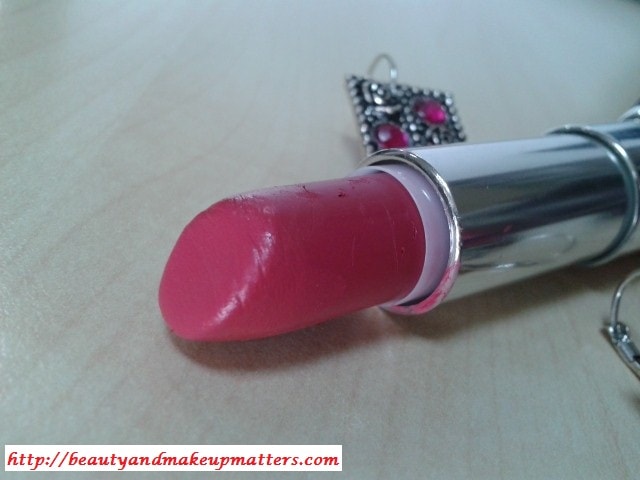 Texture:- The lipstick has a soft creamy texture which goes smoothly over lips. It is not a drying lipstick but slightly moisturizing. Even girls with dry lips can easily skip on the lip balm underneath. It gives a nice soft satin finish to the lips and doesn't accentuate fine lines.
Swatches:-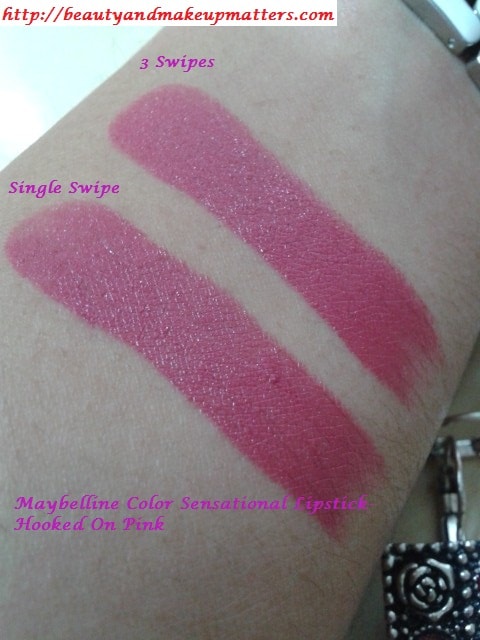 With Flash:-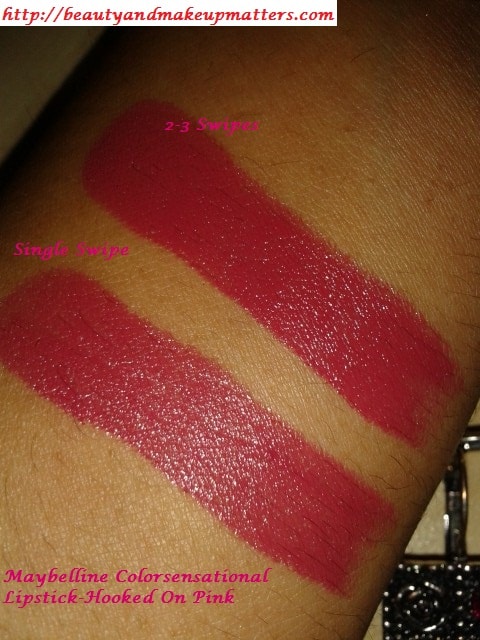 Staying power:- When worn directly the lip color stayed for around 4-5 hours without meals but with snacks in between, it lightens and leaves a light pink tint on the lips.
I have tried wearing this lipstick as a stain as well by swiping the lipstick once all over the lips and pat with a tissue, one more swipe for that perfect finish and I must say that the lasting power of the lipstick has increased this way. The lipstick almost becomes kiss-proof if you skip on the second swipe.
LOTD:-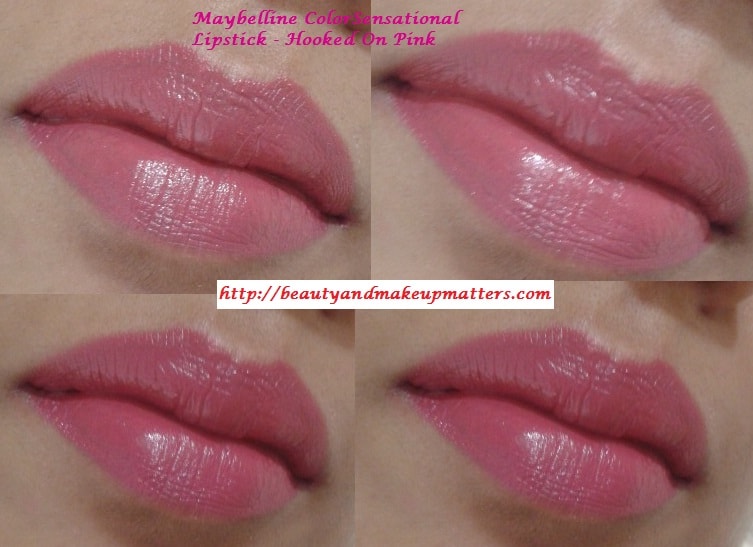 Pros of Maybelline Color Sensational Lipstick Hooked On Pink:-
Gorgeous deep Pink shade with a hint of fuchsia, free from shimmers.
Amazingly pigmented
Has nice creamy texture which gives smooth application.
Doesn't feel heavy on lips
Slightly moisturisation and I don't feel the need of applying a balm over-under the lipstick
Mild caramel/coconuty smell
Stays for 4-5 hours without meals and leaves a light–pink stain on the lips
Great value for money
Available in numerous shades of pink, plum, red and browns.
Cons of Maybelline Color Sensational Lipstick Hooked On Pink:-
You must not go overboard with this else it will look cakey and may bleed. Two swipes are more than enough to provide desired coverage and finish.
Being creamy it slips slightly off the lip after meals. Also, it is not a transfer-proof lipstick but who is complaining.  😉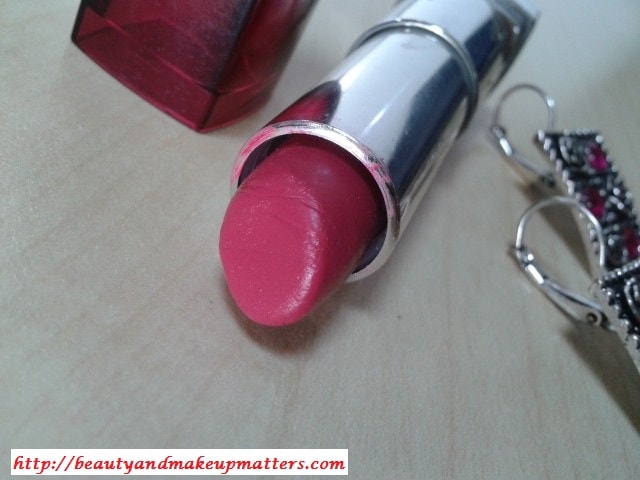 Recommendation:- Maybelline Color Sensational Hooked on Pink is lovely warm deep pink shade. I think it is a wearable pink shade which instantly brightens up my face. It comes in a classy packaging, goes smoothly over the lips, doesn't dry out lips and comes at an affordable price. The shade might not be liked by everyone and some may find it too bright to be their choice but I love this shade. It would look gorgeous on most of the skin tones, especially ladies with dusky skintone.

Also, Maybelline ColorSensational range has so many shades to choose from that everybody can find a color of her choice. I have become a fan of Maybelline ColorSensational lipsticks and will be getting more shades for myself. I would love to recommend this lipstick to all and Hooked on Pink is a must have shade from the Colorsensational range.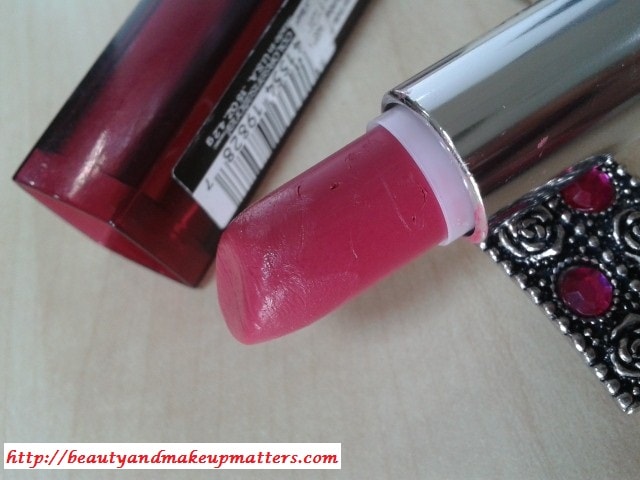 Rating:- 4/5
Have you tried Maybelline Colorsensational lipstick? Do you like the Hooked on Pink gloss or the lipstick better?