Maybelline Colorsensational Lip Polish – Glam 16 Review, Swatch, LOTD
I have been staying away from glosses since many months now but now I want to give my matte finish lipsticks some rest and sport those juicy pouts once again. I have always loved the light weight shimmer-free formula of Maybelline lip glosses so I chose Maybelline Lip Polishes to start with. Lets see if it lived upto its claims,  Maybelline Colorsensational Lip Polish – Glam 16.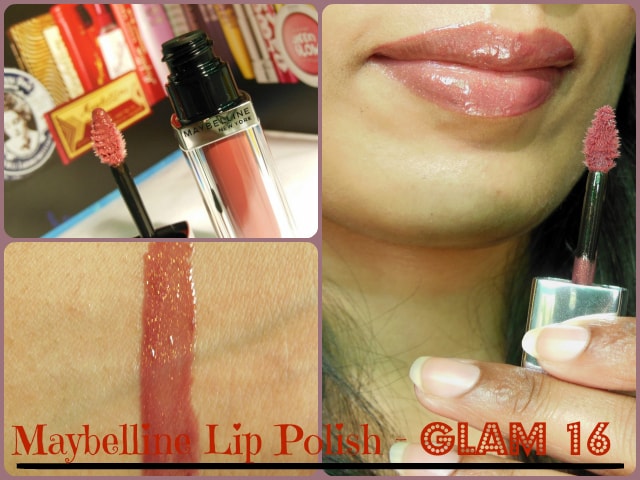 Product Claims: For glossy, plump lips, choose Maybelline's Lip Polish by Color Sensational.
Featuring glossy, vivid colors that also have a moisturizing effect, this lip polish makes your lips look fuller and more luscious. Dress your lips in a shade you love and watch heads turn!
Here's why you'll love it:
Has pure, saturated color pigments that provide deep intense color
Acts as a moisturizing liquid conditioning balm
Gives a soft cushiony feel to the lips
Features a built-in glossy top-coat that makes lips look fuller
Comes with a specially designed leaf-shaped applicator for quick, precise application
Price: Rs. 450
Packaging: Maybelline Lip polishes comes in an attractive lipstick illusion lip gloss packaging. The tiny, chubby square shaped transparent bottle has a slanted bullet shape filled with the liquid formula, looks like a lipstick bullet is encased within… super prettyy!! The bottle is shorter than most of the glosses and has slightly bent heart shaped applicator which picks a little amount for each application.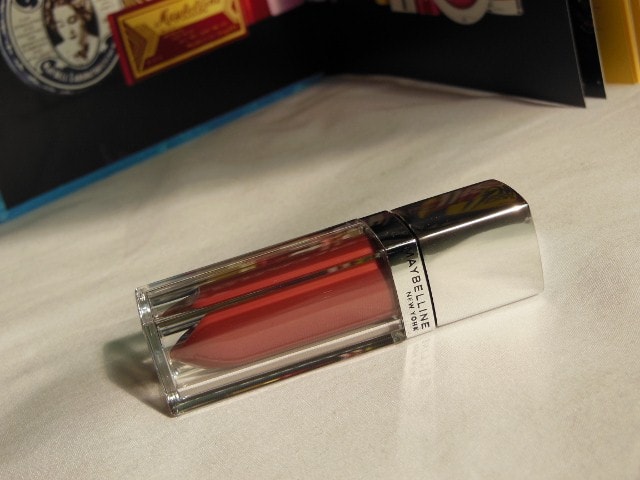 My Experience with Maybelline Colorsensational Lip Polish – Glam 16:
Shade : Glam 16 is a medium brown shade with plum undertones and oodles of golden shimmers. The gloss is much darker in the tube (almost scary) but looks beautiful on application as it goes quite sheer. I like to layer up my matte finish lipstick with it for a fuller lips illusion (aren't they already big enough.. :P) just tap a bit in the center of lower lips and down the cupid bow.  The shade will flatter medium/dusky skin tones and won't wash out anyone.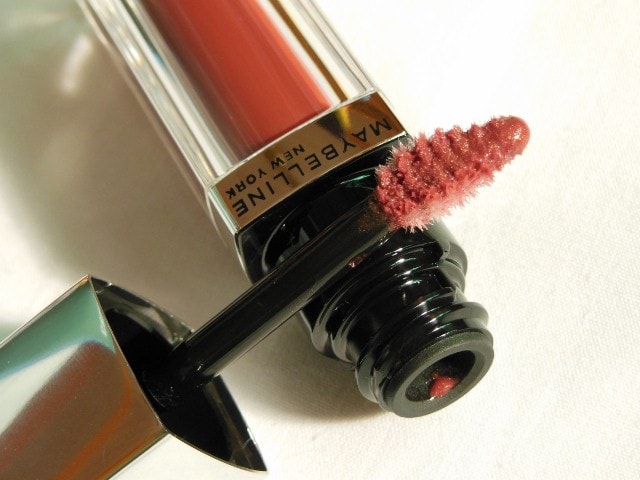 Texture: Maybelline Lip Polish has light-weight creamy texture, on par with the ColorSensational glosses which I love. It goes on smoothly on lips giving an even application but I have to dip the wand again and again as it picks up only tiny amount every time.
Don't Miss to Checkout: Maybelline Colorsensational Lip Gloss – Cranberry Cocktail
Pigmentation: Going by the name and packaging of the gloss I was expecting them to have rich lipstick like pigmentation in a gloss formula but it turned out much sheerer. On my pigmented lips, it gives a hint of brownish plum shade with barely there coverage when spread. If applied thickly, no spreading/moving the wand around the lips just patting the liquid on lips, coverage improves but it starts feeling uncomfortable with so much of product on lips
Finish: Glam 16 imparts a glossy watery shine to lips and the shimmer adds on to the shine by reflecting light. The shimmer specks infused in the liquid are absolutely smooth and not chunky or gritty, hence the lip polish wears comfortably.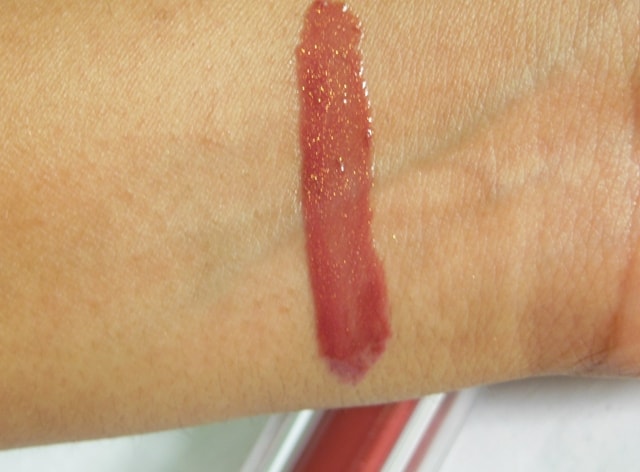 Staying: You couldn't expect a gloss to last 6 hours, so yes it also stays for 2-3 hours on me after which the gloss starts receding from lips and if you take meals in between than you will be left with only shimmer-specks on lips which might not be liked by everyone. The good thing is lip polish keeps the lips hydrated and they doesn't feel exactly dry even when the gloss is gone!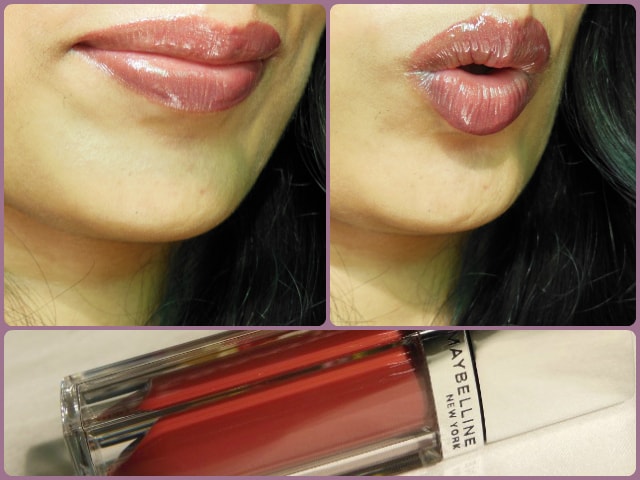 Pros of Maybelline Colorsensational Lip Polish – Glam 16:
Smooth application
Non-sticky texture
Finely milled shimmers
Hydrating formula
Doesn't bleed
Cute packaging
Array of shades to choose from
Easily available
Cons of Maybelline Colorsensational Lip Polish – Glam 16:
Shimmer specks residue
Sheer pigmentation
Pricey for a gloss ( I liked the Maybelline ColorSensational lip gloss better)
Recommendation: Maybelline Colorsensational Lip Polish – Glam 16 is a lovely shimmery brownish gloss, an everyday wear shade with a glassy water-like shine. The formula has full on shimmers which works towards adding shine on lips but they doesn't look OTT or much noticeable until the gloss fades away from the lips. The creamy textures, non-sticky formula feels comfortable on lips while coating lips with a translucent layer of color. The formula is hydrating to lips and dry/chapped lips will love that balmy feel with glossy shine. I wish these lip polishes had better color payoff so that even pigmented lips can fall in love with these.Maybelline Colorsensational Lip Polish collection has a large number of shades and finishes to choose from with one of the best lip-gloss formula, I love them more for their affordability.
Rating: 4/5
Have you tried the Maybelline Lip Polishes? Which is your favorite shade from the range?