Maybelline Coloroma Nail Polish-Sexy (221) Review, NOTD

Maybelline Coloroma Nail Polish-Sexy shade is amongst my first buy from Coloroma range. I bought it along with Coral Chic shade, which I will be reviewing soon.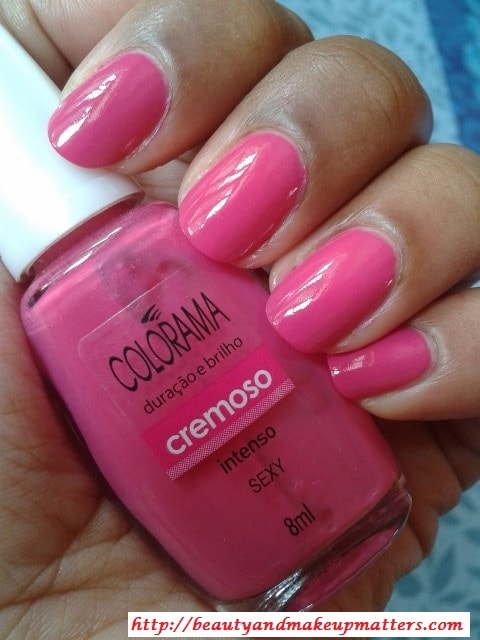 Product Claims: Maybelline Colorama Nail Color offers
High-gloss nail color with 5 day wear!
Combine a visually stunning palette of pigments, pearls and glitters
It's the ultimate accessory that transforms your look from day to night, fun to funky and classic to daring…in a flash!
Direction for Use:- With one sweep, paint the first line of nail polish up the center of your nail starting from the base to the tip. For the cleanest look, be sure to leave a small space at the base of the nail. Then apply color to the rest of the nail with additional sweeps of polish on each side of the original line. Let your nails dry before applying a second coat.
Price:- Rs.100 for 8ml
Shelf Life:- 3 years from the Mfg date.
Packaging:- The nail paint comes in an oval shaped glass bottle with a small white colored plastic handle. The name of the shade can be located on the front face of the bottle which makes it difficult to find it from a bunch of same bottles.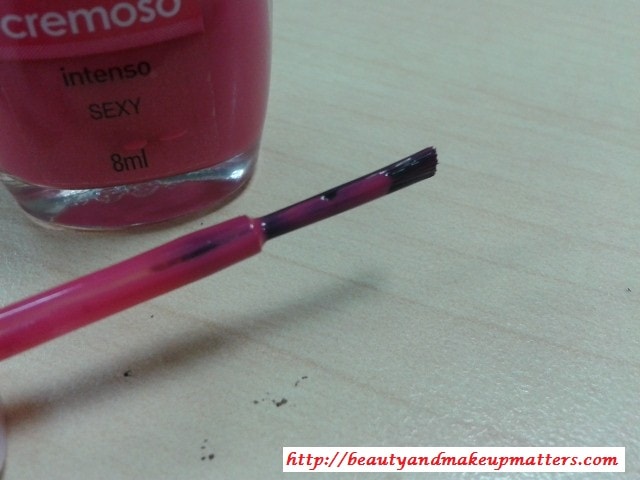 The handle is slim and comparatively smaller but the brush is large and the bristles are aptly packed to give a smooth application.
My experience with Maybelline Coloroma Nail Polish-Sexy(221):-
Sexy is a Fushia Pink shade with blue undertones and doesn't contain any shimmers or sparkles. It is plain color which is bright and very appealing and Sexyy.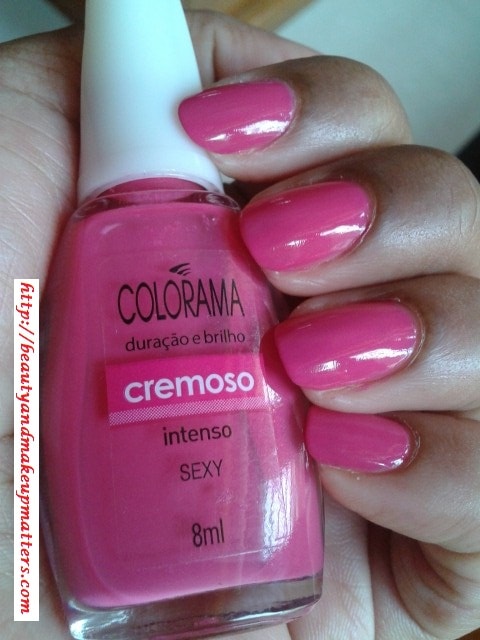 Formula:-The consistency of the nail polish is little runny and the applicator picks up a lot of amount. To get an even finish, remove the extra nail polish from the brush before starting with the application. The runny consistency makes it easy to apply and you can go for multiple coats of the nail polish without messing up the application. The formula is good and never gave me streaky application.
Pigmentation:-The Nail polish is pigmented and has good color pay-off but to get an opaque coverage I have apply at least 2 thin coats of this. I tried to apply a single thick coat of the nail polish but it leads to uneven application. The nail polish dries up pretty fast on the nails with a high-glossy finish. I loved it glossy finish but the shine subsides after 2 days of application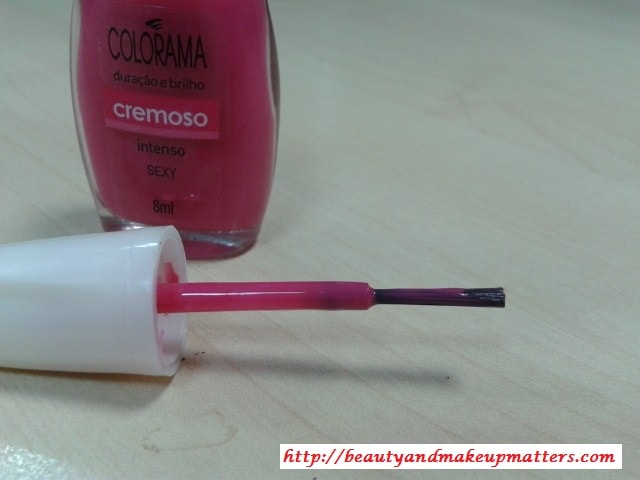 Staying Power:-The staying power of the nail polish is not amazing and without a top-coat it will not survive for more than 2-3 days but without any major chipping. The top-coat increases its stay for a day or two.
NOTD:-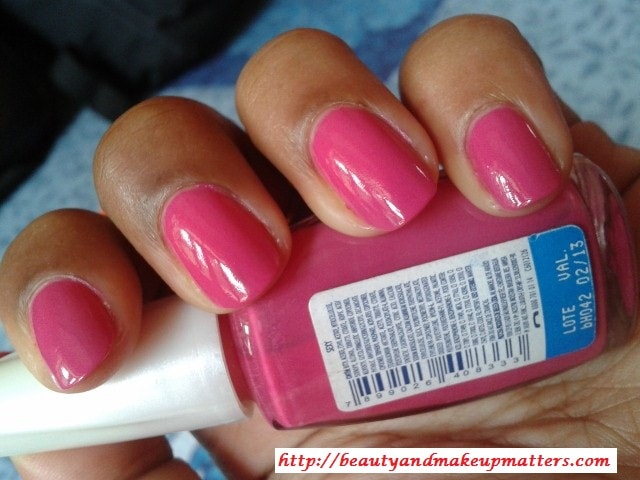 With Flash:-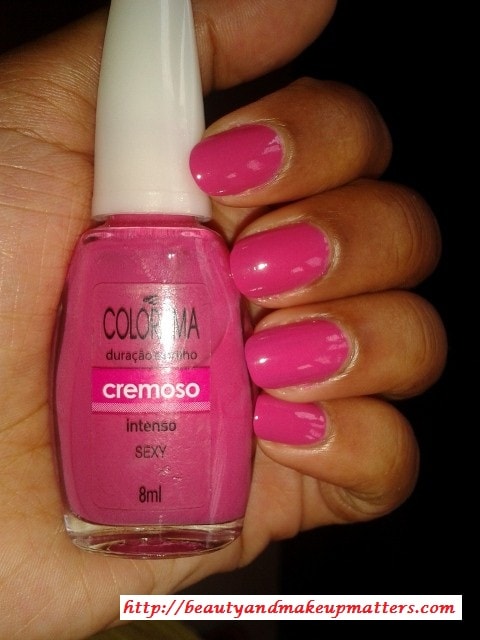 Pros of Maybelline Coloroma Nail Polish-Sexy(221):-
Lovely Fuchsia Pink color which is looks sexy
Require 2 thin coats to get opaque coverage.
The formula is good which gives a non-streaky, even application
Dries up fast
Gives a nice glossy –creamy finish to the nails
Long and good quality brush gives an easy application
Affordable at just Rs.95
Available in various exciting shades.
Cons of Maybelline Coloroma Nail Polish-Sexy(221):-
The applicator picks up quite a lot of amount due to its runny consistency, which at times can mess up the application
The glossiness and shine starts fading within 2 days of application.
Staying power is average. 2-3 days but can increased with the top-coat to 4-5 days.
Recommendation:- If you love Fuchsia shades or can carry bright colors with confidence then you must have this Maybelline Coloroma Nail Polish-Sexy shade.

It is a gorgeous bright pink shade which adds the oomph factor to the nails. It is a perfect shade for winters. Also, these beauties comes at such a lovely price that there is nothing much to complain.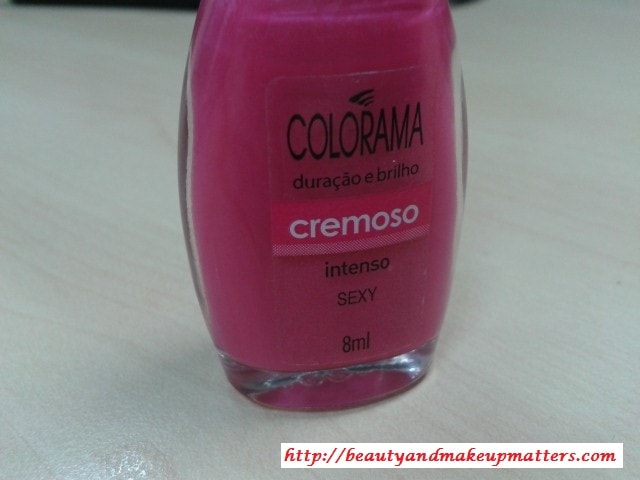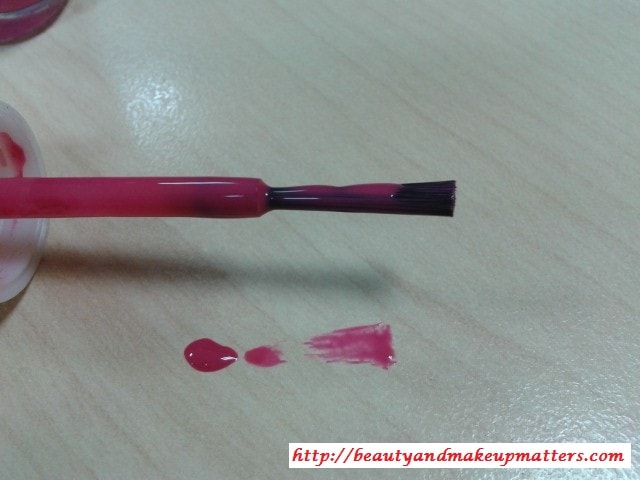 Rating:- 4/5
Have you tried Maybelline Coloroma Nail Polish-Sexy(221)? Which is your favorite hot pink nail polish?