Maybelline Coloroma Nail Polish – Coral Chic Review, NOTD
This shade is another shade from Maybelline Coloroma range that I bought along with Sexy which is a bright fushia pink shade.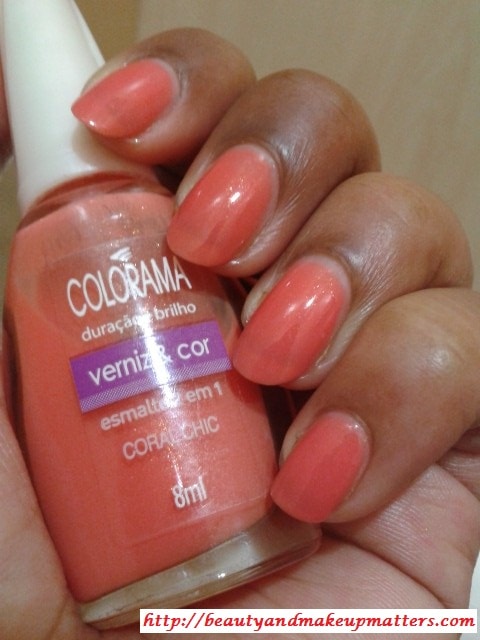 Product Claims:
High-gloss nail color with 5 day wear!
Combine a visually stunning palette of pigments, pearls and glitters
It's the ultimate accessory that transforms your look from day to night, fun to funky and classic to daring…in a flash
Direction for Use:- With one sweep, paint the first line of nail polish up the center of your nail starting from the base to the tip. For the cleanest look, be sure to leave a small space at the base of the nail. Then apply color to the rest of the nail with additional sweeps of polish on each side of the original line. Let your nails dry before applying a second coat
Available in 26 beautiful shades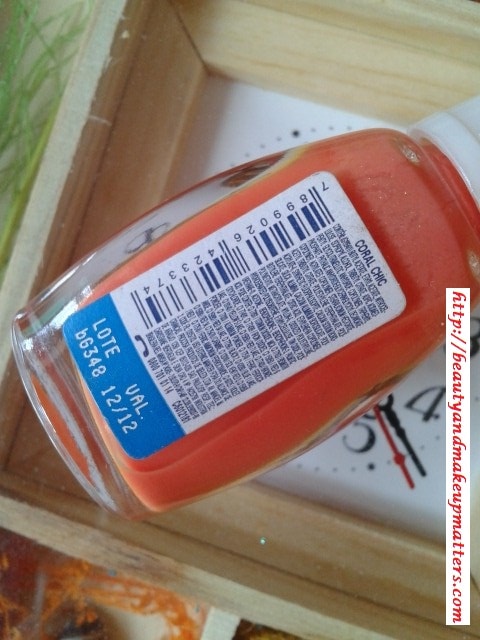 Price:- Rs.100 for 8ml
Shelf Life:- 3 years from the Mfg date.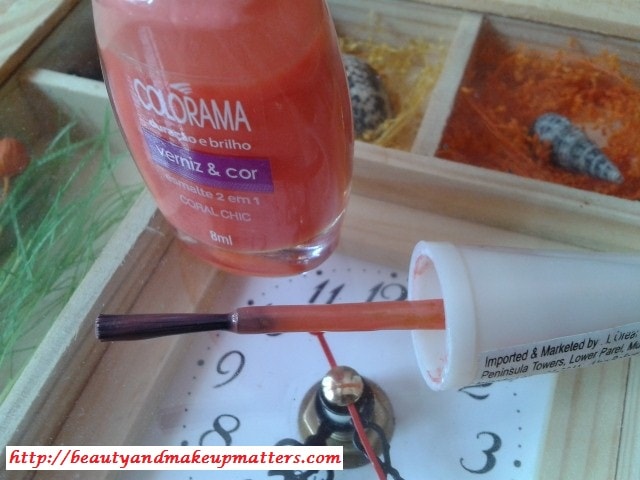 My experience with Maybelline Coloroma Nail Polish – Coral Chic:-
Coral Chic:- It is a beautiful coral shade with dominant orange tones. It looks more peachy-orange shade than peachy–pink. The nail polish consists of fine golden specs in the liquid which adds charm to this lovely shade. The cute shimmers give a subtle glow to the nail enamel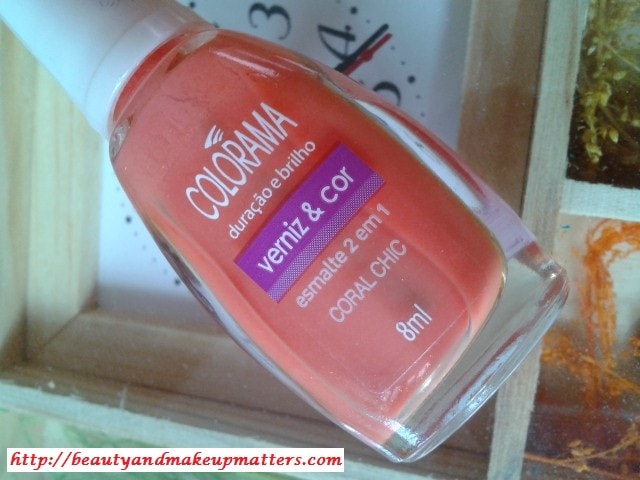 Texture:- The formula of the nail enamel is thin and extremely runny. I found it to be thinner than the Sexy one but the thin applicator brush handles the enamel well and give a smooth application. The nail goes nicely over the nail without any streaks or uneven coverage.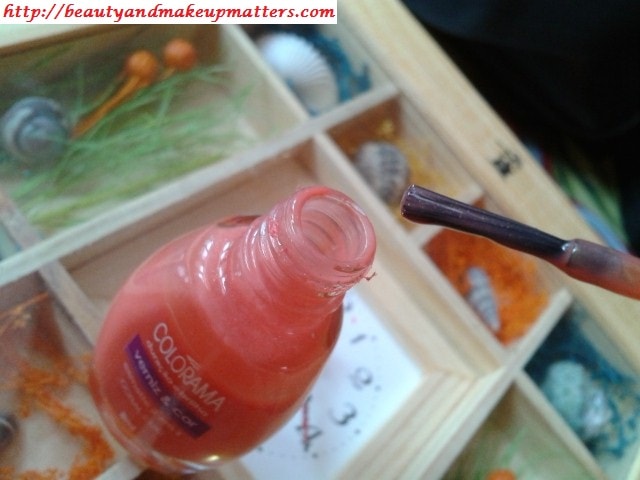 Pigmentation:- This is the only area of the nail enamel which left me disappointed. The nail enamel goes sheer almost transparent in single coat and needs more than 4 coats to get a decent opaque finish. But due to the thin consistency of the nail enamel the application doesn't get messy or thick unlike other creamy Nail Lacquers e.g. Colorbar Nail Lacquers.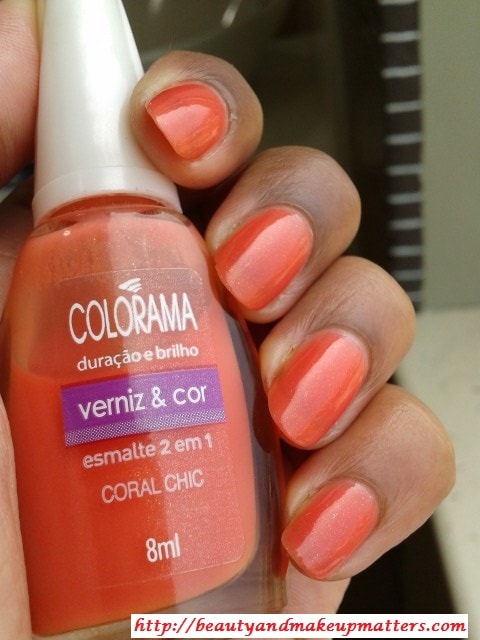 Finish/Dry:-The nail polish dries to a supreme glossy finish. I love the sheen added by the fine golden shimmers in it. The most amazing part of the nail enamel is its dry time. It dries really really quick just like a breeze. I mean by the time I reach my last finger the enamel on the rest of the fingers dries up.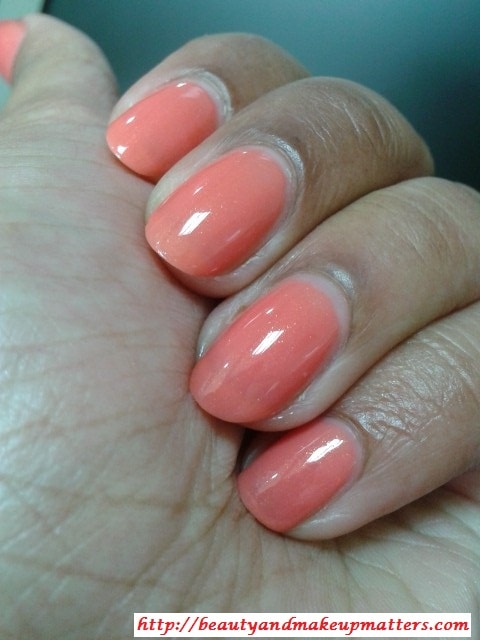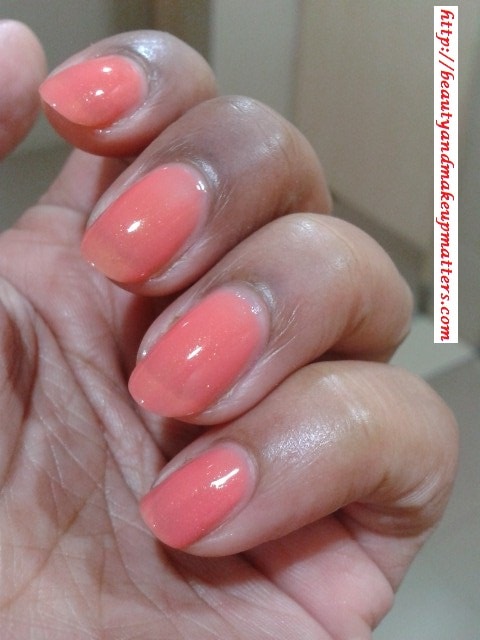 Pros of Maybelline Coloroma Nail Polish – Coral Chic:-
Lovely peachy-orange shade
Pocket friendly price
Gives a smooth, streak-free application
Fast drying and doesn't take time to settle down
Glossy finish with subtle shine provided by the fine golden shimmers.
Thin and long applicator brush which applies the nail polish nicely
Cons of Maybelline Coloroma Nail Polish – Coral Chic:-
Runny Texture
Sheer coverage and needs multiple coats for opaque finish.
Made my not so fair hands look darker
Doesn't stay more than 2 days without a top-coat.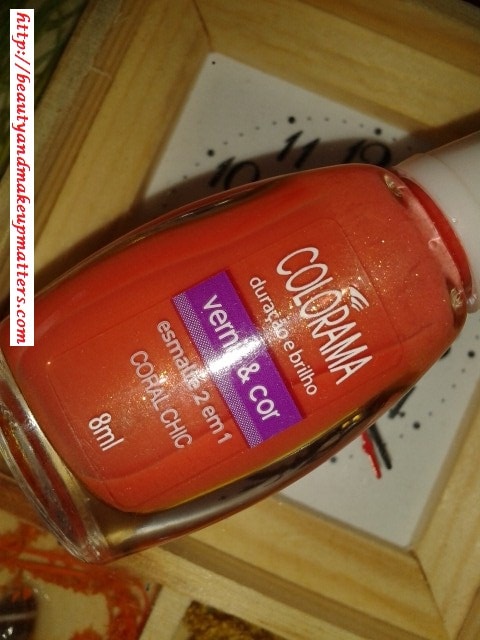 Recommendation:- Maybelline Coloroma Nail Polish – Coral Chic is nice peachy-orange nail enamel which can be easily used in nail arts. The runny texture and sheer finish is a bit of problem but the formula goes smooth and dry pretty fast.  Though it requires multiple re-applications but the light texture doesn't let it go heavy and thick. I am a lazy bum and like the nail enamels going opaque in a single coat so I usually don't reach out to sheer shade but Coral Chic is a fun shade to play with. It makes a gorgeous spring-summers shade which will look fabulous on fair hands.

For dark and dusky skin tones I would suggest to try this one at the counters. Overall, A good shade to have!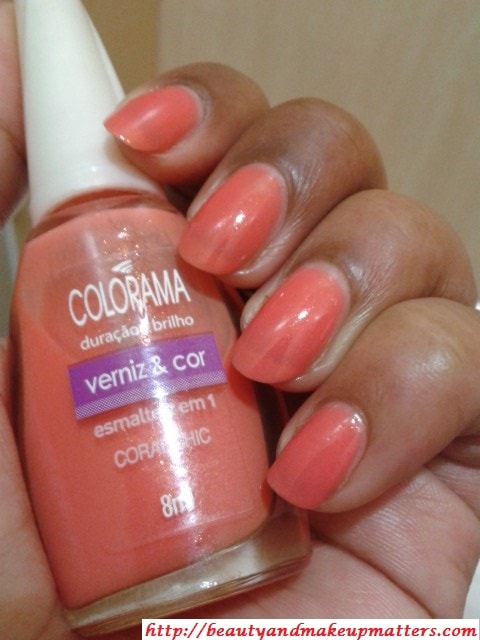 Rating:- 3.5/5
Have you tried Maybelline Coloroma Nail Polish – Coral Chic? Do you love wearing coral or orange shade nail enamels?