Maybelline Coloroma Nail Polish – Black Review
I own four of these Maybelline Coloroma Nail Polishes with the names Coral Chic, Sexy, Glitter Prata, Amanhecer which are already reviewed. I had also reviewed Konad Nail Polish in Solid Black which I hated for its finish and stinky smell. So, today I am going to review the latest addition to my Maybelline Coloroma Nail Polish collection which is my 2nd black nail polish Maybelline Coloroma Nail Polish in Black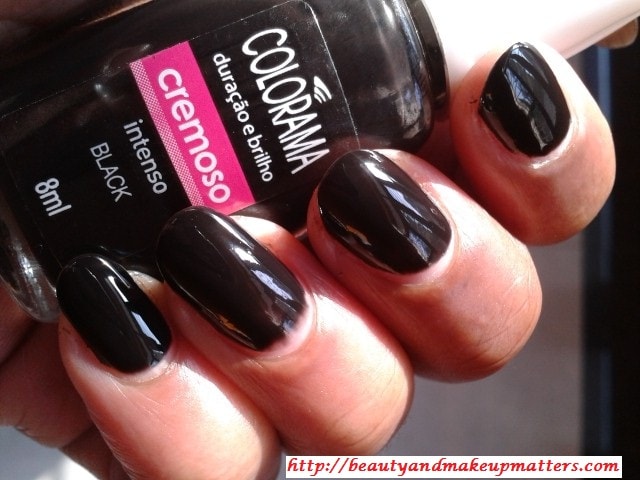 Product Claims: Maybelline Colorama Nail Color offers
High-gloss nail color with 5 day wear!
Combine a visually stunning palette of pigments, pearls and glitters
It's the ultimate accessory that transforms your look from day to night, fun to funky and classic to daring…in a flash!
Direction for Use:- With one sweep, paint the first line of nail polish up the center of your nail starting from the base to the tip. For the cleanest look, be sure to leave a small space at the base of the nail. Then apply color to the rest of the nail with additional sweeps of polish on each side of the original line. Let your nails dry before applying a second coat.
Price:- Rs.100 for 8ml
Shelf Life:- 3 years from the Mfg date.
My experience with Maybelline Coloroma Nail Polish – Black:-
Maybelline Coloroma Black is a basic creamy black nail color in runny consistency. The thin texture is common in all of the Coloroma Nail Polishes but formula isn't something similar to the rest of the shades that I own from Coloroma range.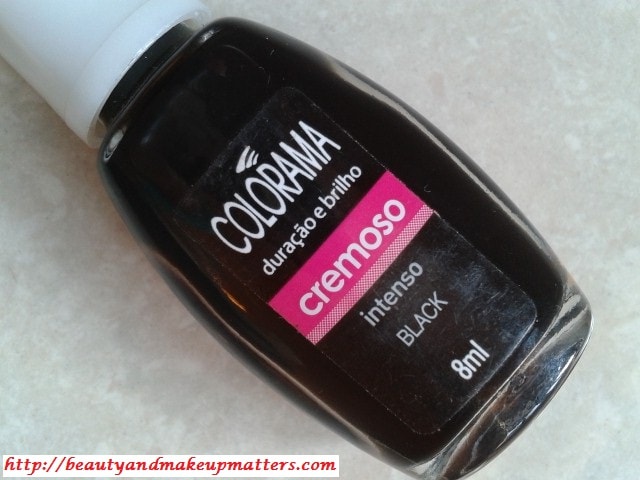 Polish starts separating the moment I sweep the brush on nails. Something like you start cleaning an oily surface with a wet cloth and the water on the surface starts separating (making sense??). The nail polish went extremely patchy and almost transparent with the first coat which was highly disappointing. However it starts smoothening with subsequent coats and went absolutely even and opaque with 3 coats.
I felt better to the see the final results as the nail polish went absolutely smooth and dried to a lovely silky glossy finish. It doesn't take too long to set completely and chip-resistant formula stayed well for 3-4 days on me. The thing I liked most about this shade is that it retains its super-creamy finish. The glossiness doesn't fade easily which makes it looks fresh even after days of application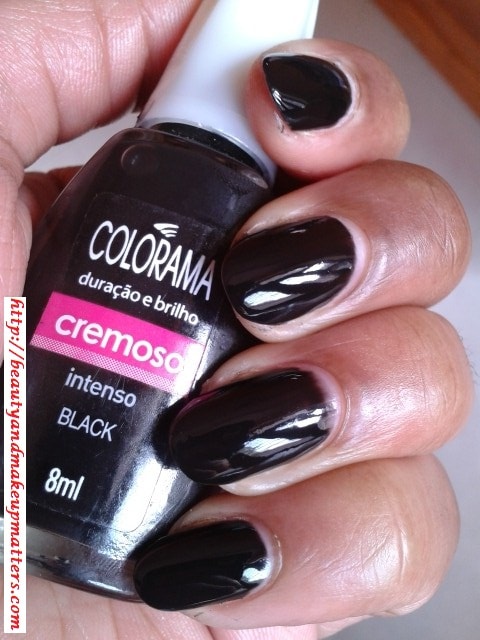 Pros of Maybelline Coloroma Nail Polish – Black:-
Dries up fast
Glossy finish which stays long
Chip-resistant formula
Pocket friendly price
Available in vibrant shades and finishes
Cons of Maybelline Coloroma Nail Polish – Black:-
Goes patchy and uneven with 1st and 2nd coat
Requires 3 coat for opaque coverage
Recommendation:- Maybelline Coloroma Nail Polish – Black is a plain black nail polish which is a must have in every girls drawer just like a basic black jean. The quality isn't as great as rest of them as it looks terrible with first few coats but turns completely smooth and opaque with 3 coats. I like the creamy glossy finish Maybelline Coloroma Cremoso nail polishes. Due to the thin consistency layering is not a problem with these and the dry pretty quickly even with three coats. Staying is quite good and it can be further improved with a top-coat.

I am yet to find my HG Black nail polish, any suggestions!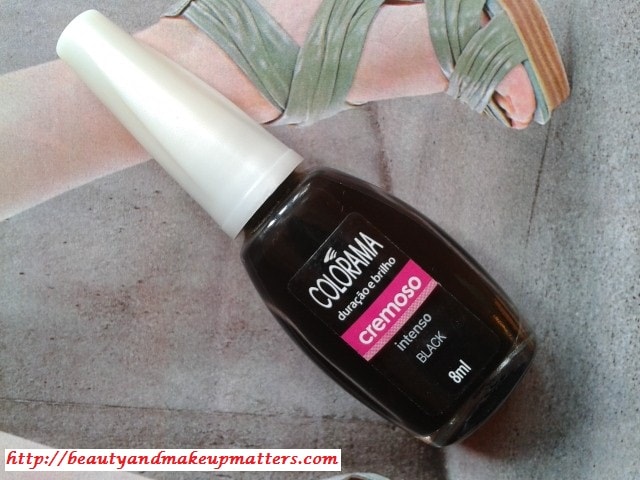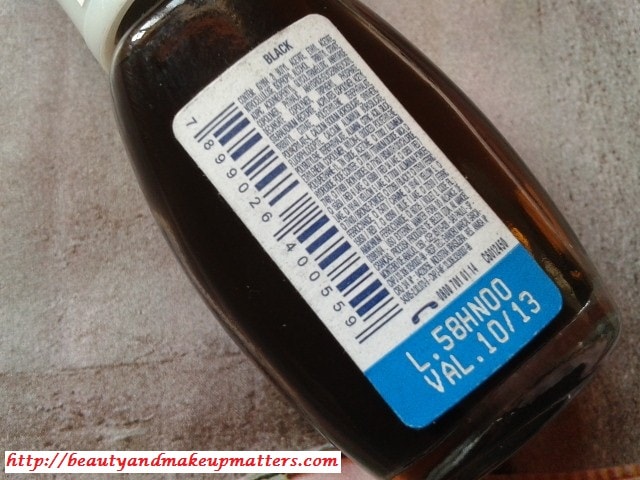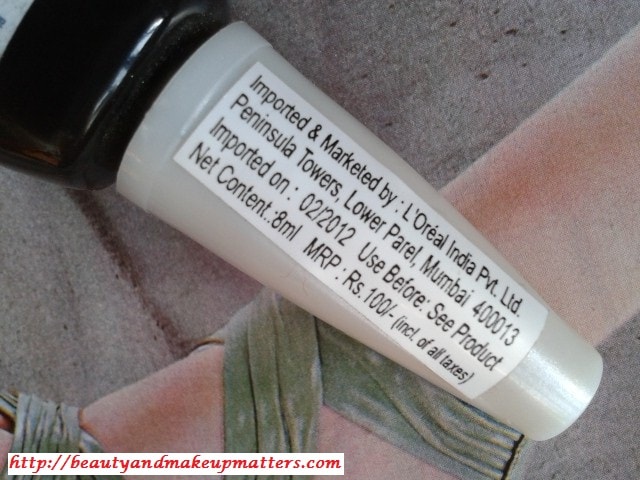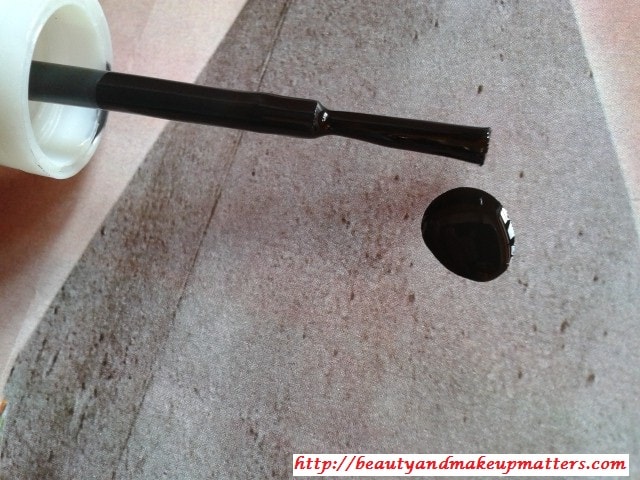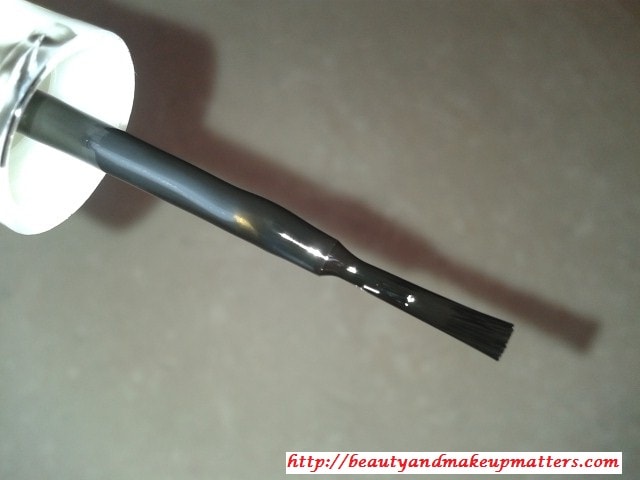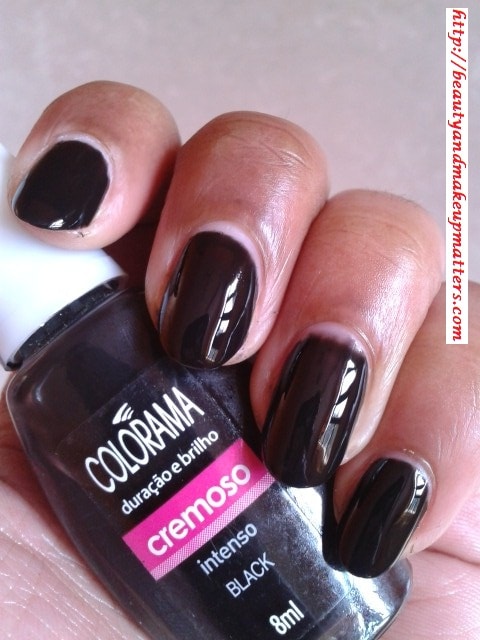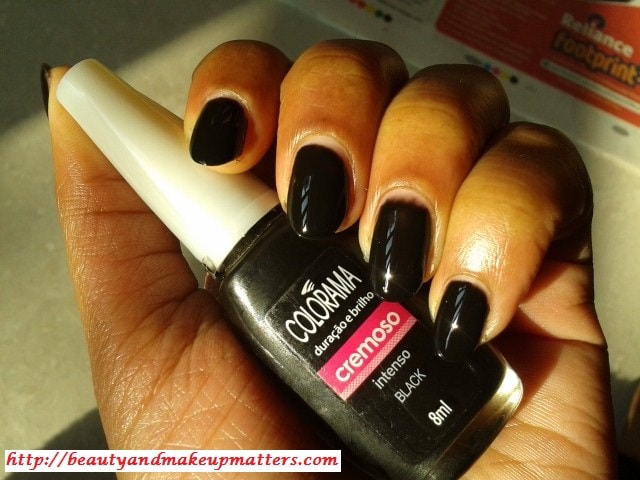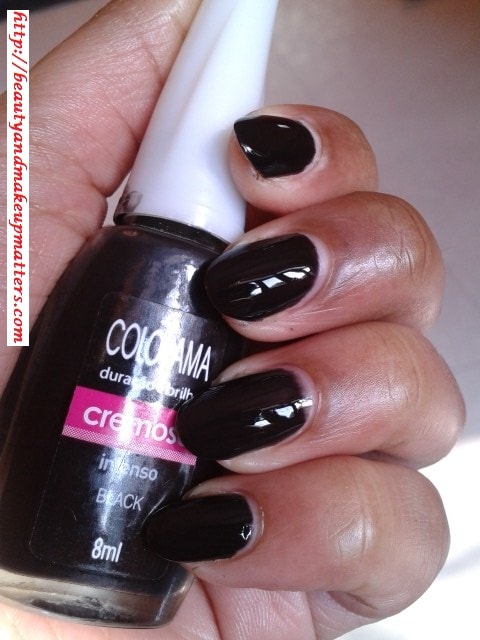 Rating:- 2.9/5
Have you tried Maybelline Coloroma Nail Polish – Black? Which is your favorite black nail color?