Maybelline Coloroma Nail Enamel-Glitter Prata Review, Nails
I have been desperately looking for a nice chunky glitter nail polish but to my dismay I wasn't able to find any in regular/drugstore nail enamel brands or you can say the affordable range of nail enamels available in India. Last year, when I was roaming in the local market around "Diwali" I saw counters of Maybelline and Chambor in middle of the pavement offering tempting discounts and assured gifts.
I just stepped into Maybelline counter to check out the offers but the counter was flooded with women which was highly inconvenient for me to shop and with my husband with me :P:P. I didn't had more than 5 minutes in hand. So, I was quickly looked into the stuff they have and this is when I saw this Maybelline Coloroma Nail Enamel-Glitter Prata lying homeless in the nail enamels stash and decided to give it a shelter. :P:P
Product Claims:
High-gloss nail color with 5 day wear!
Combine a visually stunning palette of pigments, pearls and glitters
It's the ultimate accessory that transforms your look from day to night, fun to funky and classic to daring…in a flash!
Direction for Use:-
Expert Tip: -With one sweep, paint the first line of nail polish up the center of your nail starting from the base to the tip. For the cleanest look, be sure to leave a small space at the base of the nail. Then apply color to the rest of the nail with additional sweeps of polish on each side of the original line. Let your nails dry before applying a second coat.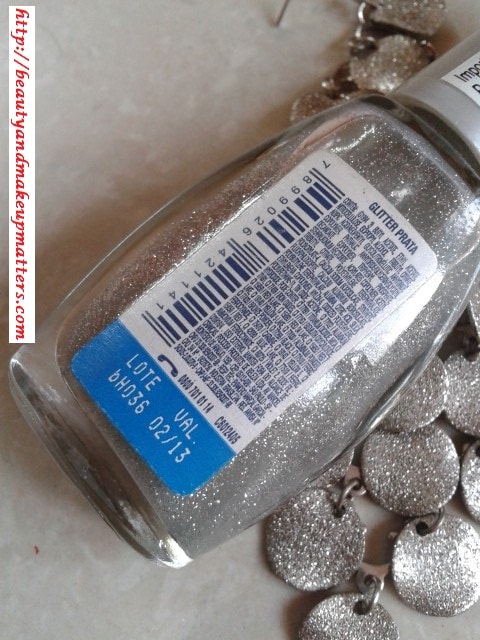 Price:- Rs.85 for 8ml
Shelf Life:-2 years from the Mfg date.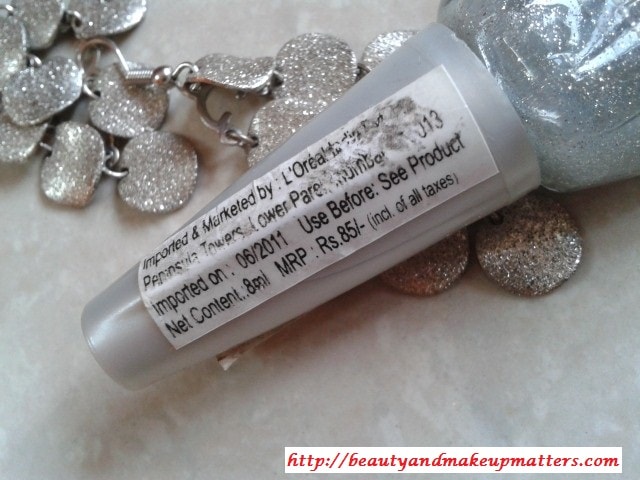 My experience with Maybelline Coloroma Nail Enamel-Glitter Prata:-
Glitter Prata is transparent nail enamel fully loaded with silver glitters. It is much like a clear top coat mixed with silver glitters. It appears like a silver nail color in the bottle but the glitters are tiny but not as smooth as other shimmery nail enamels which give either metallic or pearly finish to the nail enamel.
Glitter Prata looks great when layered over any nail color as a top coat and will jazz up any boring nail color. The regular nail enamels looks attractive and becomes exciting with layers of Glitter Prata. It adds the bling factor to the colors which looks gorgeous but to get the glitters on the nails I have to pick large amount of the enamel liquid on the brush. Though, it acts perfectly as a top-coat, it also looks great on its own.
The thin consistency is another advantage of this nail enamel. Decent amount gets picked up by the brush which distributes it evenly all over the nails. I can easily go for 2-3 coats of the nail enamel as it dries very fast and don't disappoint me by giving a messy finish.
But, like other glittery nail enamels it is difficult to remove Glitter Prata due to its slightly chunky shimmers. So, overall it is decent glittery nail enamel which is available in the affordable range.
Don't Miss to Checkout:
NOTD:- I have used it over Faces Canada Nail Enamel-Teal here.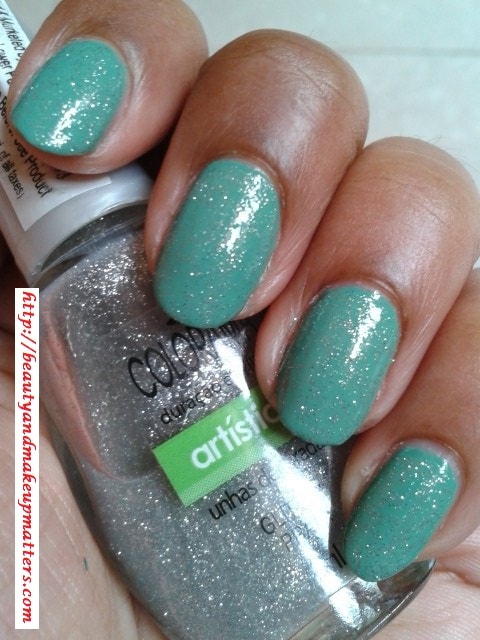 With Flash:-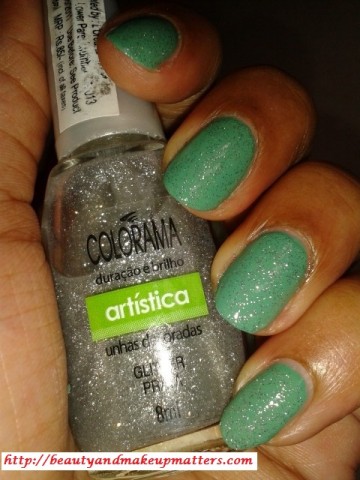 Pros of Maybelline Coloroma Nail Enamel-Glitter Prata:-
Works great as a top-coat
Fine silver shimmers adds that nice glittery effect
Can be used as an all over nail color
Decent consistency which spreads evenly
Dries quickly
Affordable range
Cons of Maybelline Coloroma Nail Enamel-Glitter Prata:-
Glitters could have been a little larger in size
Painful removal process
Recommendation:- Maybelline Coloroma Nail Enamel-Glitter Prata is nice glittery silver nail enamel which works great both as a top-coat as well as a nail color. It adds charm to any regular nail enamel when layered over it.  It is good to have such nice glittery nail enamel available at an affordable price. Though, you get so many shades to choose from but I am really looking forward to see more glittery nail enamels in Coloroma range.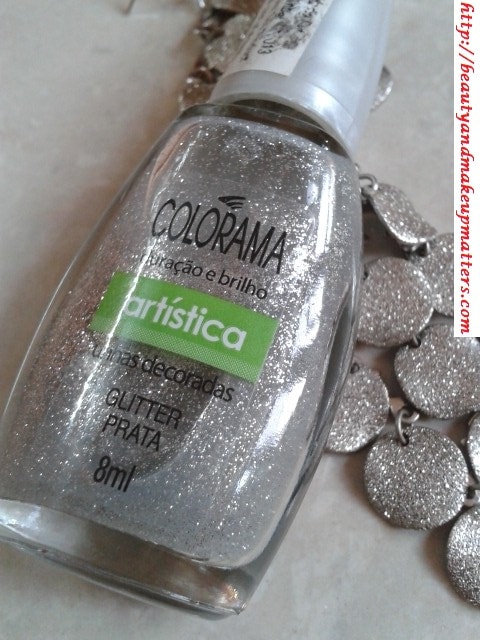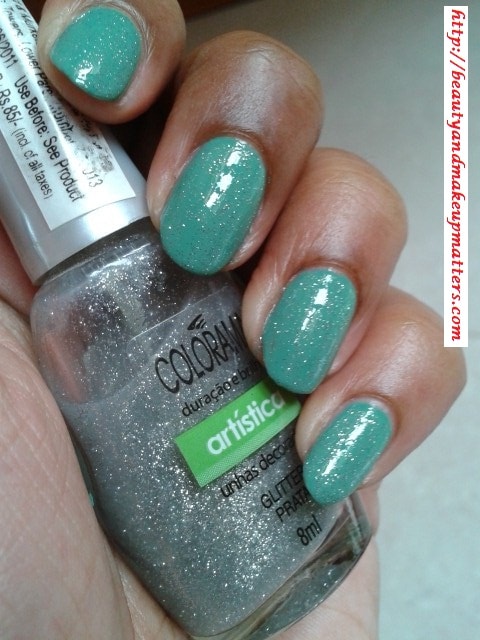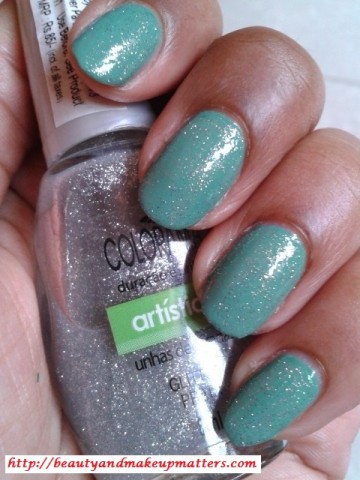 Rating:- 3.7/5
Have you tried Maybelline Coloroma Nail Enamel-Glitter Prata? Which is your favorite glitter nail enamel? Do let me know about any such affordable glitter nail enamels?