Maybelline Colorama Artistica Nail Paint – Verde Palmeira Review
Product Claims:
High-gloss nail color with 5 day wear!
Combine a visually stunning palette of pigments, pearls and glitters
It's the ultimate accessory that transforms your look from day to night, fun to funky and classic to daring…in a flash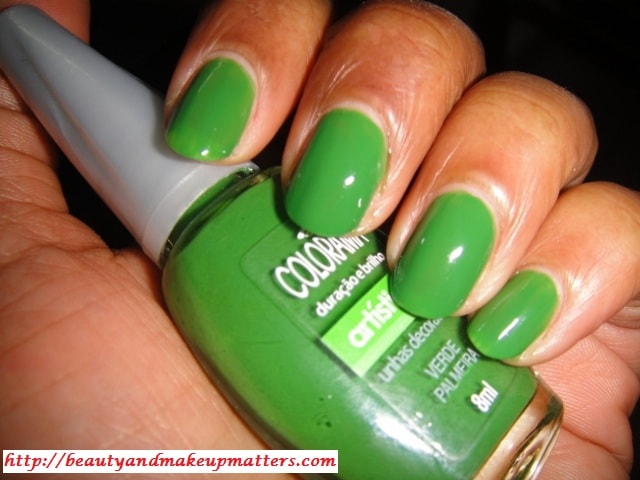 Direction for Use:- With one sweep, paint the first line of nail polish up the center of your nail starting from the base to the tip. For the cleanest look, be sure to leave a small space at the base of the nail. Then apply color to the rest of the nail with additional sweeps of polish on each side of the original line. Let your nails dry before applying a second coat
Available in 26 beautiful shades
Price:- Rs.100 for 8ml
Shelf Life:- 3 years from the Mfg date.
My experience with Maybelline Colorama Artistica Nail Paint – Verde Palmeira:-
Verde Palmeira is a dark grass green shade in a shimmer-free glossy finish.
The consistency is thin and extremely runny, similar to other Maybelline Coloroma Nail Paints.
The pigmentation is good but the color needs to be builded up with multiple coats. It goes sheer in a single coat but picks up the shade by next one and gives an absolute opaque coverage by 3 coats.
It gets applied evenly with the long brush and doesn't go streaky or pool along the edges.
The formula dries pretty quickly even with multiple swipes and gives a silky smooth finish with a watery glossy shine
Usually, these Maybelline Coloroma Nail paints stays for 2-3 days on me with slight chipping from tips which can be increased with a top coat.
The Maybelline Colorama Range has awesome shade selection as consists of wide array of colors from basic pastels and neutrals to bright-bold shades like Orange and Yellow with varying finishes and texture. The nail paints are easy on pocket and have good quality formula which glides on beautifully giving smooth application and a lovely glossy shine.
Rating:- 4/5
Have you tried Maybelline Colorama Artistica Verde Palmeira Nail Paint?