Maybelline Color Tattoo by Eye Studio 24 hr Eye Shadow – Fierce & Tangy 10 Review, Swatches, EOTD
The shades that I had from Maybelline Color Tattoo by Eye Studio 24 hr Eye Shadow collection are neutrals or greys, pretty much daily wear. I love each of them way too much but the collection also had some rebellious shades of Blue and Orange. While the neutral shades can be easily pulled off by anyone these bold shades really needs some attitude for a good show. I couldn't control myself and had to get at least one of these in my stash. Being a LEO my love for the color Orange wins over the BLUES.
The only other orange that I have in my makeup kit is my Maybelline Moisture Extreme Color Sensational Lipstick Bronze Orange. So, here is my review on Maybelline Color Tattoo by Eye Studio 24 hr Eye Shadow in "Fierce & Tangy 10".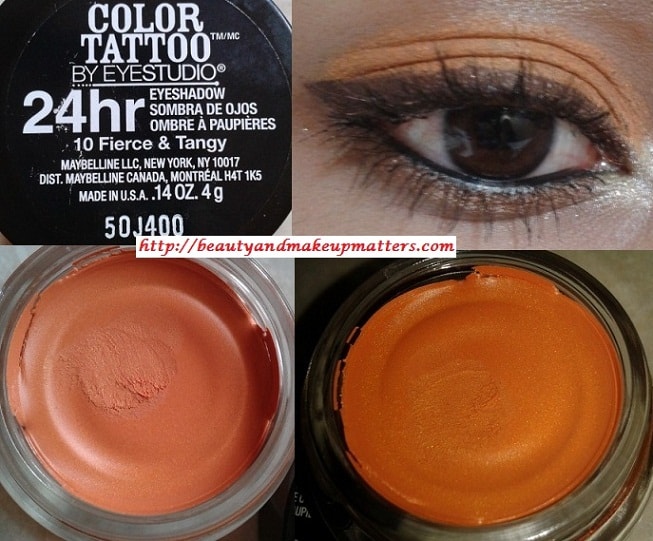 Product Claims: Dare to wear 24HR shadow.
• Ink technology creates 24HR wear shadow for our most intense, long-lasting color saturation
• Cream formula glides on without creasing and keeps color vibrant
• Ophthalmologist-tested.  Safe for sensitive eyes and contact lens wearers
Direction for Use:- High impact look:- Illuminate with fingertips, sweep all over eye from inner corner and work outwards.  For added drama, darken as desired.
Available in 8 Vibrant Shades:-
Fierce and Tangy 10
Painted Purple 20
Tenacious Teal 40
Bold Gold 45
Edgy Emerald 50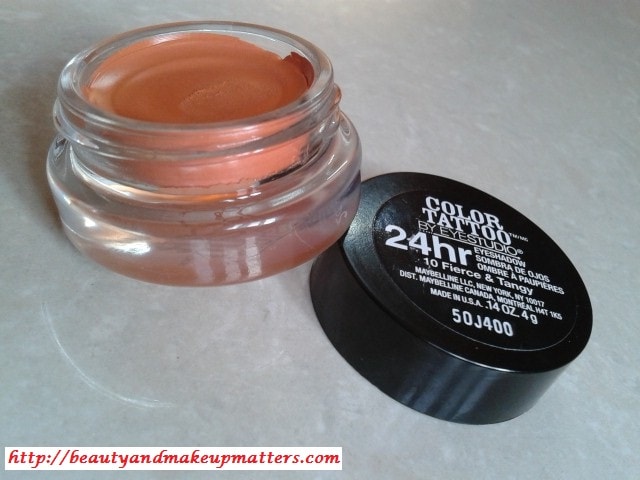 Price:- Rs.350 for 4 gm
Shelf Life:-  30 months from the Mfg date.
My experience with Maybelline Color Tattoo 24 Hr Eye shadow Fierce & Tangy:-
Shade:- Fierce & Tangy is a bright light tangy orange shade with extremely fine yellow/gold shimmers. I took it to be a matte orange shade but it has subtle yellow/golden and few green shimmers which can be seen when observed closely.
Formula:- The texture is very smooth and creamy almost slippery which glides effortlessly over lids. The eye shadow can be easily applied with fingers and layered up for a more intense color. The eye shadow dry down quick but you have good enough time to blend it. I will recommend using brushes to distribute the shades evenly across the lids.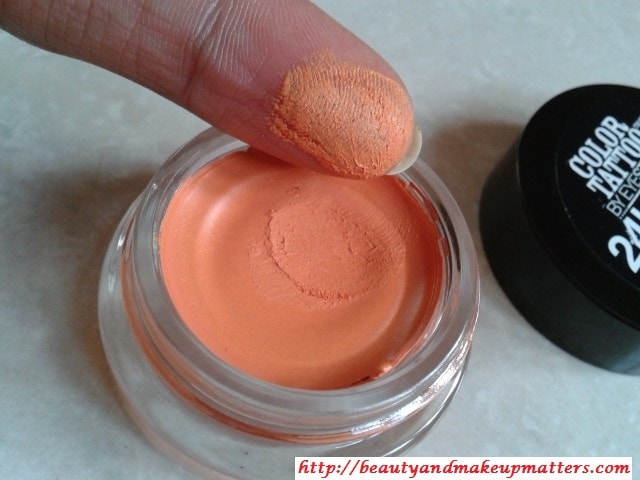 Color Payoff:- The color pay-off is amazing and goes almost opaque in a single application. The eye shadow can be layered for a deeper orange shade and looks vibrant and pretty much pigmented even after blending.
Swatches:-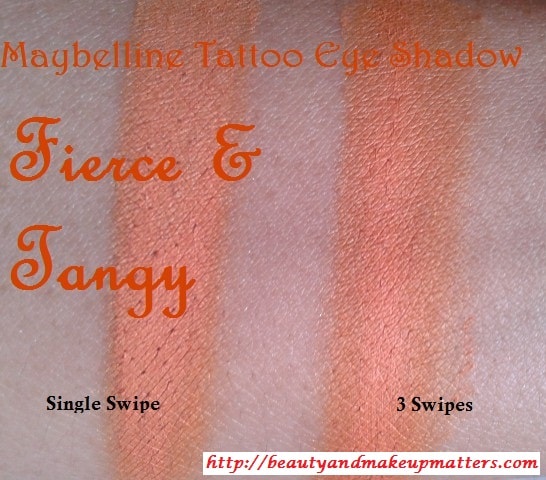 With Flash:-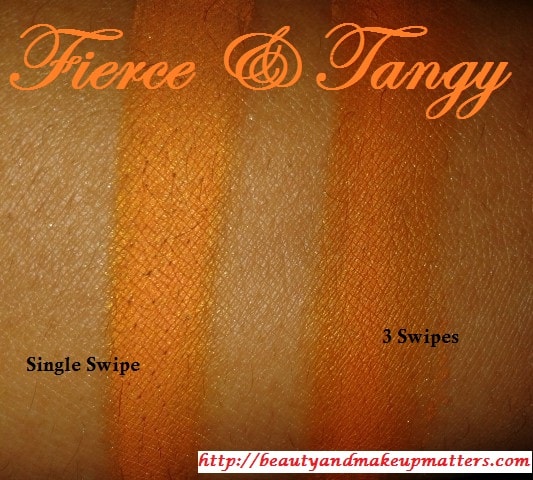 Staying:-. The wear ability is impressive as it doesn't crease throughout the day even without a primer or eye shadow base. The eye shadow stays true to its color with slight fading and smudging by the end of day. Though it sticks to the skin for whole day but comes off easily with a remover or cleanser without any rubbing or scratching. Another reason to love these eye shadows even more.
Don't Miss to Checkout:
EOTD:-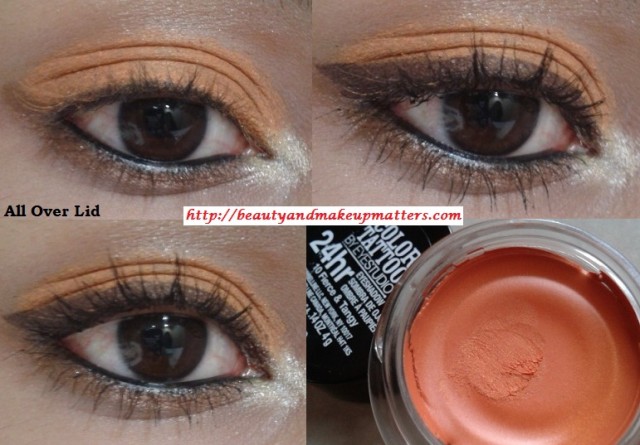 Pros of Maybelline Color Tattoo 24 Hr Eye shadow Fierce & Tangy:-
Gleaming light orange shade in satin finish
Absolutely creamy formula
Easy to apply
Blends nicely
Amazingly pigmented
Lasts whole day
Doesn't Transfer, Fade or Crease
Comes off easily with makeup remover.
Sturdy heavy glass packaging
Cons of Maybelline Color Tattoo 24 Hr Eye shadow Fierce & Tangy:-
No Cons 🙂 🙂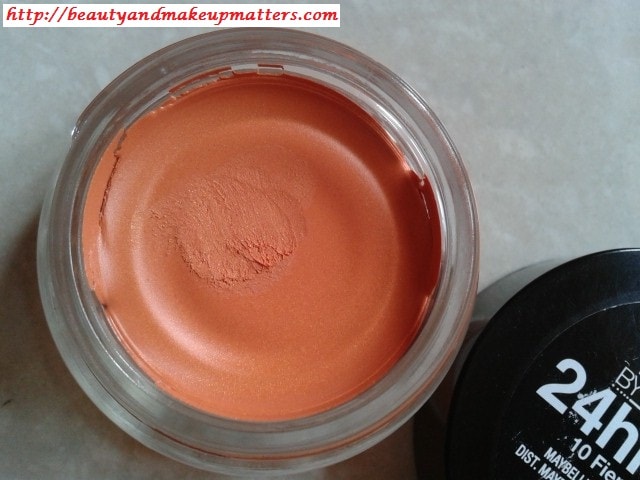 Recommendation:- Maybelline Color Tattoo 24 Hr Eye shadow Fierce & Tangy is a fantastic warm orange shade with subtle yellow shimmers but goes almost matte on lids. This is the first time I tried anything orange on my lids but was totally smitten to see how beautiful it looked. It's a lovely shade that can be blended to make it go sheer and give just a hint of orange. It makes a great shade for dramatic sunrise look. I haven't tried it as an eye liner but orange eye liner will be something to look out for.

Maybelline Color Tattoo 24 Hr Eye shadow with their high quality packaging and formula are winning hearts and are selling like hot cakes since the day they get introduced to the Indian market. If you are still waiting to try these, move fast and get these amazingly pigmented creamy eye shadows. A must have in everyone's Makeup Kit and nothing can beat them at the price they come for.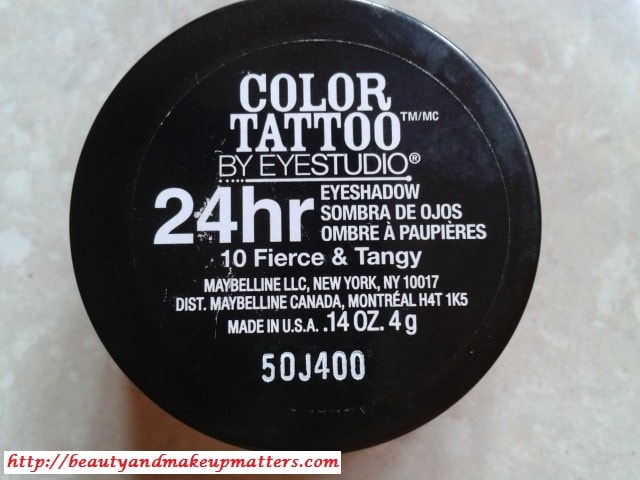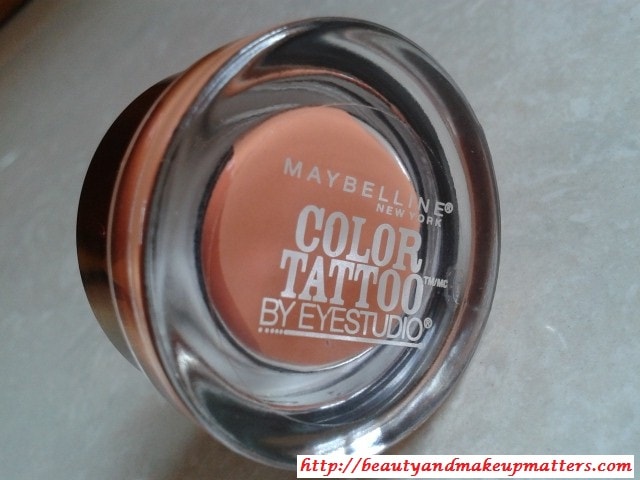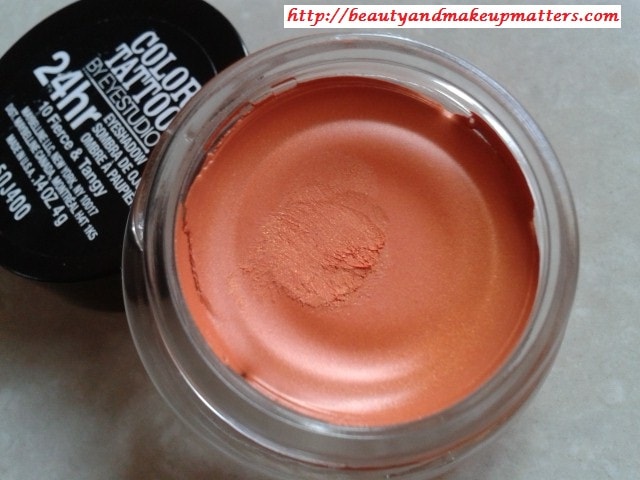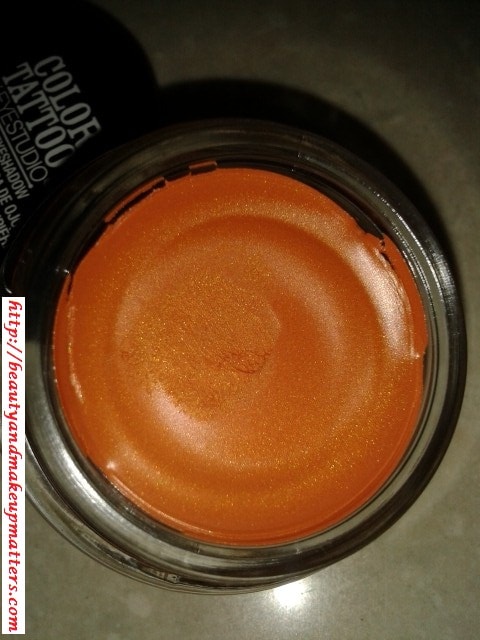 Here is my look of the day 🙂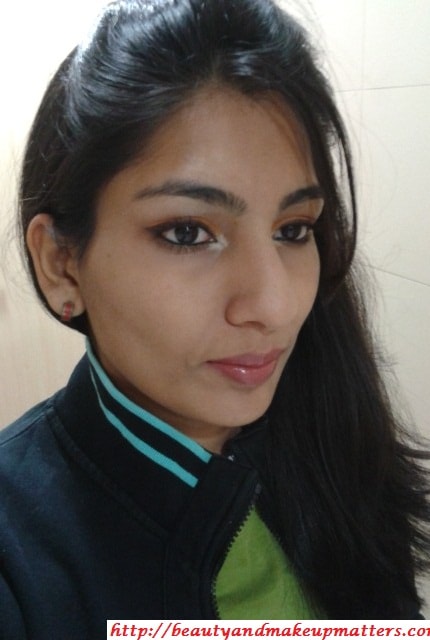 Rating:- 5/5
Have you tried Maybelline Color Tattoo 24 Hr Eye shadow? Which is you favorite from this collection?