Maybelline Color Tattoo by Eye Studio 24 hr Eye Shadow – Audacious Asphalt 15 Review, Swatches, EOTD
I have also tried the Pomegranate Punk from these Color Tattoo Eye Shadows range and enjoy it thoroughly. Today I am reviewing another gorgeous shade from Maybelline Color Tattoo Eye Shadows collection the Audacious Asphalt, part of my Maybelline Haul.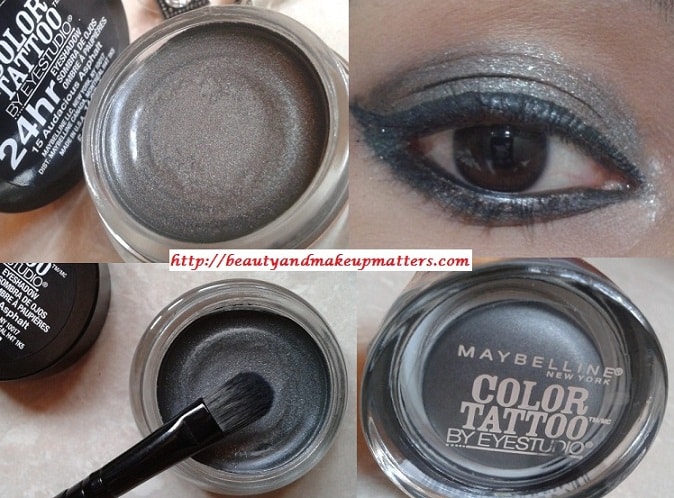 Product Claims: Dare to wear 24HR shadow.
• Ink technology creates 24HR wear shadow for our most intense, long-lasting color saturation
• Cream formula glides on without creasing and keeps color vibrant
• Ophthalmologist-tested.  Safe for sensitive eyes and contact lens wearers
Direction for Use:- High impact look:
Illuminate. With fingertips, sweep all over eye from inner corner and work outwards.  For added drama, darken as desired.
Available in 10 vibrant Shades:-
Audacious Asphalt 15
Painted Purple 20
Audacious Asphalt 30
Tough as Taupe 35
Tenacious Teal 40
Bold Gold 45
Edgy Emerald 50
Price:- Rs.350 for 4 gms
Shelf Life:-  30 months from the Mfg date.
Packaging:- The eye shadow is contained in a heavy round glass jar with a large plastic screw cap. The thick glass jars with trendy caps are comparable to any high-end packaging's. The jars also provides a good view of the color from the bottom which makes it easy to recognize the shade.
My experience with Maybelline Color Tattoo 24 Hr Eye shadow Audacious Asphalt:-
Shade:-Audacious Asphalt is a rich greyish black shade with oodles of silver shimmers. The shimmers are smooth but give a dazzling shimmery metallic finish on eyes. The eye shadow pairs up beautifully with black eye shadows for bold and dramatic Smokey black look.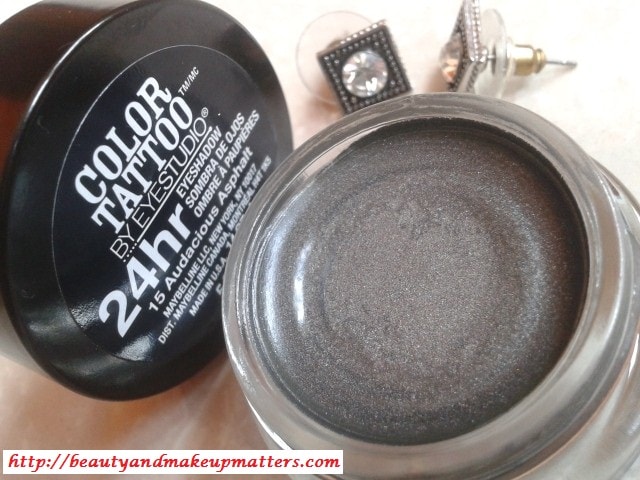 Texture:- The texture is smooth and creamy which comes up easily with a brush and swipes smoothly over the lids. The formula sets really fast so you need to be quick with blending as once set the eye shadow it doesn't budge.
Pigmentation:- The eye shadow has super intense pigmentation. The color goes silverish grey in a single swipe but builds up beautifully to deep greyish silver with multiple swipes. The shimmers are significant but not bothersome. The shade is perfect for evening parties but a bit OTT during day.
Swatches:-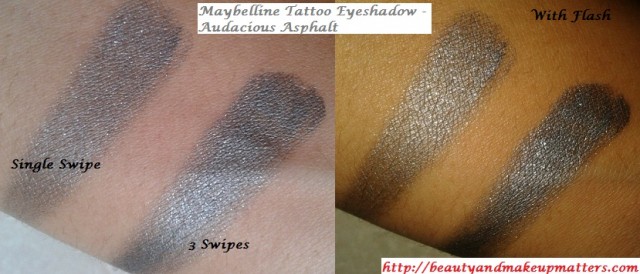 Staying:- These are truly  long lasting eye shadows which stays vibrant throughout the day without any fading. It creases slightly by the end of the day but not significantly.
Eye shadow Brush :- Maybelline offered free eye shadow brushes with the purchase of single eye shadow.  The bristles are soft and smooth and don't feel harsh against skin. The brush applies the eye shows nicely over the lids. I have washed it many a times and it retained its shape and doesn't shed even a single bristles. Good job Maybelline 🙂
Don't Miss to Checkout:
Pros of Maybelline Color Tattoo 24 Hr Eye shadow Audacious Asphalt:-
Medium Greyish silver metallic finish eye shadow
Blends easily
Can be layered with powder eye shadow
Greatly pigmented
Stays on forever
Well-Priced
High-end and travel friendly packaging.
Got free eye shadow brushes with them 🙂
Available in 9 fabulous shades
Cons of Maybelline Color Tattoo 24 Hr Eye shadow Audacious Asphalt:-
Needs to be blended really quick for seamless application as they dry down really fast
Recommendation:- Maybelline Color Tattoo 24 Hr Eye shadow Audacious Asphalt is a fabulous shimmery greyish silver eye shadow with smooth shimmers which looks glamorous on eyes. The smooth creamy consistency swipes well on lids and set pretty fast. The eye shadow is awesomely pigmented and the color intensifies beautifully with each swipe. The eye shadow is long lasting and stays put on eyes for whole day without budging, fading, or smudging once set.

The free eye shadow brush is like the cherry on the cake. Form the neutral range Bad To Bronze and Bold Gold are next on my hit list. Maybelline Color Tattoo 24 Hr Eye shadows collection also has bold shades like Fiery Orange which is very versatile and fun shade to have, adding that too in my list.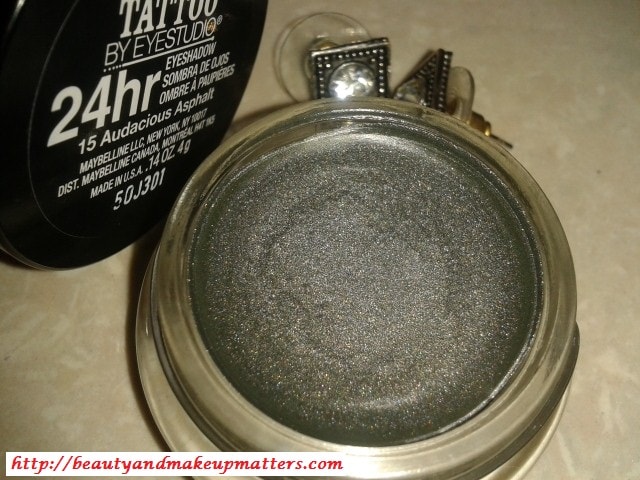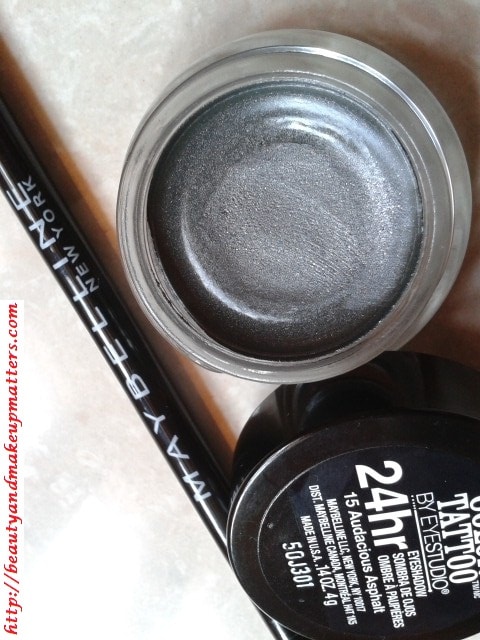 Rating :- 4.8/5
Have you tried Maybelline Color Tattoo 24 Hr Eye shadow Audacious Asphalt? Have you made your list of Eye shadows you want?