Maybelline Color Show Nail Paint Orange Fix Review, NOTD
Hello Everyone,
Today, I have a bright summery shade to share with you from the Maybelline Color Show Nail Paint Collection. It is super easy to guess if I say its Orange ;). I had a tough time deciding between Coral Craze and this one but in the end Orange wins. So, lets checkout the swatches and NOTD of , Maybelline Color Show Orange Fix Nail Paint.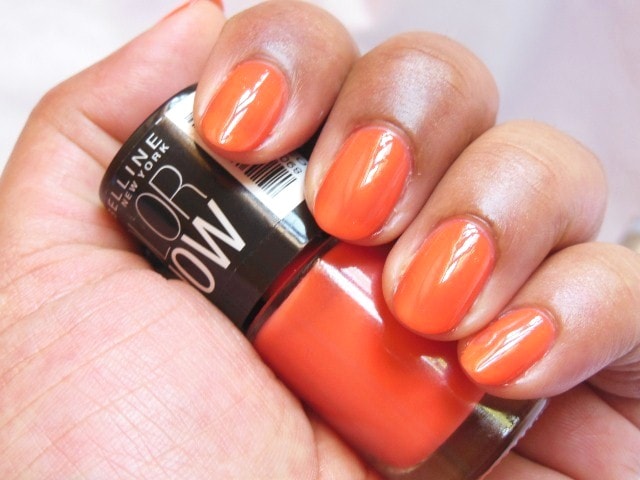 Product Claims:  Make a bold style statement with Maybelline New York's Color Show nail color range. With trendy, super stylish shades, these nail colors add oodles of attitude to your overall look. Presenting 40 attractive shades, the Maybelline Color Show Range let's you mix, match and experiment with color!
Here's why you'll love it:
Nail colors have a gel-based formula for increased staying power
Is chip-resistant and comes with an easy-flow brush
Available in 40 different shades
Direction for Use: With one sweep, paint the first line of nail polish up the centre of your nail starting from the base to the tip. For the cleanest look, be sure to leave a small space at the base of the nail. Then apply color to the rest of the nail.
Price:- Rs.75 for 6ml
Packaging:- Maybelline Color Show Nail Paints comes in a cute round glass packaging. The brush is nice and spread out easily giving an even application.
My experience with Maybelline Color Show Nail Paint Nude Skin:-
Shade: Orange Fix is a bright tangy orange shade with a smooth creamy finish. It not super bright but there are slight red undertones to it which makes the shade transforms to reddish orange during evenings, don't you believe me.. check it out yourself! It is lovely shade to sport during summers/spring.
Formula: The formula has medium-thin consistency which applies evenly. It is decently pigmented but needs at least 2 coats for an almost opaque finish. There is some translucency to the shade as I could see my nail beds even after 2-3 coats.
Dry Time: The nail polish dries quickly and with 2 thin coats, I don't have to wait for more than 2-3 minutes and the color settles completely. Though, if you go for thicker coats, dry time will increase considerably.
Finish: The nail polish dries to a lovely crème glossy finish which is one of my favorite finishes. The shine doesn't fade away easily and lasts for 2-3 days
Staying Power: The formula is pretty long lasting and I can wear these easily for 3-4 days with minimum fading. The nail polish doesn't chip or peel off.
Don't Miss to Checkout:
Pros of Maybelline Color Show Nail Paint Orange Fix:-
Bright orange shade
Decently pigmented
Dries quickly
Glossy Creamy finish
Requires 2 coats for rich color
Lasts for 3-4 days
Streak free application
Chip resistant formula
Perfect summer shade
Budget Friendly
Available in 40 shades in varying finishes
Cons of Maybelline Color Show Nail Paint Orange Fix:-
Doesn't go completely opaque
Hands look bit darker with such bright shades, so might not be liked by medium/dusky skin tones.
Recommendation:- Maybelline Color Show Nail Paint Orange Fix is a lovely orange shade in a crème glossy finish. The polish applies smoothly, bit patchy in 1st coat but goes even with the 2nd coat. I need at least 2 thin coats for a rich color on my nails though it never goes fully opaque. The formula dries really fast and easily lasts for 3-4 days on me without any chipping or fading. The quality at the price tag is outstanding and the large number of shades to choose from. Highly Recommended!
Rating:- 4.5/5
Have you tried Maybelline Color Show Nail Paint Orange Fix?  Which is your favorite Orange Nail paint?