Maybelline Color Sensational Moisture Extreme Lipstick- Coral Pink Review, Swatches, LOTD
Today I will be reviewing my 3rd Moisture Extreme Lipstick "Coral Pink" that I got along with
I was looking for an orange lip color and picked up an orange lipstick case from the Moisture extreme testers placed on the Maybelline counter. When I swatched the bullet it came out to be a pretty coral pink shade. I was so lost in this beautiful shade that I completely forgot about the orange lip color which I originally wanted and bought this instead.  Coral Pink was love at first sight.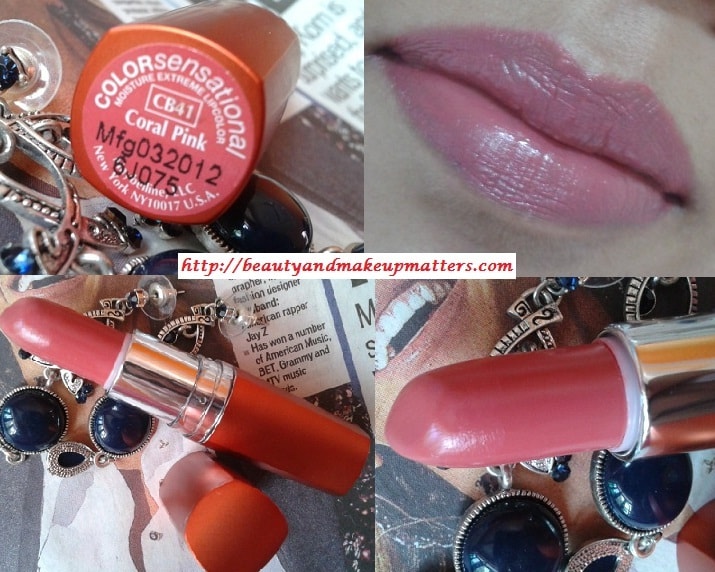 Product Claims: Fall in love with color, all over again: Crisp Color from pure color pigments
Creamy Feel, with a built in lip balm
SPF 15 for sun protection
16 Captivating Shades
Direction for Use:- Apply your lipstick by starting in the center of your lip. Work from the center to the outer edges of your lip for a gorgeously perfect finish.
Price:- Rs.250 for 4gm
Shelf Life:- 30 months from the Mfg date.
My experience with Maybelline Color Sensational Moisture Extreme Lipstick-Coral Pink:-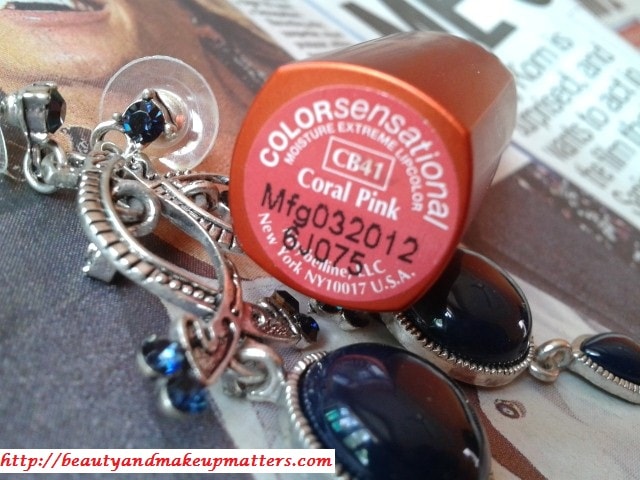 Coral Pink is a stunning coral pink shade. It is pretty bright coral lip color with majorly pink tones.
The bullet is as usual creamy and feels like a balm when swiped over the lips and provides much needed moisture to dry and chapped lips.
It has an excellent color payoff and builds to a gorgeous glossy coral pink shade rendering opaque coverage in 2-3 swipes.
I find the color a bit loud when applied directly to the lips (using the bullet) as it goes slightly neonish-pink on lips which I don't feel comfortable with so, I immediately kiss a tissue to get rid of the excess color and it turns to a flattering soft coral pink shade which I find much more wearable.
I feel the color would be more suitable to fairer skin tones compared to dusky or dark skinned beauties.
The lipstick is highly moisturizing and lips doesn't feel dry even after the lipstick is long gone
The staying power isn't good as it last for 2-3 hours on lips with light snacks in between. I tried extending its stay by using the apply-dab technique but that also didn't worked. May be wear a complementing lip liner underneath will work.
Those who are not happy with the light matte finish they get after patting lips with a tissue can top it up with a sheer or tinted gloss to get that perky coraly-pink glossy lips.
The lipstick is additionally contains SPF 15 to protect lips from harmful sun rays.
Don't Miss to Checkout: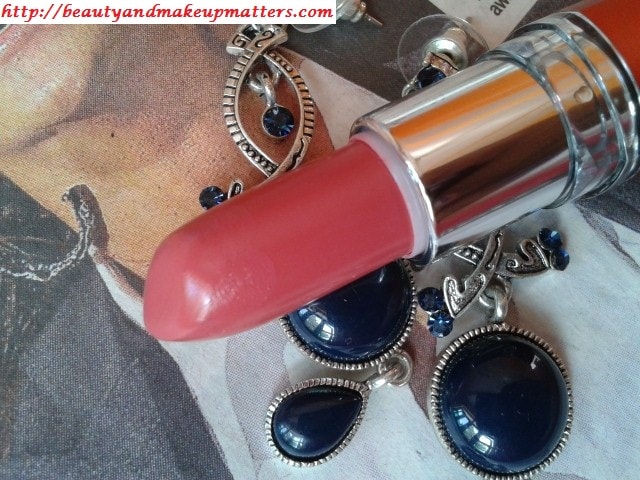 Swatches:-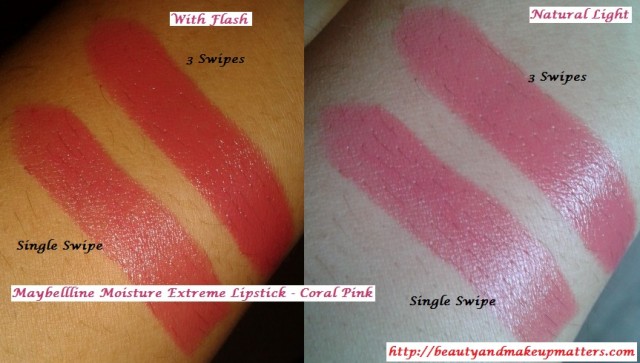 LOTD:- I applied it using the Lakme Absolute Lip Brush (Review Coming Up..) here. So it appears a bit sheer and less creamy.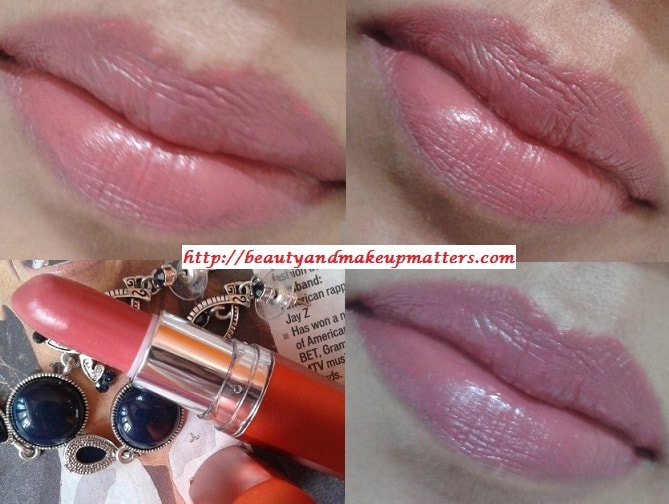 Recommendation:- Maybelline Color Sensational Moisture Extreme Lipstick-Coral Pink is a beautiful bright coral pink shade with super-creamy texture and excellent color pay off. The lipstick glides smoothly over the lips giving a lovely glossy finish to the lips with opaque coverage within 2-3 swipes. It is also extremely moisturizing to the lips and people with dry lips can completely escape applying the balm before laying the lip color on their lips. However, the longevity could have been better as it disappears within 2-3 hours with meals in between.

But overall, it is a good budget lipsticks and considering the huge range of colors Maybelline Color Sensational Moisture Extremes offers they are worth giving a try. I totally love this color and want to get all of them. Highly recommended!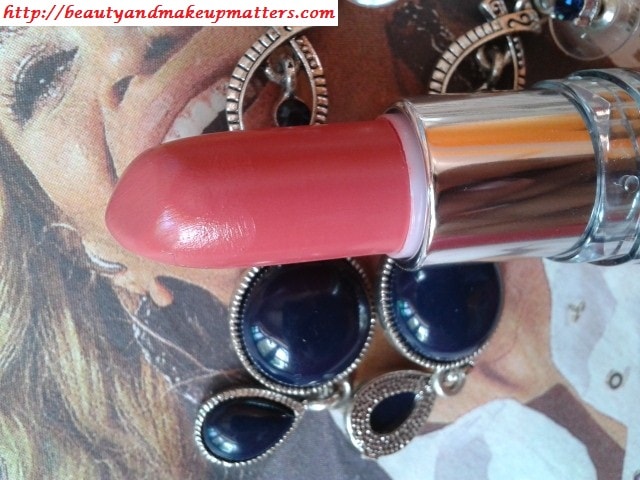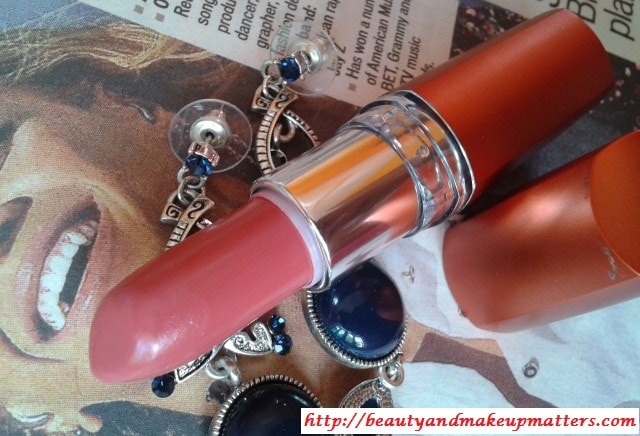 Rating:- 3.8/5
Have you tried Maybelline Color Sensational Moisture Extreme Lipstick-Coral Pink? Which is your favorite Coral-Pink lip color?