Maybelline Color Sensational Lipstick – My Mahogany Review, Swatches, LOTD
Product Claims:
Crisper color from pure pigments. Creamier feel from nourishing honey nectar
Lipcolor so rich, so stunning… it's sensational
33 Captivating Shades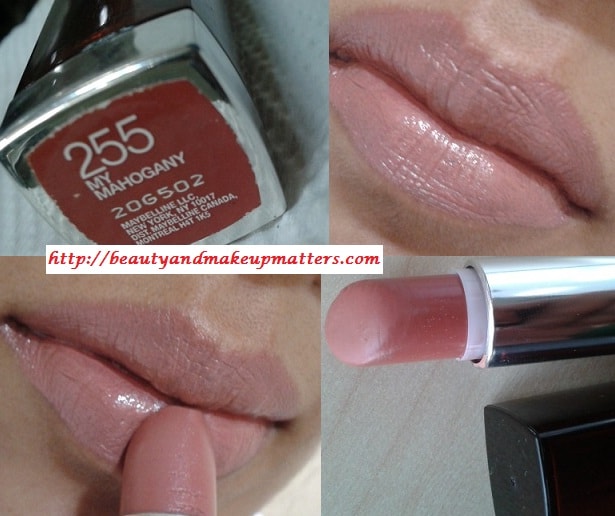 Direction for Use:- Apply your lipstick by starting in the center of your lip. Work from the center to the outer edges of your lip for a gorgeously perfect finish.
Price:- Rs.299 for 4.2gm
Shelf Life:- 3 years from the Mfg date.
Packaging:- The Maybelline  Color Sensational lipstick comes in a squarish packaging. The silver metal tube with a semi-transparent brown glass cap looks pretty stylish. The silver base has a sticker which carries the shade as well as the name of the bullet. The flat square top makes it easy to keep the lipsticks upside down and the shade sticker help us to identify the lipstick shade from the lot of them.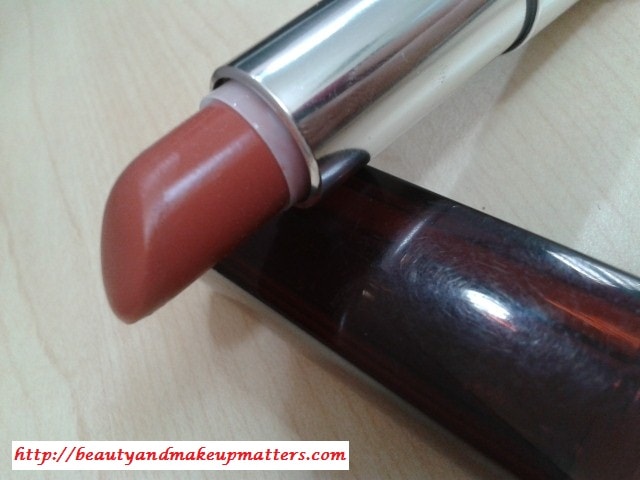 My experience with Maybelline Color Sensational Lipstick – My Mahogany:-
Shade:- Maybelline Color Sensational My Mahogany is a beautiful peachy brown shade with barely visible hint of pink. It fits very well in the n*de color family. It gives a very natural looking color to my lips but may look washed out on dusky skin-tones.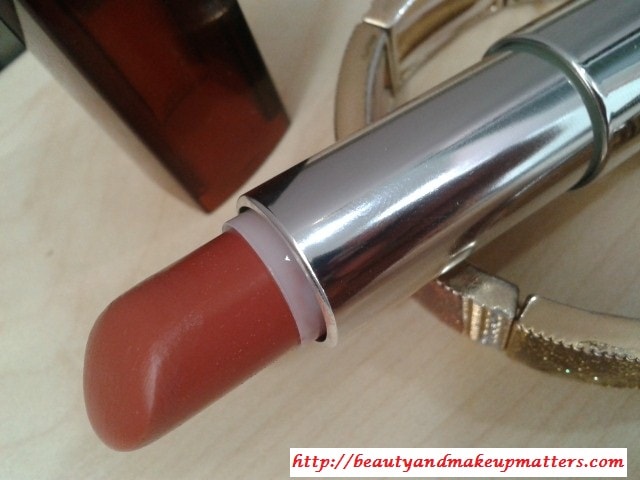 Texture:- My Mahogany is creamy lipstick which glides smoothly over the lips. Though, the lipstick is soft and smooth but it doesn't melt in hot weather. You must be aware of this term if you have ever used NYX lipsticks which are known for their melting texture, For those who aren't introduced to melting- it is when you find it difficult to get an even application as the lip color slids off on the lips due to its buttery texture and the bullet may get detached from its base even with the minimum pressure.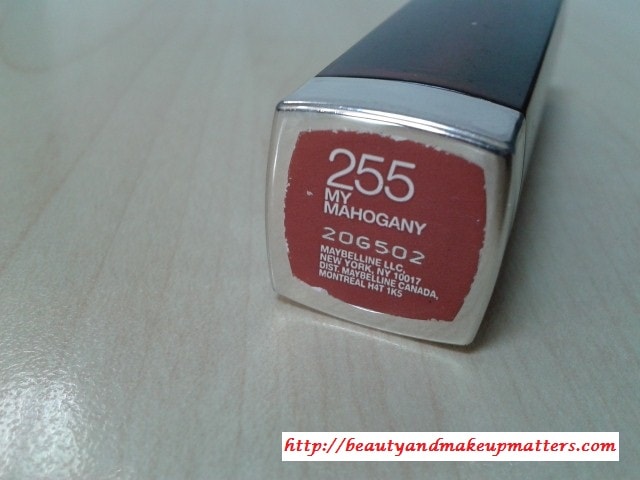 Pigmentation:-It is decently pigmented and shows well on my slightly tinted lips with 2-3 swipes. The lipstick gets applied evenly on the lips and doesn't feel heavy or looks cakey. It leaves a nice shine cum gloss finish. It is slightly moisturizing which is a major plus for dry and chapped lip queens. It gives a nice MLBB color to my lips.
Swatches:-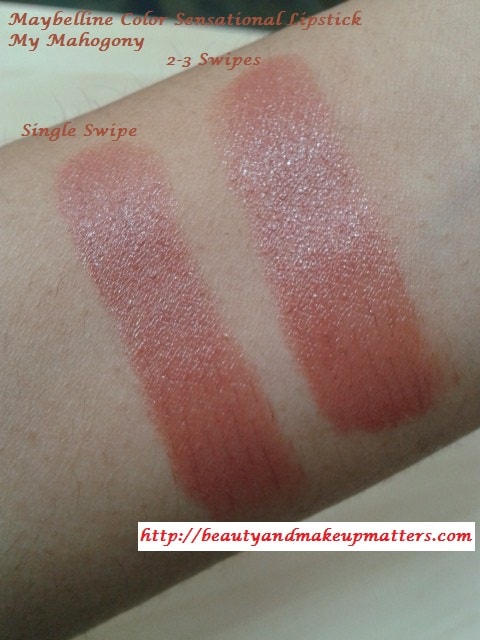 With Flash:-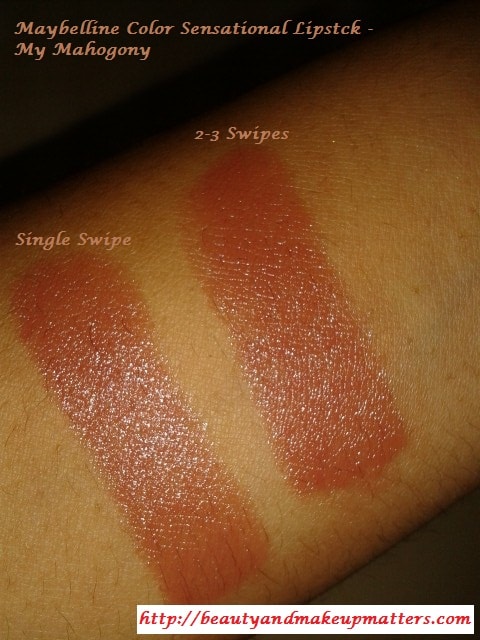 Staying power:- Staying power of the lipstick is not amazing but average, without snacks/ food in it easily stays for 4 hours on lips. Being a light shade, the lipstick goes away completely without leaving any tint post-snacks so , you have to run immediately for a re-application.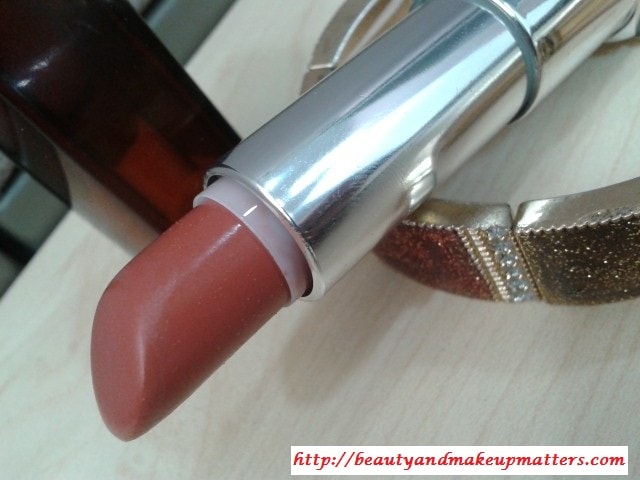 LOTD:-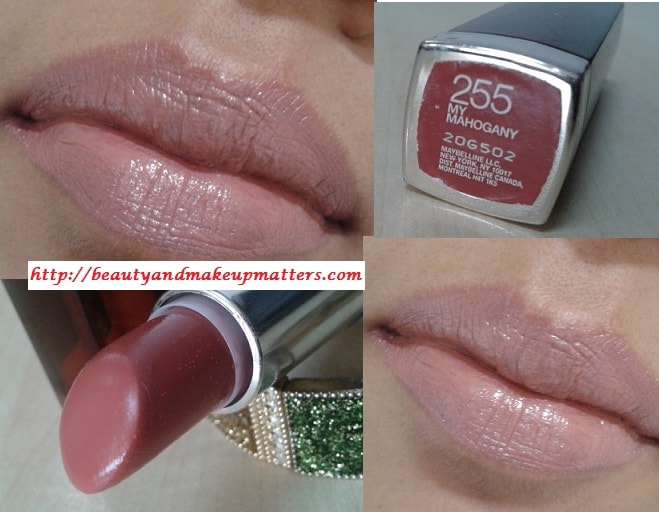 You can also check my review on Maybelline Hooked On Pink Lipstick.
Pros of Maybelline Color Sensational Lipstick- My Mahogany:-
Creamy texture which gets applied evenly on the lips.
Gorgeous peachy brown shade
Faint Coconuty smell which can be easily ignored.
Moisturising lipstick so a boom for dry lipped ladies
Gives a slightly glossy finish
Available in numerous shades of Browns, Reds, Pinks and Plums
Drool worthy at just Rs. 299
Decent Coverage.
Cons of Maybelline Color Sensational Lipstick- My Mahogany:-
Doesn't stay for long.
May wash out dusky skin-tones.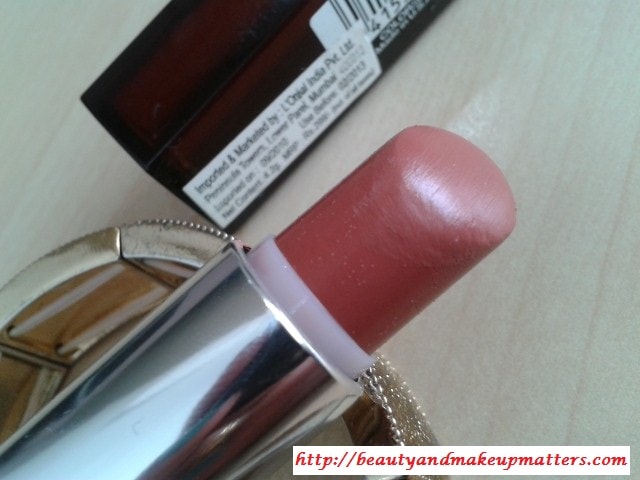 Recommendation:- Maybelline Color Sensational Lipstick- My Mahogany has a nice creamy texture with a shiny cum glossy finish. It is a beautiful neutral brown shade which makes it a perfect day wear lipstick, especially for those who couldn't carry the pop of color on their lips but prefer natural looking lip color. The lipstick becomes my first choice when I want to go for a heavy blush and eye makeup.

I would suggest adding a dash of color on your face while pairing it up, so that it doesn't make you look pale. I recommend this lipstick!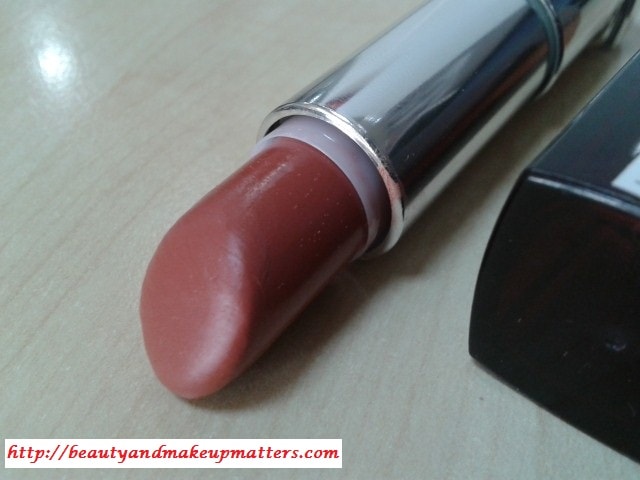 Rating:- 3.7/5
Have you tried Maybelline Color Sensational Lipstick- My Mahogany? Do your prefer wearing n*de or pink shades on lips?