Maybelline Color Sensational Lipstick – Choco Pop Review, Swatches, Lips
I have two more lipsticks from the Brown family of Color Sensational range that have been already reviewed:-
Today I'm reviewing one more lipstick from the same family. Actually, Maybelline Color Sensational Lipstick-Choco Pop is my first lipstick that I bought from Maybelline.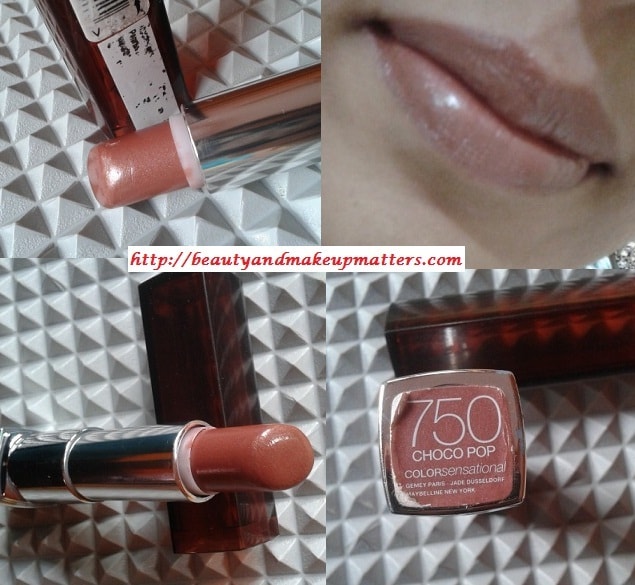 Product Claims: Crisper color from pure pigments.
Creamier feel from nourishing honey nectar.
Lip color so rich, so stunning… it's sensational.
33 Captivating Shades.
Price:- Rs.299 for 4.6gm
Shelf Life:- 3 years from the Mfg date.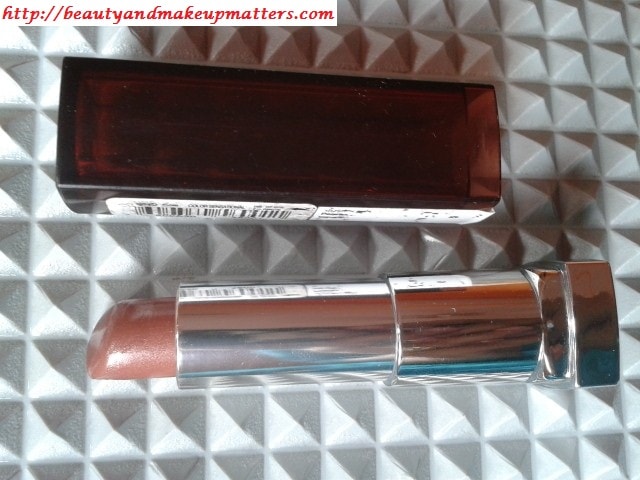 The lipstick is available in four color families:
My experience with Maybelline Color Sensational Lipstick-Choco Pop:-
Shade:-Choco-Pop is a light brownish peach shade with hint of shimmers. The smooth shimmers instantly adds shine to the lips but doesn't go frosty. It is not a sheer lipstick and looks better than My Mahagony on me. It is a very sober shade and doesn't go loud which can be comfortably worn to office. Those who looks washed out with My Mahagony must give this shade a try.
Pigmentation:- The lipstick is well pigmented and gives a nice coverage in a single stroke. The color is buildable and shows up better on pigmented lips compared to Totally Toffee and My Mahagony.
Texture:-The lipstick is smooth and creamy and glides easily on the lips. The shimmers are not gritty or chunky but fine and don't make their presence felt while swiping the lipstick over the lips. The texture is soft and light which doesn't feel heavy even if swiped multiple times. The lipstick feels moisturizing to the lips so it's a boom for dry or chapped lips.
Staying Power:- The only problem is the staying power of the lipstick. The lipstick doesn't last long like all other Maybelline lipsticks and will require a frequent re-application. It stays at most 4-5 hours without snacks or meals.
Finish:-The lipstick goes smooth over the lips and gives a nice sheen to the lips. Though shimmers are there in the bullet but that doesn't give a frosty finish on lips which I like It is one of my most used brown lipsticks which can be worn on daily basis. It is an easily wearable shade which would suit dark and light skin tones alike. The shade will also look
Don't Miss to Checkout:
Lip Swatches:-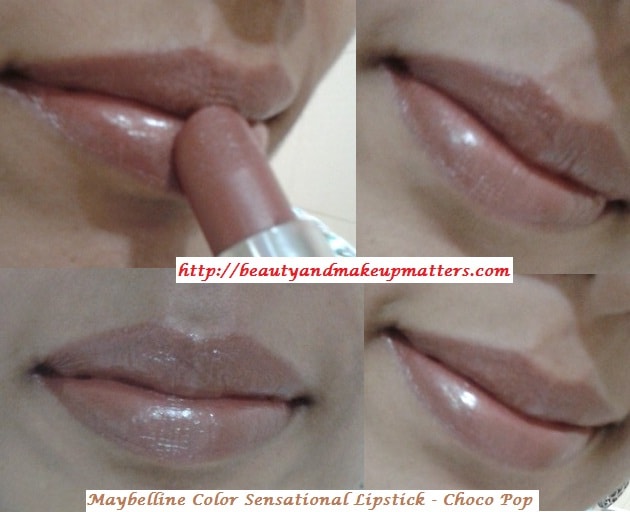 Pros of Maybelline Color Sensational Lipstick-Choco Pop:-
Nice brown colored lipstick with fine shimmers which imparts a nice sheen.
Light and creamy texture
Mild coconut/caramel kinds smell
Good color pay-off and shows up well even on pigmented lips.
Moisturizing to the lips and doesn't settle into fine lines
Gives pretty good coverage in single swipe but wont look cakey even if swiped multiple times.
Doesn't wash me out
Cons of Maybelline Color Sensational Lipstick-Choco Pop:-
Staying power is not more than 4 hours.
Transfers easily to any or everything you touch with your lips.
Recommendation:- Maybelline Color Sensational lipsticks have been selling like hotcakes since their launch as these are one of the best lipsticks available in Indian market considering the quality  and the price. The lipsticks are super creamy and have a great pigmentation. Though, they don't last long but are highly moisturizing and doesn't settle into lines.

Choco Pop is a beautiful light brown shade with subtle shimmers which would look good on all skin tones. It is one such color which never makes you look washed out. Choco-Pop is a must-have from Color Sensational Brown family. Highly Recommended! I love the shade range and the can't wait to try colors from the Red and Plum family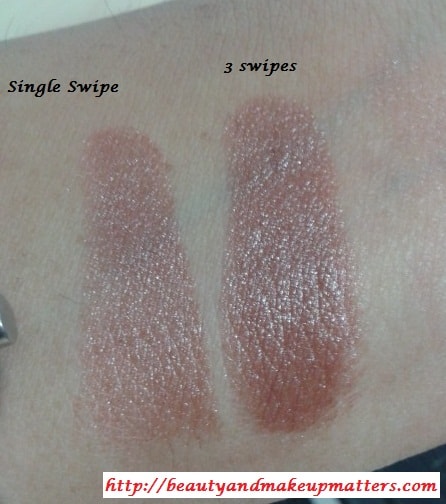 Rating:- 3.5/5
Have you tried Maybelline Color Sensational Lipstick-Choco Pop? Do you like lipstick with shimmer or gloss with shimmers?