Maybelline Color Sensational Lip Liner-Choco Pop Review, Swatches, Lips
Today I am going another lip liner from Maybelline which will easily go with most of the brown lipsticks the Maybelline Color Sensational Lip Liner-Choco Pop.
I like to line my lips before applying the lip color to get that perfect lip shape for my not so perfect rather imperfect lips. So, I love to collect matching lip liners for all the lipsticks I own.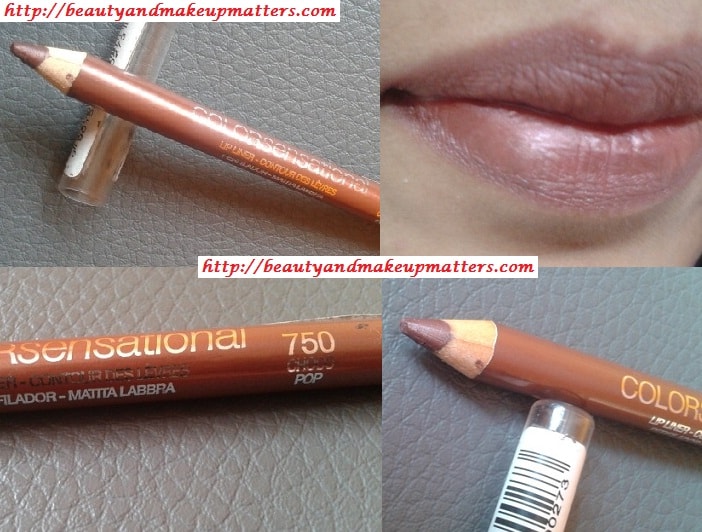 Product Claims: Keep your lip color looking beautiful with coordinated lip liners that won't smudge, smear or bleed
Expert Tip:- Line your lips starting in center of your upper lip. Work from the center to outer edges of your lips, following the contour of your mouth. Follow the same technique for your bottom lip. To extend the wear of your favorite lipstick or lip gloss, first fill in your lips completely with lip liner.
Price:- Rs.200 for 5gms
Shelf Life:-  30 months from the Mfg date.
Available in 6 shades:-
Stellar Pink 150
Copper Brown 775
Velvet Beige 630  Peachy Pink Colour
Hollywood Red 540  : Bright rosy pink colour
Midnight Plum 338: Reddish Plum shade
Choco Pop 750  : Goldeny Brown Colour
Packaging:- The liner comes in a wooden sharpenable pencil form with a small transparent glass cap. The thing that I like the most about the packaging is whole of the pencil carries the shade of the liner rather than a small band at the base as with most of the other liners. Though the cap appears to be easily breakable but trust me I have been using these liners for long and I have never faced any breaking or loosening of cap issue.
The cap is sturdy and secures the lead properly and wont let it spoil your bag even when thrown carelessly in it.
My experience with Maybelline Color Sensational Lip Liner-Choco Pop:-
Shade:- Choco Pop is a perfect match for my Maybelline Color Sensational Choco pop lipstick with matte finish. It is a light brown color which doesn't make me look dull. It gives a natural looking brown color to my lips. My lips look beautiful and can be followed up with a matching lipstick or topped with a gloss alike. Actually I like this lip liner on my lips better than the Choco-pop Lipstick as it has more subtle shimmers and gives less glazy and shiny look.
Texture:-The liner has a creamy texture which glides over the lips with slight tugging but nothing uncomfortable. It is not extremely moisturizing and when used as a lip filler, lips might start feeling dry post application and dry lips are suggested to use lip balm as a base or layer it up with one to avoid dry stretchy feel on lips.
Pigmentation:- The liner is decently pigmented and shows up color on my pigmented lip well. Provides a defined look to the lips and can also act as a base for sheer lipsticks. It's not smudge-proof and moves a bit around the lips few hours after application.
Don't Miss to Checkout:
Swatches:-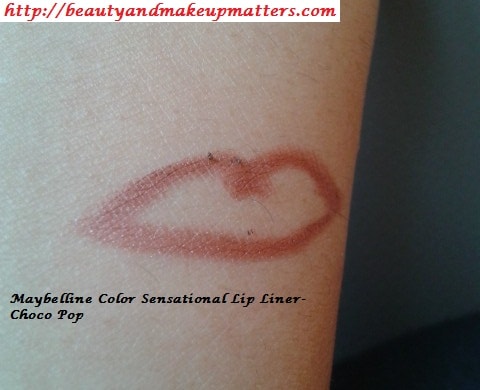 Staying Power:-  The liner has an average staying power of 4-5 hours without meals. When used as a base it not only increases the staying power of the lipstick but also makes them look more attractive. It won't survive full meals but definitely leaves a hint of color after snacks.
Lip Swatch:-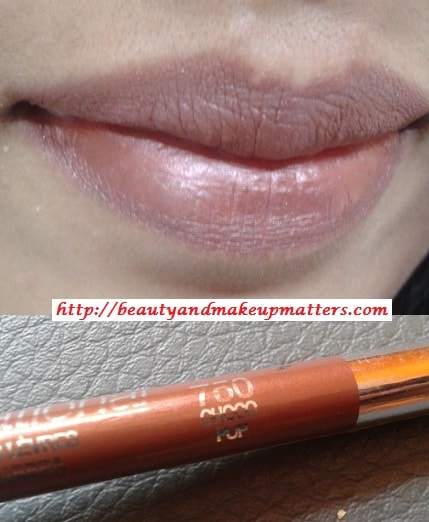 Pros of Maybelline Color Sensational Lip Liner-Choco Pop:-
Nice brown shade which will suit Indian skin tones well
Gives a nice polished look to the lips.
Wooden sharpenable pencil which are considered to be more hygienic
The cap shuts tight and wont spoil your handbag with the liner
It makes a great daily wear and office wear shade.
Increases the staying power of lipstick
The lead of the liner doesn't break during application
Decently pigmented and glides over the lips with slight tugging
Cons of Maybelline Color Sensational Lip Liner-Choco Pop:-
Smears lightly but lesser than it counterparts
Available in 5 shades but it doesn't have much exciting colors.
Doesn't stay for long
but a little wastage while sharpening
Recommendation:- Maybelline Color Sensational Choco Pop Lip Liner has a good color pay off and can be used both as a liner or as a lip filler. Lip liner keeps a check on the fading on the lip color and the bleeding or smearing of lipstick around the lip corners. If you have dry lips you can apply a lip balm before filling the lips with the liner. It gives a nice matte finish to the lips and pretty much survive the snacks leaving a light tint on the lips.

Maybelline Colorsensational has a nice range of lip liners but would love to see more shades in the range including pinks, plums and reds.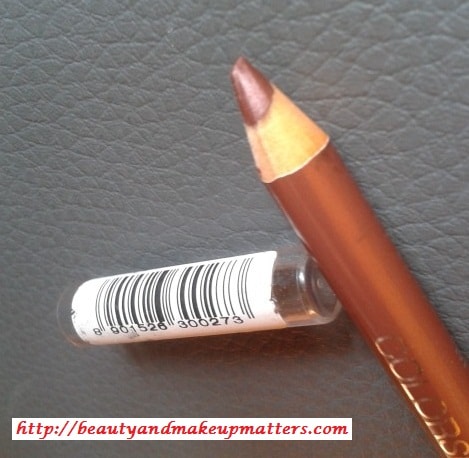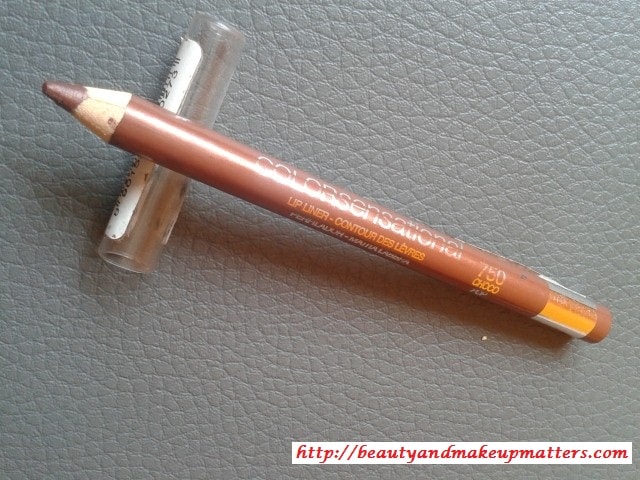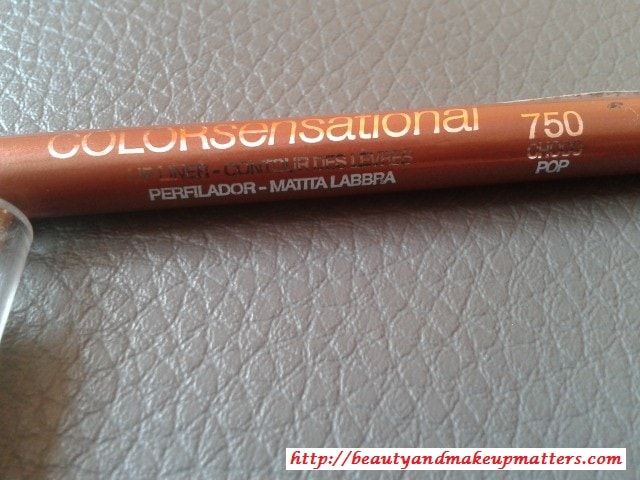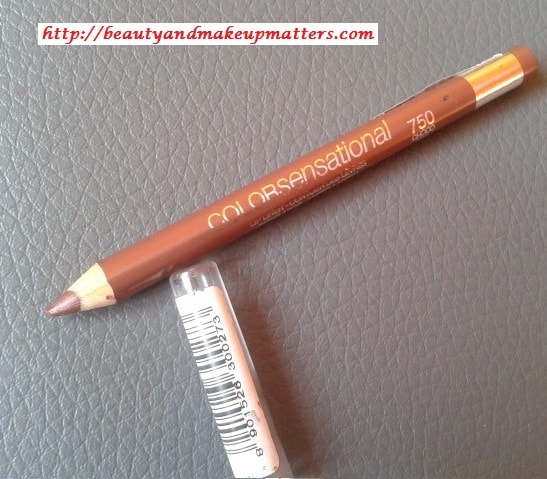 Rating:- 3.5/5
Have you tried Maybelline Color Sensational Lip Liner-Choco Pop? Do you like to pair lipsticks with complementing lip liner shade?