Maybelline Color Sensational Jewels Lipstick – Berry Brilliant Review, Swatches, LOTD

I am reviewing Maybelline Color Sensational Jewels Lipstick – Berry Brilliant from Maybelline Haul.
Product Claims:
ILLUMINATED COLOR only from our deep jewelucent pigments.
CREAMIER FEEL only from our nourishing honey nectar
A captivating jewel collection in 8 deeply provocative shades
Direction for Use:-Apply your lipstick by starting in the center of your upper lip. Work from the center to the outer edges of your lip, following the contours of your mouth. Repeat the technique on your lower lip.
Shades Available
82 Refined Wine
143 Pink Tourmaline
591 Amethyst Ablaze
630 Rubylicious
631 Red Garnet
994 Fuchsia Crystal
996 Berry Brilliant
Price:- Rs. 350 for 3.9 gm
Shelf Life:-  30 months from the Mfg date.
Packaging:- The lipstick comes in a fancy jewel toned cap and shiny silver bullet casing. The packaging is similar to Color Sensational lipsticks but the boring cap is replaced with stunning pink caps. The packaging is sturdy and travel-friendly as cap locks tightly with the base.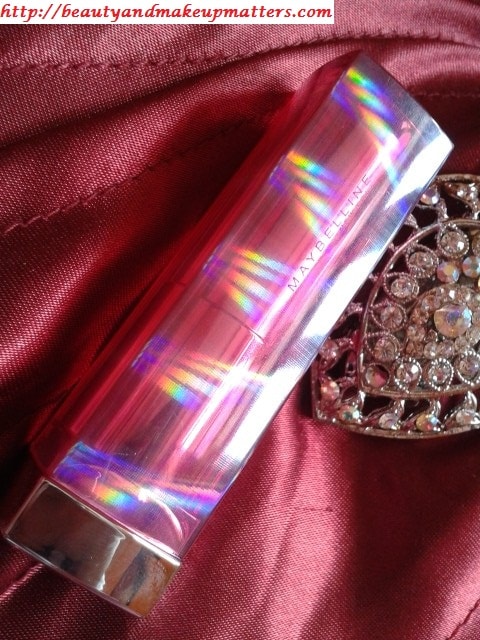 The only drawback of the packaging I feel is that lipstick shade isn't visible from the cap and has to look for it either underneath the base or unlock the cap.
My experience with Maybelline Color Sensational Jewels Lipstick – Berry Brilliant:-
Shade:- Berry Brilliant is magnificent bright berry pink shade with purple hue. The lipstick makes the lips pop with its intense bright pink (magenta) color which might not be liked by everyone.
Formula:-The texture of the lipstick is again very light and glides gracefully over the lips. The lipstick is creamy but doesn't look cakey even after multiple swipes. It can be worn in so many ways that I couldn't get enough of it.
Can be worn to full on lip color for that saucy berry pink lips or
Can be worn as light fuschia pink stain on lips.
Stained lips can also be topped up with a gloss to get those juicy berry pink lips but in a little toned down manner.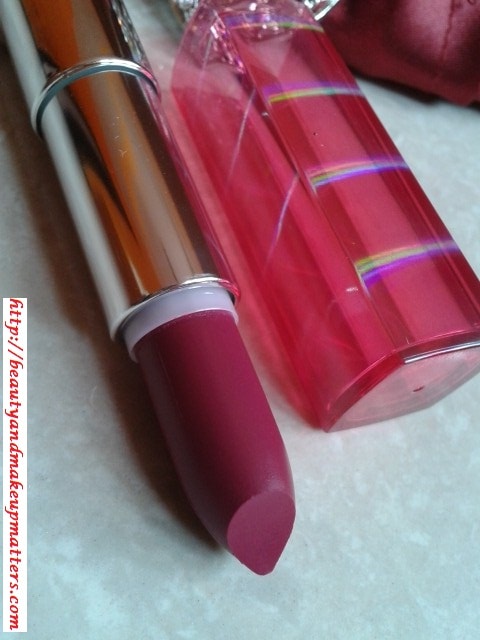 Finish:- The lips isn't very moisturizing but it does make lips appear smoother and fuller. The lipstick gives saucy cream finish to the lips. The shine fades lightly after 1-2 hours of wear but still has a bit of sheen in it and doesn't make lips look completely matte.
Swatches:-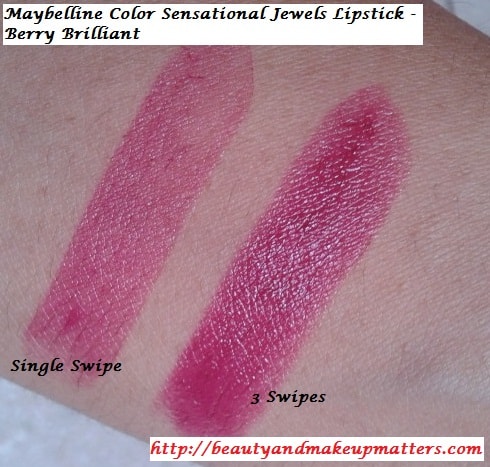 With Flash:-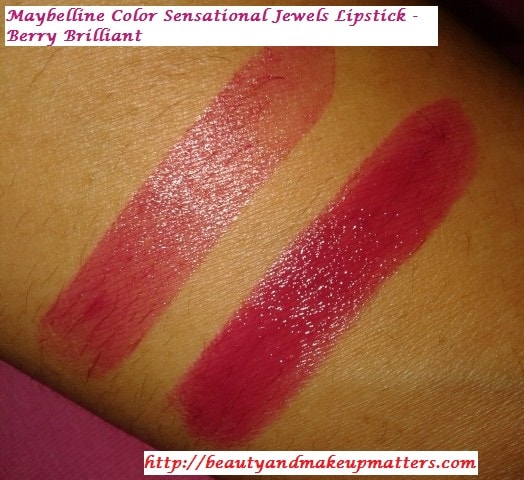 Coverage:-Berry Brilliant gives a burst of color to the lips in a single swipe. The color is intense and builds up amazingly in 2 swipes to give an opaque coverage.
Staying:- I was amazed to see how such creamy lipsticks lasts so longer on lips. It stays for 4-5 hours easily on me and fades away leaving a light plummy-pink stain on the lips which stays for another 3 hours and normally requires a makeup remover to go away completely
Don't Miss to Checkout:
FOTD:-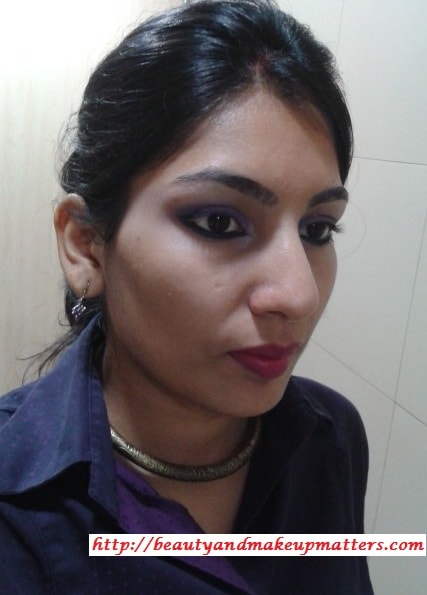 Pros of Maybelline Color Sensational Jewels Lipstick – Berry Brilliant:-
Bright berry pink shade
Richly pigmented
Soft creamy formula
Doesn't feel heavy or look cakey on lips
Gives a lovely saucy creamy finish
Long staying power
Doesn't settle into fine lines
Makes lips appear smoother and fuller
Can be worn as lip stain too
Beautiful packaging
Cons of Maybelline Color Sensational Jewels Lipstick – Berry Brilliant:-
Due to its rich creamy texture they tend to transfer to anything that comes in contact with lips
Bleeds slightly after meals but that can be taken care of easily by locking it with a lip liner
Needs a makeup remover or a creamy cleanser to remove the stain from lips but that also marks the long staying of the lip color
Recommendation:- Maybelline Color Sensational Jewels Lipstick – Berry Brilliant is vibrant blue-based magenta lip color which gives a light glossy cream finish on lips. I am totally floored by its light-weight formula and rich creamy finish. It glides so beautifully over the lips that I love to swipe it again and again. If you don't feel comfortable with such bright lip color than just dab your lips with a tissue and get rid of the excess color and wow you get a lovely berry pink stain on lips. Highly Recommended!

Maybelline Jewel collection is full of bright and bold lip color basically blue-based pinks and purples lipstick. Those who are lusting for bright pinks and purple can go and raid Maybelline counters. I am going to try Refined Wine and Red Garnet next but I seriously feel Amethyst Ablaze is not my cup of tea.
Rating:- 4.9/5
Have you tried Maybelline Color Sensational Jewels Lipstick – Berry Brilliant? Which is your favorite from Maybelline Jewels Collection?