Maybelline Color Sensational Creamy Matte Lipstick
Maybelline has come up a new lipstick formula the Maybelline Color Sensational Creamy Matte Lipsticks. These are the latest addition in the Maybelline Color Sensational Lipstick range which is one of my favorites of all time. Matte finish is the hottest trend and Maybelline Lipsticks formula is always amazing . So let's see how well they do it with these Creamy matte lipsticks this time with Maybelline Color Sensational Creamy Matte Lipstick – Divine Wine today.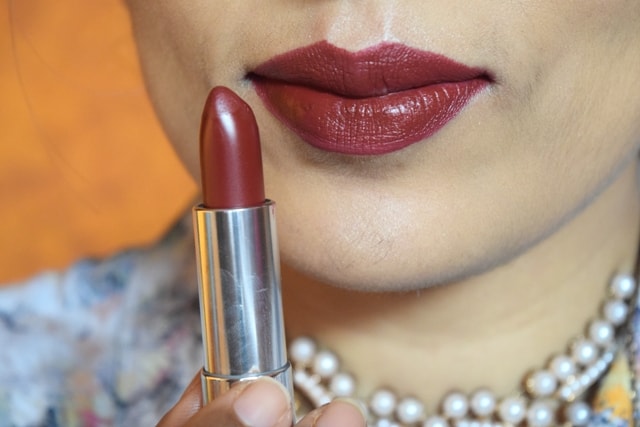 Video review+ Live Demo:
Product Claims: Color Sensational® Creamy Matte Lip Color. Creamy matte-finish lip makeup available in gorgeous hues. Achieve beautiful-looking lips in just moments
BENEFITS:
Achieve statement-making color with our supremely sensational matte lipstick.
Precious oils leave a sensuous finish.
Available in a collection of eye-catching shades.
How to Apply:
Step 1. Apply lipstick in the center of your upper lip and follow the contours of your mouth.
Step 2. Glide the lipstick across the entire bottom lip.
Price: Rs.575 for 4.2ml
Available in 12 Shades
Ravishing Rose
Faint for Fuschia
All Fired Up
Touch of Spice
Burgundy Blush
Divine Wine
Mesmerising Magenta
Siren in Scarlet
Nude Nuance
Craving Coral
Rich Ruby
Vibrant Violet
Packaging: These Maybelline Color Sensational Creamy Matte Lipsticks comes in a the signature Color sensational packaging with a brown tinted frosted finish cap. These lipsticks have a colored bad at the bottom matching with the shade of the lipstick for easy identification.
My Experience with Maybelline Color Sensational Creamy Matte Lipstick Divine Wine:
Shade: Divine Wine as the name suggests is a beautiful rich wine red shade. The shade is perfect for fall/winters where I love such deep dark shades. Also it has warm undertones which will work perfectly with Indian skintones.
Texture: Maybelline Color Sensational Creamy Matte Lipsticks have a super smooth creamy texture. They melt like butter on lips and glides on easily giving a smooth even application.
Formula: The formula feels light –weight on the lips and even after multiple swipes it does feel cakey. The lipstick feels slighty moisturizing to the lips which makes it good for dry lips. But, the lipstick formula stick to the dry skin aka flakes on the lips. Hence, accentuates the imperfections and doesn't give a flattering finish. So, if you have dry lips exfoliate your lips before application for a smoother finish.
Pigmentation: These Maybelline Creamy Matte Lipsticks are richly pigmented and I just need 1-2 swipes to get an even complete coverage. As these are creamy matte lipsticks, the finish doesn't look matte rather has a creamy satin finish which feels quite comfortable on the lips.
Longevity: These Creamy Matte lipsticks have a long lasting staining formula especially with this shade as it is a dark shade.The lipsticks lasts for 8-9 hours on me and even after that it stained my lips. The lipstick doesn't sets to a transfer-proof finish but eventually they turn slightly matte. I will suggest pat them down with a tissue or set with translucent powder for a perfect matte finish. And this will also make it last longer.  But I love that they don't settle in fine lines or flake after hours of wear. They have a very comfortable creamy matte formula.
Recommendation: Maybelline Color Sensational Creamy Matte Lipsticks are one of the best creamy matte lipsticks in India. They are slightly on the pricier side but the range has an array of beautiful shades from pinks, red, nudes, burgundy and corals for warm Indian skin tones. If you are tired of drying matte lipsticks and want to pamper your lips with a creamy texture try these lipsticks. They feel super comfy on the lips and will not make your lips dry or flaky. The formula is not transfer-proof but it is pretty long lasting. Also, I love the gorgeous vanilla scent in these lipsticks.

The make lips feel and look so smooth and good. They have a perfect lightweight texture for a comfortable matte (creamy matte) long lasting finish.
Rating: 4.5/5
Don't Miss to Checkout
What do you think about these new Maybelline Color Sensational Creamy Matte Lipsticks? Which is your favorite shade ?
PS: Product sent by brand for consideration but honest and unbiased opinion!