Maybelline CLEARGLOW BB Cream Review
Today I will be reviewing probably the first BB cream introduced in Indian cosmetics market, Maybelline CLEARGLOW BB Cream.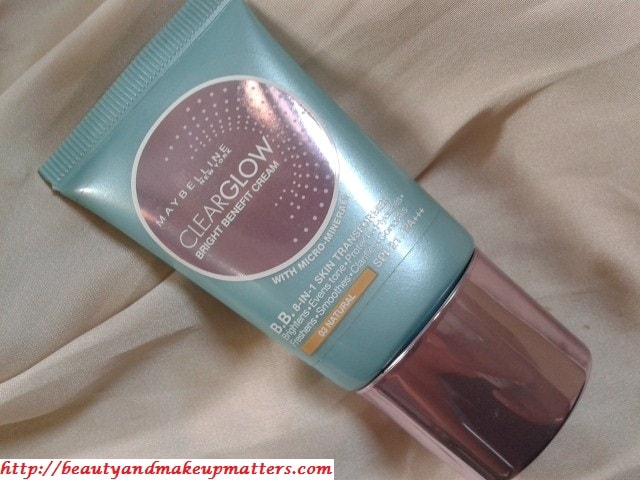 Product Claims:- Provides 8 benefits in 1 step!
Instantly brightens : Brightens skin to one tone lighter.
Protects with SPF 21/ PA+++ : Has a smooth, light & non-greasy texture.
Evens tone : Hides imperfections & corrects uneven skin tone.
Hydrates : Moisturises all day(8 hours).
Conceals : Perfectly conceals flaws, blemishes & redness.
Smoothes : Instantly makes skin softer & smoother.
Mattifies : Controls shine all day.
Freshens : Resists sweat & sebum for 5 hours.
    Easy to use
    Dermatologist Tested
    Wont clog pores
    Suitable for all skin types including sensitive skin
Direction for Use:- How to apply BB Cream –
Just squeeze out a little BB Cream(in about the size of 50 paise coin), then apply it on your forehead, chin and cheeks.
Spread it all over your face with short, quick strokes.
Finallly, you could also apply a little Kajal and Lip Balm for a great natural loo
Ingredients:- Mentioned at the back of the tube.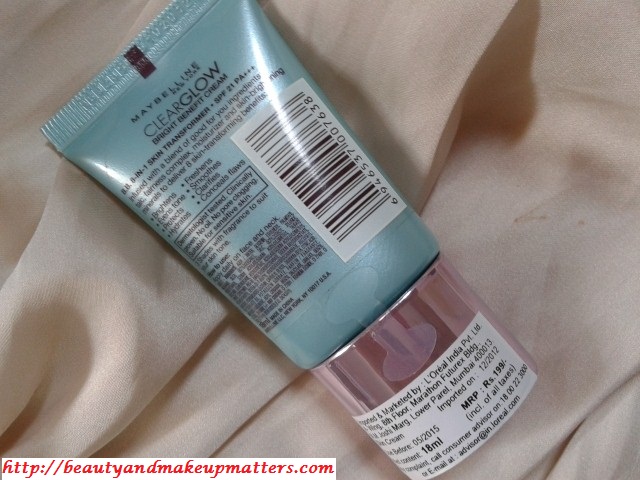 Shades Available:-
Nude -01
Radiance -02
Natural – 03
Price:- Rs.199 for 18ml
Shelf Life:- 3 years from the Mfg date.
Packaging:- Maybelline BB cream comes in a simple squeeze tube type packaging. It has a needle sized nozzle to dispense the cream out of the tube. The turquoise blue colored tube with a purplish tinged metallic finish screw cap looks much prettier than the similar Garnier BB cream tube. I like its colored tube packaging which is convenient to use and carry.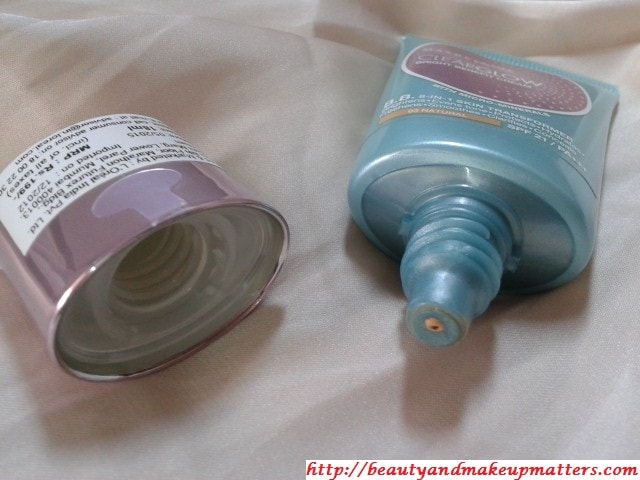 My experience with Maybelline CLEARGLOW BB Cream:-
Texture – Maybelline BB cream has a thick creamy texture which spreads like a creamy foundation.  The texture is much thicker than the Garnier one and needs a lot of efforts to smooth onto face. I need to massage it for longer to get an even finsih.
Fragrance –The cream has a terrible smell, which is however mild and fades few minutes post-application but if you are sensitive to smells, than this one is going to be nauseating.
Coverage – It's lightly tinted formula easily hides the minor imperfections but the coverage provided by this BB cream is pretty much average, just slightly better than Garnier BB cream. I need a little amount of this for single application as few tiny dots over the face give enough coverage.
Finish –I wasn't much happy with its thick gooey texture but was aghast to see the white cast it created on my face. I had no idea it was going to be so light for my skin. I had to blend it really well near my hair line so as to even out the skin tone. Though few minutes post-application it didn't looked that white and kind of camouflaged to my skin tone to some extent. It is more or less like a tinted foundation bought in a wrong shade :P.
Don't Miss to Checkout:
Swatch- Matches well on the Fairer sides of hands nut looks white on the back.
Front  –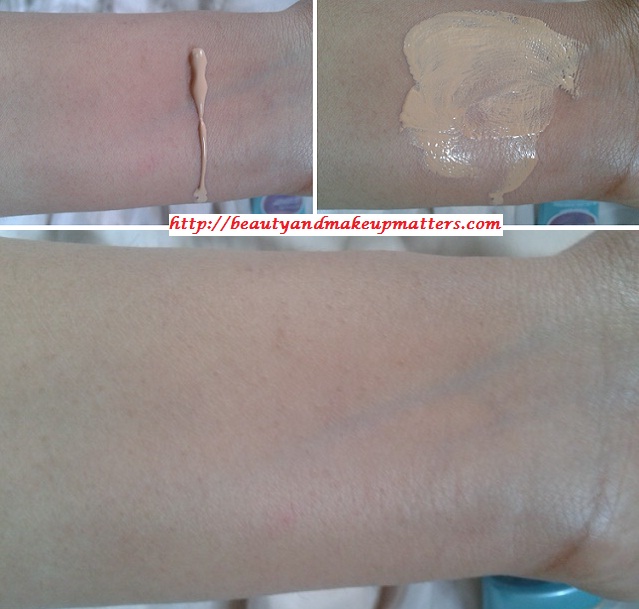 Back-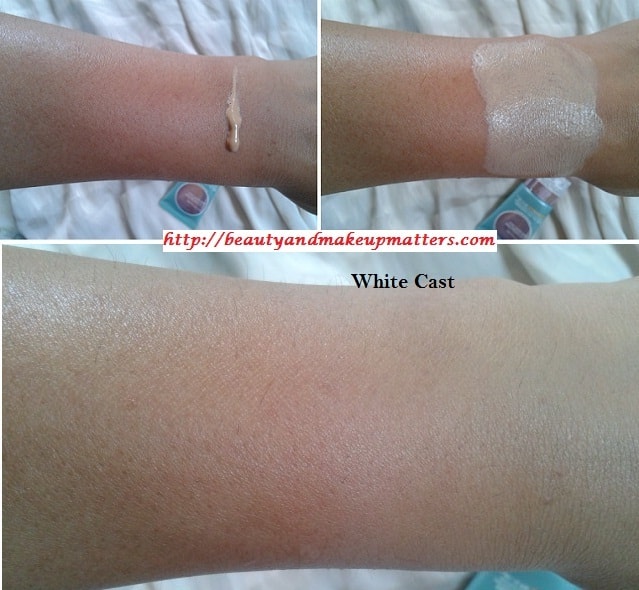 It is mildly moisturizing to my dry skin but I would prefer to use it over a well moisturized skin as it will spread easily that way. It gave nice smooth feel to the skin with a hint of glow. I liked the fact that it didn't make my skin greasy or oily even after full day wear.
With Flash –
Front –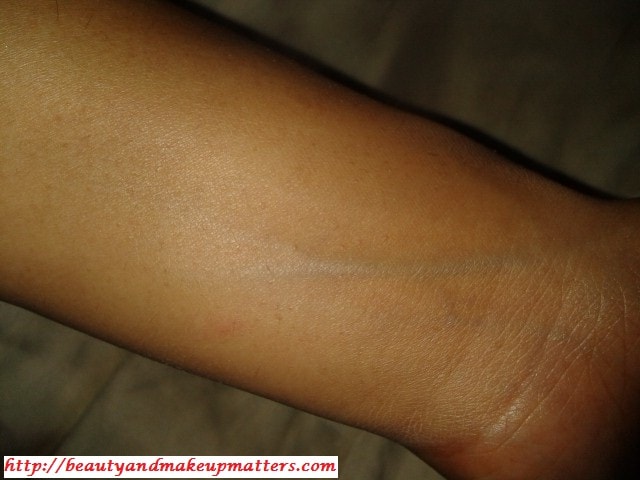 Back –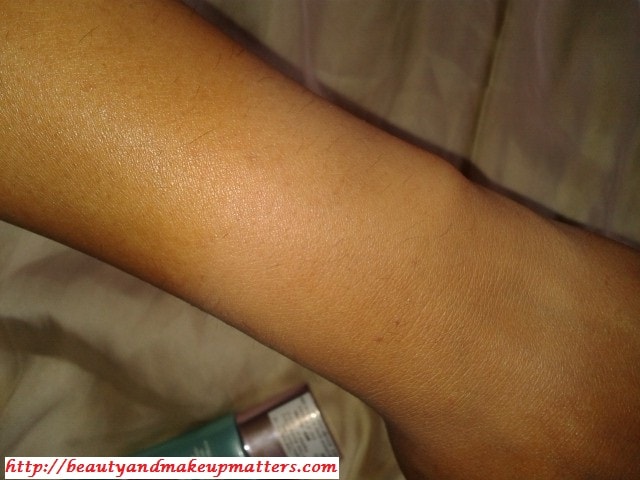 The BB cream also has SPF 21 and PA+++ protection so you can skip on sunscreen
Pros of Maybelline CLEARGLOW BB Cream:-
Provide light coverage
Doesn't irritate or breakout my skin.
Doesn't makes skin oily
Contains SPF 21 and PA+++ sun protection
Hygienic and travel friendly packaging
Dermatologically tested and safe for sensitive skin too
Available in 3 shades to choose from
Cons of Maybelline CLEARGLOW BB Cream:-
Takes time to blend completely
Leaves a whitish cast on skin
Doesn't photograph well with flash
Not suitable for dusky skin tones due to white cast it creates
Wouldn't work well on oily skin due to its heavy texture
Bit pricier as it is almost double the price of Garnier BB cream
Recommendation:- Maybelline CLEARGLOW BB Cream is thicker compared to other BB cream formula's I have used. The BB cream is good at concealing minor flaws but doesn't give any major coverage. It blends better on a moisturized skin giving an even finish and lasts long on me without turning oily. I liked its tinted effect but not the whitish cast it creates on my face. I think I have got a wrong shade, may be radiance would have been a better have to check at the counters.
Rating:- 3.2/5
Have you tried Maybelline CLEARGLOW Blemish Balm Cream?