Maybelline Cheeky Glow Blush – Fresh Coral Review
Hello Everyone,
If you have to list down affordable, quality blushes in India under Rs. 500… how many comes to your mind? Well for me it start with Maybelline Cheeky Glow blushes, though Essence cosmetic blushes comes next to me but other than that most of the blushes are either of poor quality or are on expensive side. Today, I have another gorgeous shade from Maybelline Cheeky Glow Blush range to share with you, Maybelline Cheeky Glow Blush Fresh Coral.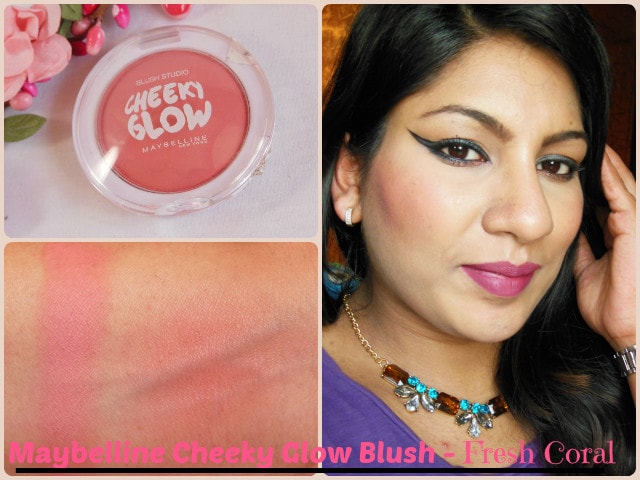 Product Claims: Cheeky Glow Blush blends flawlessly with your skin to deliver a smooth, natural finish. This ultra-light blush feels weightless on the skin and is easy to apply. The Cheeky Glow Blush is available in 3 fresh shades: Creamy Cinnamon, Fresh Coral and Peach Sweetie.
Here's why you'll love it:
Has a silky smooth texture for an exquisite feel
Fresh hues complement your natural skin color
Gives your cheeks a luminous glow and natural finish
Feels light on the skin
Ingredients:- (Forgot to take the pic.. it is mentioned at the bottom.. :P)
Price:- Rs.250 for 7gms
Shelf Life:- 3 years from the Mfg date.
Available in 3 shades:
Fresh Coral
Peachy Sweetie
Packaging:- Maybelline Cheeky Glow Blush comes in a simple round pan packaging with a white plastic base and a transparent glass lid which shuts tightly with a loud click sound to the base. The blush is dome shaped which we usually see with baked blushes and I like it. The little pan is easy to carry along and the shades are easily identifiable through the transparent if you own more than one.
My experience with Maybelline Cheeky Glow Blush Fresh Coral:-
Shade: Fresh Coral is a medium-bright pink blush with subtle coral undertones. I would term it as a pink than a coral blush. The shade works wonderfully on warm skintones and gives a lovely pink flush to the cheeks. It is difficult to find a good pink for warm skintones but this one hits the bull's eye. It brightens up my complexion and makes me look cheerful instantly
Formula: Maybelline Cheeky Glow Blush has a soft texture (not as soft as Creamy cinnamon) but it isn't powdery like most of the matte blushes. It has a silky smooth feel and in just one swipe the brush picks up enough product without kicking much of it in the pan. It is free from any sort of shimmers or pearls and gives a soft matte finish to the cheeks which looks pretty natural.
Pigmentation: The blush has a good color payoff, not too sheer or not too heavy. It gives a soft flush of color in a single swipe which can be built up in 2-3 swipes. Also unlike usual matte blushes, it has finely milled texture which blends easily and distributes the color evenly on cheeks without going patchy.
Staying Power: This is the only thing about the blush that could have been better. The blush lasts for 4-5 hours on me with a base after which it fades considerably. So, if you are out full day you might to touch up your blush in between but for the price tag I am not complaining.
Don't Miss to Checkout:
Pros of Maybelline Cheeky Glow Blush Fresh Coral:-
Beautiful pinkish coral shade
Satin smooth texture
Decent color payoff
Blends beautifully
Can be layered easily
Satin matte finish
Works well on Indian skin tones
Easy on pocket
Compact, see-through Packaging
Cons of Maybelline Cheeky Glow Blush Fresh Coral:-
Starts fading in 4-5 hours
Recommendation:- Maybelline Cheeky Glow Blush Fresh Coral is a gorgeous pinky blush with warm coral undertone and matte finish. The blush has satin smooth formula and decent color payoff which shows up on cheeks in 1-2 swipe. It is not the most heavily pigmented blush but still has very good color payoff which can be layered for heavier coverage. The best part is it blends easily giving a soft diffused pink color to the cheeks without looking patchy. It wore well for 4-5 hours after which it starts fading but had it stayed better, I would have given it a 5. Overall, it's a beautiful blush with great quality at an affordable price tag and is among my favorite blushes. Highly Recommended!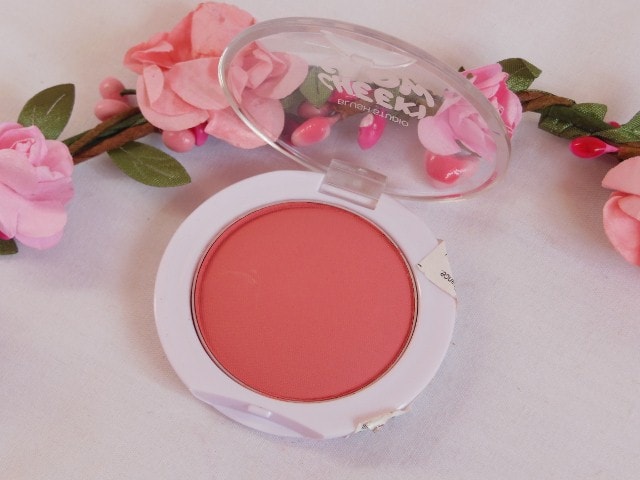 Rating:- 4.5/5
Have you tried Maybelline Cheeky Glow Blush Fresh Coral? Which is your favourite Pink Blush?