Maybelline Cheeky Glow Blush – Creamy Cinnamon Review
Today, I am sharing on of the best launches by Maybelline India.. and why call it The Best you will know… when it comes to affordable powder blushes the only brand that comes to my mind are NYX ( which gets expensive in India 🙁 ) and Colorbar ( which is on its way to become a premium brand soon) , so we poor Indians are left with no affordable option for quality blushes but like always Maybelline came to the rescue and launched these Cheeky Glow Blushes from its Blush Studio. So, let's checkout this pretty Maybelline Cheeky Glow Blush in Creamy Cinnamon.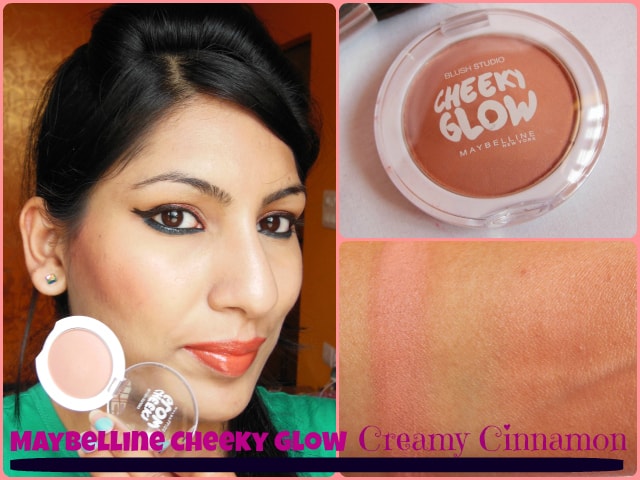 Product Claims: Cheeky Glow Blush blends flawlessly with your skin to deliver a smooth, natural finish. This ultra-light blush feels weightless on the skin and is easy to apply. The Cheeky Glow Blush is available in 3 fresh shades: Creamy Cinnamon, Fresh Coral and Peach Sweetie.
Here's why you'll love it:
Has a silky smooth texture for an exquisite feel
Fresh hues complement your natural skin color
Gives your cheeks a luminous glow and natural finish
Feels light on the skin
Ingredients:- (Forgot to take the pic.. it is mentioned at the bottom.. :P)
Price:- Rs.250 for 7gms
Shelf Life:- 3 years from the Mfg date.
Available in 3 shades:
Fresh Coral
Peachy Sweetie
Creamy Cinnamon
Packaging:- The blush comes in a simple round pan packaging with a white plastic base and a transparent glass lid which shuts tightly with a loud click sound to the base. The blush is dome shaped which we usually see with baked blushes and I like it. The little pan is easy to carry along and the shades are easily identifiable through the transparent if you own more than one.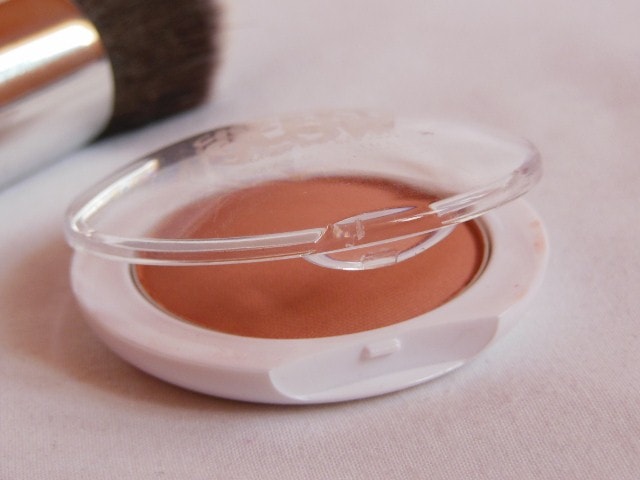 My Experience with Maybelline Cheeky Glow Blush – Creamy Cinnamon:-
Shade: Creamy Cinnamon is a light peachy brown shade in satin matte finish. The blush looks matte on application but I could detect some barely there microscopic reflecting particles in the base which gives it a satiny finish and a subtle glow to the cheeks. It is natural shade which will compliment Indian skin tones and will easily work for medium to duskier skin tones, just that Dusky beauties will need to layer this on for the color to show up. One can never go wrong with this particular shade, it is so easy to pull off.  It can be paired with bright bold lips for a statement look or even with nude lips for a natural look and it will still look charming.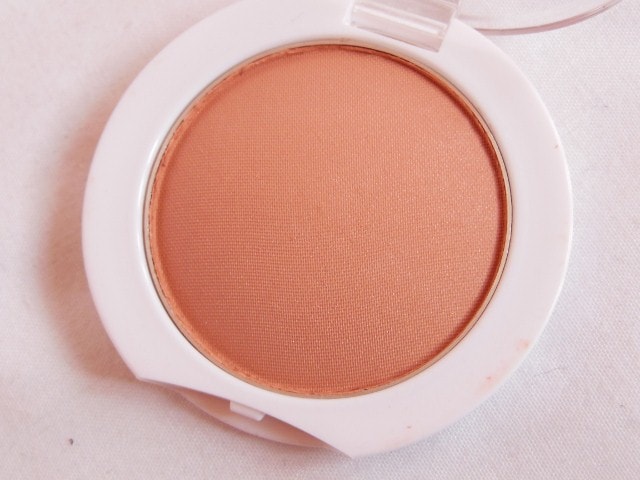 Formula: Don't go by the name of the blush as it is not a creamy blush rather a powder one. It has satiny smooth texture which is soft to touch but isn't chalky unlike blushes in this price range. Swirl brush over the pan and roll over your cheeks and it will give a hint of color to the cheeks. It blends beautifully and quite easily into the skin.
Pigmentation: The blush is decently pigmented not richly though.  It didn't show up much in a single stroked so went ahead for 2nd/3rd one pretty quick and to my surprise it build up beautifully to a natural peachy blush on cheeks.  It can be easily layered to achieve the desired intensity without going patchy or uneven application
Staying Span: The blush staying power is pretty much average and it doesn't last for more than 4-5 hour's one me with a base but it fades away evenly.
Pros of Maybelline Cheeky Glow Blush – Creamy Cinnamon:-
Soft smooth texture
Decently pigmented
Blends easily
Finely Milled microscopic shimmers
Satin matte finish
Shade is suitable for Office (if you wear blushes at all to office) or day time
Flatter Indian skin tones well
Extremely pocket friendly
Compact Packaging
Cons of Maybelline Cheeky Glow Blush – Creamy Cinnamon:-
Color needs to be build up but that's not really a con for me
Doesn't last whole day
Recommendation:- Maybelline Cheeky Glow Blush – Creamy Cinnamon is a pretty muted peachy blush in soft matte finish with fine shimmers which adds subtle glow. Formula-wise I would rate this much higher than the blushes even with double the price of this, so soft and smooth. Just like pink lipsticks, one can never have too many of Peachy blushes and also for beginners who just jumped into the makeup world and want to try their hands at blushes this Creamy Cinnamon is a must have in your collection. Maybelline remains unbeatable in terms of price and quality, another wonderful launch from Maybelline! Highly Recommended!
Rating:- 4/5
Have you tried Maybelline Cheeky Glow Blush – Creamy Cinnamon? Which is your favorite Powder blush brand?