Maybelline Bi Phase Eye and Lip Make-up Remover Review, Swatches
Hello,
Today I will be reviewing my first official Makeup Remover and that that too from my current favorite makeup brand "Maybelline". I normally use Lotus Lemon Pure Creamy cleanser for removing makeup but when I saw this tiny little bottle on the counter I thought of giving it a try and here it is, the Maybelline Bi Phase Eye and Lip Make-up Remover.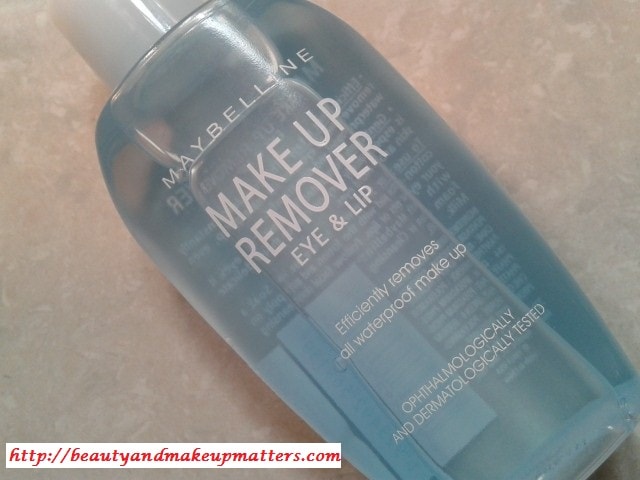 Product Claims: Why You'll Love It
Efficient & Easy: Instantly removes all eye and lip makeup, even waterproof and non-transfer.
Gentle: Formulated for sensitive eyes, it is especially very gentle for the delicate skin around eyes.
Ophthalmological and Dermatologically tested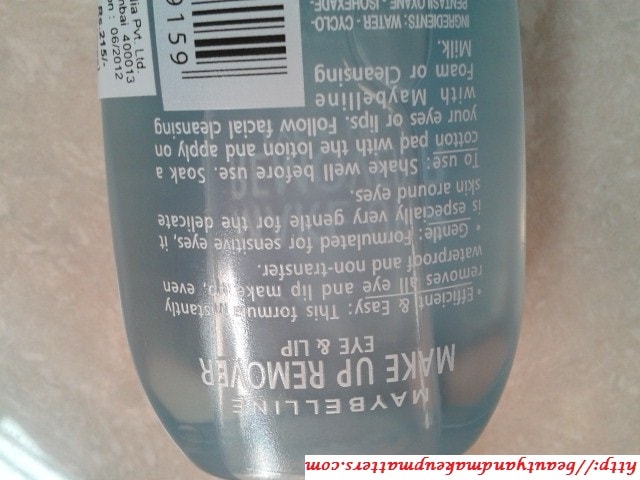 Direction for Use:- Expert Tip – Shake well before use. Soak a cotton pad with the lotion and apply on your eyes or lips.
Ingredients:-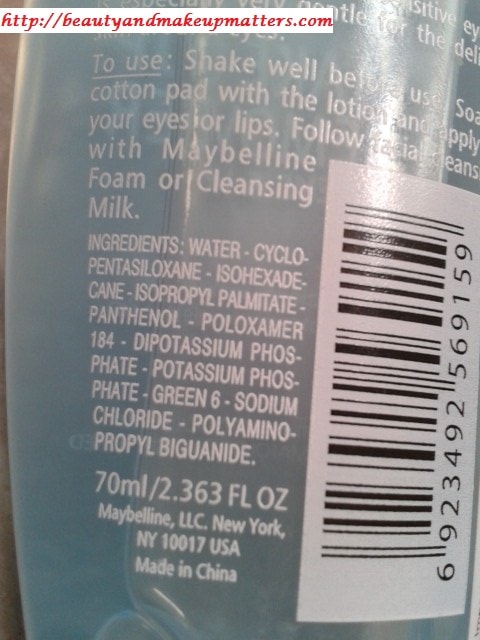 Price:- Rs.215 for 70 ml
Shelf Life:-  30 months from the Mfg date.
Packaging:- The makeup remover is housed in a see-through plastic bottle with a screw cap. There is small nozzle provided on the top to dispense the liquid.  The cute little comes very handy and the sturdy cap prevent the bottle from leaking.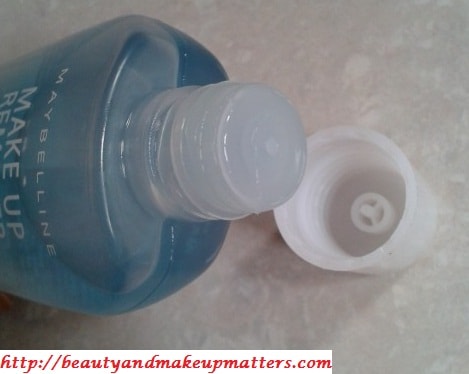 My experience with Maybelline Bi Phase Eye and Lip Make-up Remover:-
Maybelline Makeup Remover is a Bi phase liquid which has layers of blue and transparent water like liquid. Need to shake the bottle well before using the remover so that the layers are merged well turning to a pale blue color.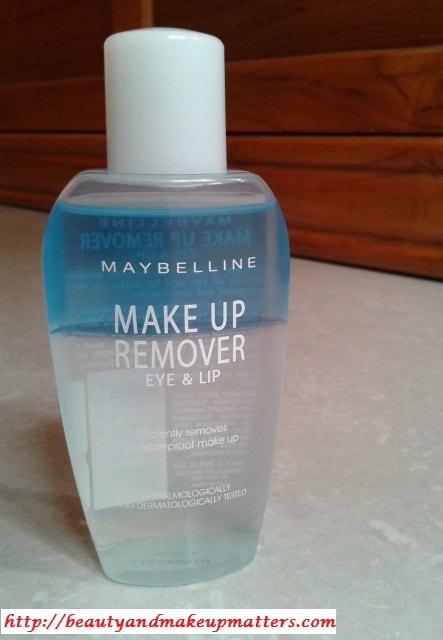 Eye makeup especially Mascara is such a pain to remove and most of the cleansers (Biotique BioBurberry Cleanser) and makeup removers which sting eyes makes it even worse but Maybelline Makeup Remover removed all the makeup effectively without stinging my eyes.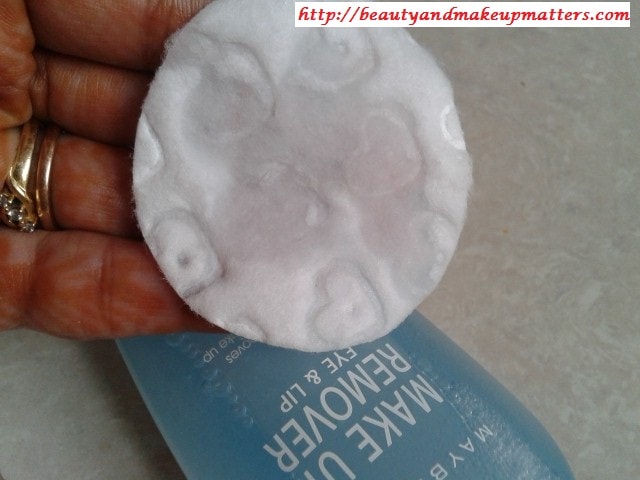 The Maybelline Makeup Remover removes the entire eye and lip makeup very easily leaving only squeaky clean skin behind and no uncomfortable oily or sticky feel. Another thing that I loved about this makeup remover is that it doesn't have any scent either chemical or herbal.
Don't Miss to Checkout:
Swatches:- Soaked the cotton pad well in the remover liquid and used it to remove long – staying and water-proof makeup. It removed most of the makeup in single swipe and with another swipe most of it was removed but only the faint staing of lipstick was left which was completely gone by next swipe and I get a squeaky clean skin in 3gentle swipe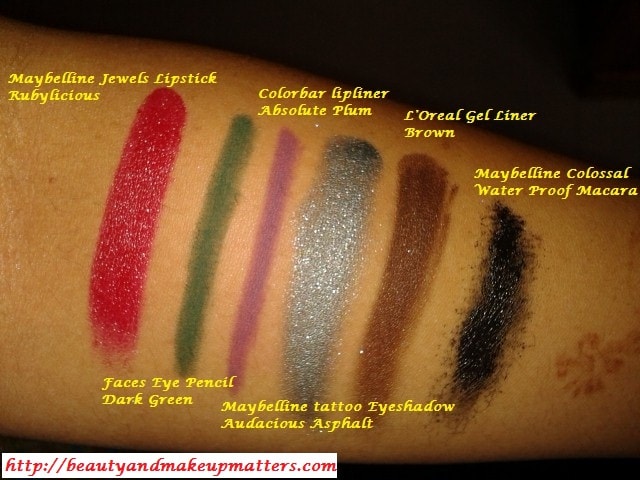 Maybelline Color tattoo Eye shadow in Audacious Asphalt
Maybelline Jewels Lipstick in Rubylicious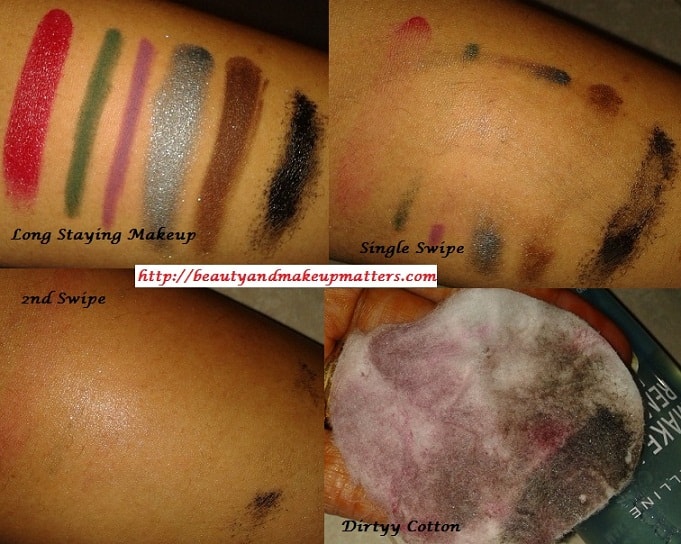 Pros of Maybelline Bi Phase Eye and Lip Make-up Remover:-
Gently cleanses away all the eye and lip makeup
Doesn't sting eyes not even a bit
Safe for sensitive eyes.
Doesn't leave any slick oily layer on skin
No funny smell
Affordable
Leak-proof, travel friendly packaging
Cons of Maybelline Bi Phase Eye and Lip Make-up Remover :-
Need to use a generous amount of the liquid for effective cleansing.
I would prefer a pump over this nozzle dispenser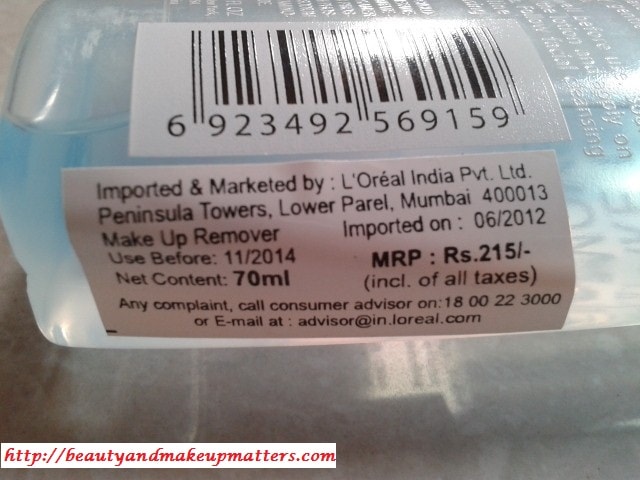 Recommendation:- Maybelline Bi Phase Eye and Lip Make-up Remover is an inexpensive yet effective Makeup remover. It removes the makeup effortlessly and just needs a gentle swipe of the cotton swab dipped in remover liquid and all the makeup gets removed quickly. For long staying and water-proof makeup leave the cotton soaked in remover liquid for few seconds and see the magic. The mild, non-stinging make it the safest bet for sensitive eyes. The product is a total value for money. Highly recommended!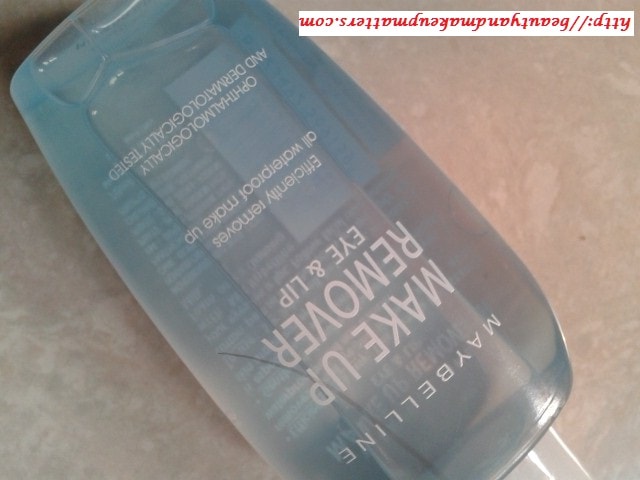 Rating:- 4.8/5
Have you tried Maybelline Bi Phase Eye and Lip Make-up Remover? Do you prefer cleansers of Makeup removers?