Maybelline Baby Lips Lip Balm Mango Pie Review
We all love tinted lip balms but it is inevitable to stay without a colorless lip balm which serves the basic purpose of moisturizing the lips. So, today I am going to review a colorless lip balm, Maybelline Baby Lips Lip Balm in Mango Pie.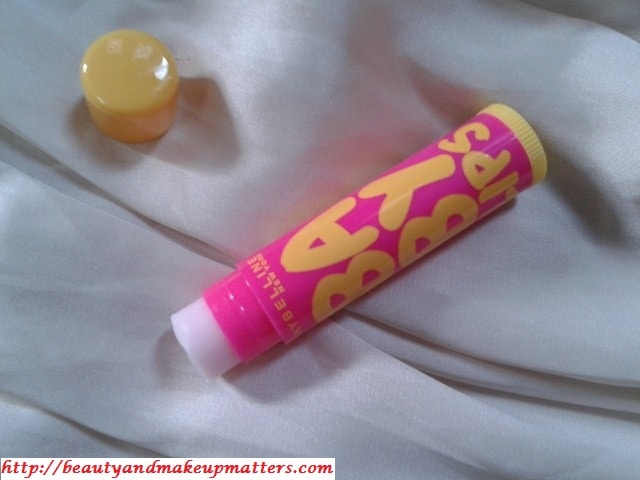 Product Claims:
No more basic lip balm
Visibly renewed lips and 8-hr hydration
The secret: Exclusive lip renew formula with SPF 20
Protects and moisturises lips for a full 8 hours
After 4 weeks, lips are visibly renewed and reborn
6 flavours
Ingredients:-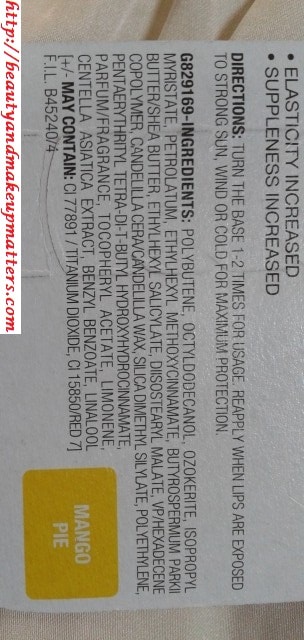 Price:- Rs.125 for 4 gm
Shelf Life:-  30 months from the Mfg date.
Other in this Range:-
Anti-Oxidant Berry – Non-Tinted
Pink Lolita – Pinkish Tint
Cherry Kiss- Cherry Pink Tint
Coral Flush – Orangish coral Tint
Berry Crush – Berry Pink Tint
Rose Addict- Rosy Pink Tint
Packaging:- The balm comes in an easy to use rotate up and down stick –type packaging which is my favorite in lip balms. I totally hate the ones that come in tubs where I have to dig fingers for each application and half of the amount gets stuck in nails. eeww…!! The gorgeous combination of pink and yellow give an appealing girly touch to the lip balm which makes me crave for it even more.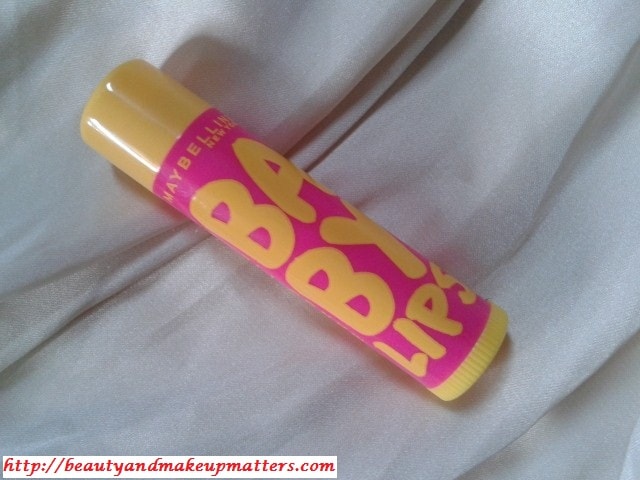 My experience with Maybelline Baby Lips Lip Balm Mango Pie:-
Mango Pie is a colorless lip balm from Maybelline with yummy mango fragrance which tickles my fruity bone. :). The fragrance isn't overpowering and is on the milder side but is tempting enough can make you gorge on mangoes. It has a smooth buttery texture which glides on lips effortlessly. The formula is much better than the Nivea one's which melts on lips and feels wax but Maybelline one moisturises lips nicely without feeling heavy on lips. It swipes so easily and gives happily moisturised lips instantly.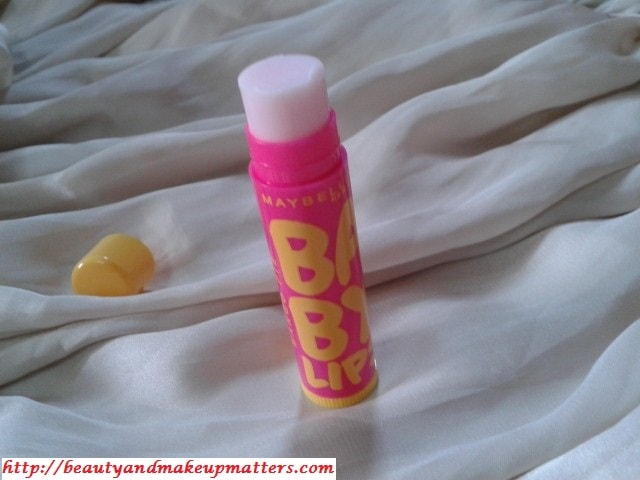 If you have super dry lips than swipe it just once before the lipstick application for a smooth gliding finish. Also, it can be used as a top coat to relieve lips from the drying texture of you matte lipstick, without altering the shade of the lipstick at all. It can also be used to repair and fix chapped lips, use it overnight and wake up with smooth and soft lips.
The only other colorless lip balm in this range is  Anti-Oxidant berry which has similar texture but is deprived of fruity smell and doesn't look as pretty as Mango Pie. Cherry on the cake is its SPF protection; it comes with SPF 20 which protects delicate lip skin from harmful UV rays to some extent.
Don't Miss to Checkout:
Swatch-
Pros of Maybelline Baby Lips Lip Balm Mango Pie:-
Glides smoothly
Doesn't feel greasy or heavy on lips
Moisturizes well
Makes lips soft and supple
Delicious Mango fragrance
Contains SPF 20
Attractive packaging
Can be used over/under matte lipsticks
Easy on pocket
Also available in tinted versions
Cons of Maybelline Baby Lips Lip Balm Mango Pie:-
Isn't a herbal product, so has chemicals in the list
Recommendation:- Maybelline Baby Lips Lip Balm in Mango Pie has super smooth texture and feels feathery soft on lips. It moisturizes lips well making them soft and supple without making them greasy or waxy. The yummy mango fragrance and the SPF 20 are some additional benefits that make you like this lip balm even more. I thoroughly enjoyed the texture, fragrance, packaging, and ease of use of this lip balm. Highly Recommended!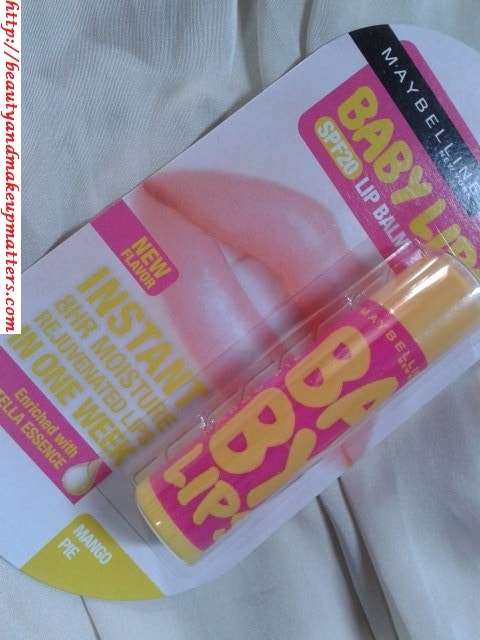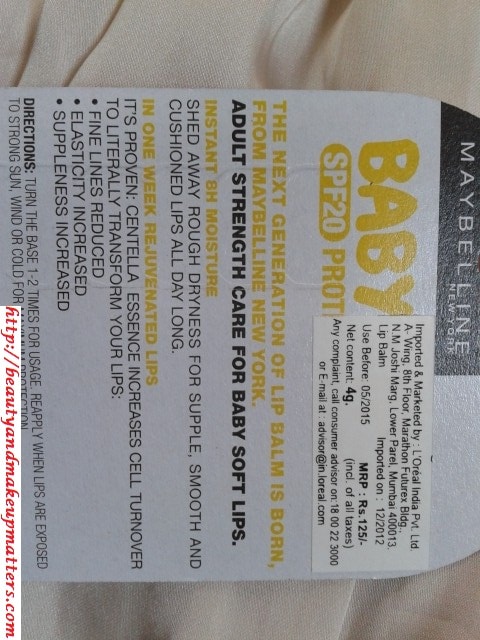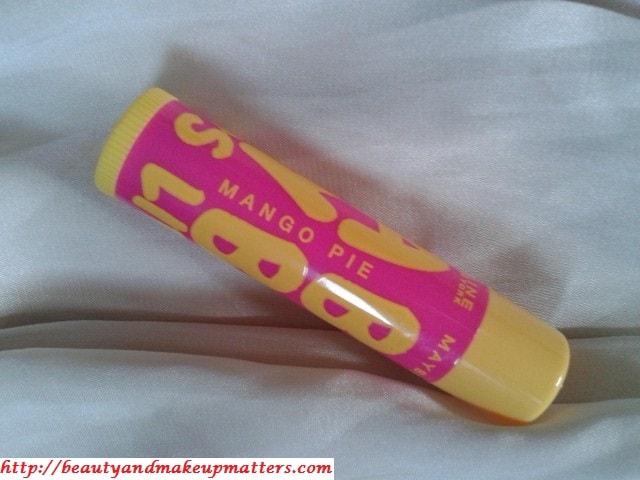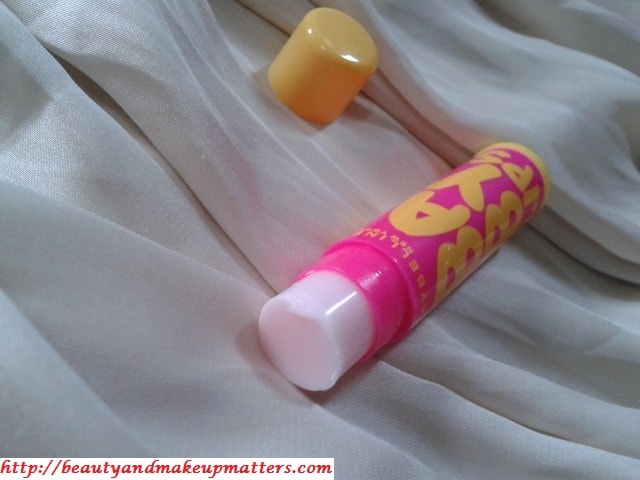 Rating:- 4.9/5
Have you tried Maybelline Baby Lips Lip Balm Mango Pie? Which is your favourite Lip balm?