Maybelline Baby Lips Electro Pop – Pink Shock Review
Hello Everyone,
Today I am sharing the new bombs in my makeup stash 😉 .. yes they are no other than Maybelline Baby Lips Electro Pop Lip balms. Baby Lips range has been loved by everyone around and now Maybelline has topped it up with Electro Pops. So, lets see how it works me, Maybelline Baby Lips Electro Pop – Pink Shock.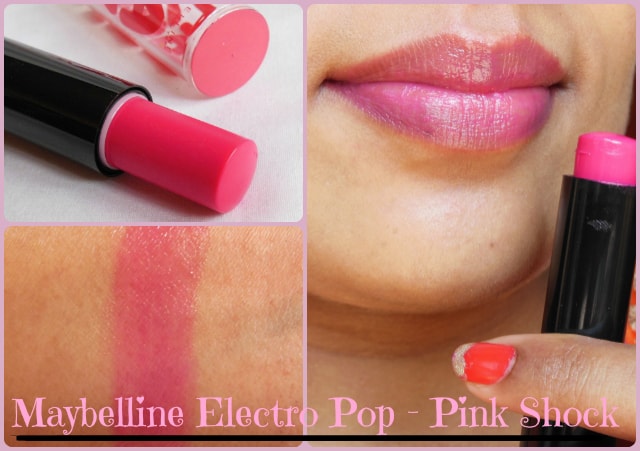 Product Claims:
Give your lips an eye-catching neon twist with Maybelline New York's Baby Lips Electro Lip Balms
Maybelline brings the 'neon lip trend,' spotted at New York and Paris Fall Fashion weeks to India by launching a range of bright, vibrant neon lip balms.
Presenting the Maybelline Baby Lips Electro lip balm range, a collection of 4 electric lip balms – Fierce N Tangy, Berry Bomb, Oh Orange and Pink Shock, which moisturize lips while giving them a chic neon kick!
Enriched with Maybelline New York's exclusive Botanical Cell Repair Concentrate and a blend of effective ingredients like honey, Shea butter and collagen, these flavoured lip balms hydrate and soften lips and keep them smooth for up to 8 hours. Smear on these eye-catching, glossy, neon lips balms and create your own Neon & Electro Style Statement!
Why you'll love it:
Has bright color pigments for an electric color effect
Comes in Strawberry, Lemon, Orange and Watermelon flavours
Enriched with an exclusive lip-renew formula, vitamins & moisturizing ingredients
Visibly renews lips to make them plump, soft and smooth
Ingredients:-
Price:- Rs. 165 for 3.5 gms
Shelf Life:-3 years from the Mfg date.
Packaging:- Maybelline Baby Lips Electro Pop lip balms comes a pretty swivel tube packaging with a black base and a glass cap. The caps have Baby Lips printed in the color of the shade and there is a shade indicator as well on the top making it super easy to identify shades. A portion of the lip balm stays out of the tube which sometimes smears with cap edge while closing but otherwise I am totally falling for the beautiful packaging!
My experience with Maybelline Baby Lips Electro Pop – Pink Shock:-
Pink Shock is a gorgeous hot pink shade with slight blue undertones. It is a deep fuschia pink the tube but comes up as a soft pink on lips which can be intensified with few more swipes.
Texture: The Lip balm has a silky smooth texture that glides, slips across lips. The formula is light weight and has a watery feels so it never feels heavy on lips even if you go for 10 swipes or even more. The color builds up with more number of swipes giving a plumped look to the lips and never gives that heavy sticky feeling on lips.
Formula: The Lip balm feels super-hydrating to lips and is enriched with Shea butter and vitamin E which work as natural moisturizers and hydrate lips. It has a mild sweet fruity fragrance which won't bother sensitive noses and fades away within minutes of application.
Pigmentation: Pink Shock has a rich color pay off that can be built up to a semi-opaque finish with multiple swipes. The pigmentation bowled me over as I never expected a lip balm to be so pigmented. The color works well on my pigmented lips and give a good coverage that no other lip balm has been able to provide till date.
Staying Power: The glossy shine lasts for good 1-2 hours on me but the stain stays for another few hours. The lip feel hydrated for 3-4 hours after which I feel the need to reapply the balm. It doesn't last for 8 hours as claimed but 3-4 hours is still a good time for a lip balm.
Don't Miss to Checkout:
Pros of Maybelline Baby Lips Electro Pop – Pink Shock:-
Glides smoothly
Gives rich pink tint to lips
Doesn't melt or crumble like Nivea Lip balms
Non Sticky texture
Glossy finish
Staining pigments makes color lasts for 4-5 hours on me
Moisturizing to lips
No tingling sensation
Eye catching packaging
Budget friendly
Available in 4 Neon shades
Cons of Maybelline Baby Lips Electro Pop – Pink Shock:-
Not super duper moisturizing but you can always reapply
Tube doesn't swivel down so have to be careful while putting the cap.
Recommendation:- Maybelline Baby Lips Electro Pop Pink Shock is bright fuchsia pink tinted lip balm with buildable color coverage that gives good color on my pigmented lips. The formula is smooth, hydrating and non-sticky which doesn't look gooey or patchy even after multiple applications. The Lip balm has surprisingly replaced most of my pink lipsticks and has become my go to lip color these days. If you are already a fan of Maybelline Baby lips then these Electro pops would be everything you need. It is a must have tinted lip balm for me, Highly Recommended!
Rating:- 4.5/5
Have you tried Maybelline Baby Lips Electro Pop Pink Shock? Which is your favourite tinted lip balm?