Maybe it's Nude: Maybelline Colorsenational Lipstick Warm Me Up
Hello Dolls,
Maybelline Colorsensational lipsticks have been here for years now and they were the first ever lipsticks that I had bought. I started with the gorgeous nudish browns from the range including Choco Pop, My Mahogany and Totally toffee  but I wanted revive those beautiful old memories with a beautiful nude shade in the collection which recently made it to my stash Maybelline Colorsenational Lipstick Warm Me Up.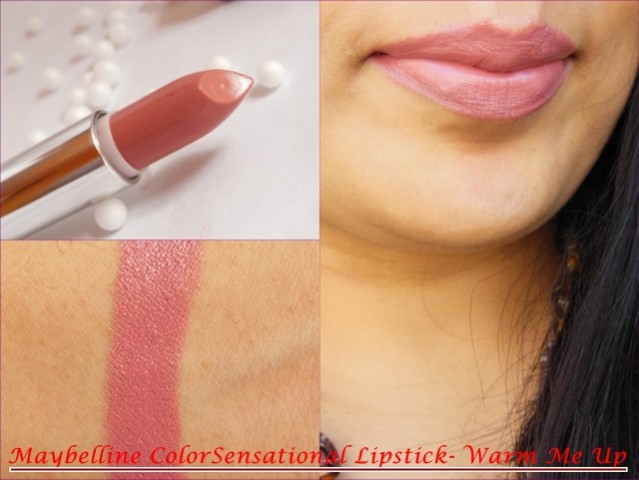 Product Claims: Fall in love with color, all over again:
• Crisper color from pure pigments
• Creamier feel from nourishing honey nectar
• Lipcolor so rich, so stunning…it's sensational
• 68 captivating shades
Price: Rs.375 for 4.2
Packaging: Maybelline Colorsenational Lipstick as always comes in a color coded packaging with a tinted glass cap in the color family of the lip shade while the bulled I housed in a silver metallic case. There is a colored bottom which helps to identify the shade.
My experience with Maybelline Colorsenational Lipstick Warm Me up:
Shade: Warm Me Up is a beautiful medium pinkish nude with mauvey undertones. There are slight golden shimmers in it which imparts a nice golden sheen to it. It makes a great nude for day time or office wear for medium warm Indian skintones (NC 40 – 42) but if you have a darker complexion it might wash you out.
Formula: The texture is creamy smooth and it glides on easily on lips. The formula does feel moisturizing to the lips and I love that it doesn't set in lip lines or accentuate lip imperfections rather makes them appear smoother. The lipstick has the signature sweet fruity fragrance which is kinda nice as it doesn't feel over whelming.
Pigmentation: The color payoff is intense and just one swipe is enough to give a good coverage to my pigmented lips. I go for 2-3 swipes for an absolute opaque color and it does build up ever so beautifully.
Longevity: The formula is creamy and it is a nude shade so it doesn't last longer than 3-4 hours with meals in between but I don't mind doing touch-ups with this because it goes on so beautifully.
Recommendation: Maybelline Colorsenational Lipstick Warm Me Up is a gorgeous Pinkish mauvey brown with ever so slight gold shimmers for that lovely sheen in the finish. The formula is creamy smooth with rich color pay off and has a moisturizing feel to it. The collection has so many wearable shades that I am sure everyone can find their perfect nude. The shade might not work for deeper skin tones but Maybellline Colorsensational Lipsticks have One of the best formulas and color selection in the affordable lipstick range.. Highly Recommended!
Rating: 4/5
Have you tried Maybelline Colorsenational Lipstick Warm Me Up? Which is your favorite Nude/Neutral Lipstick?