Mattify your face the Natural way with Wikka Beauty Potion
Hello Everyone,
I have been pretty impressed with Wikka products lately,  owing to their natural formulas and the blend of essential oils that goes in. I have tried their Facial Oil which did a good job and today, I am going to review a face moisturiser from the range, Wikka Beauty Potion.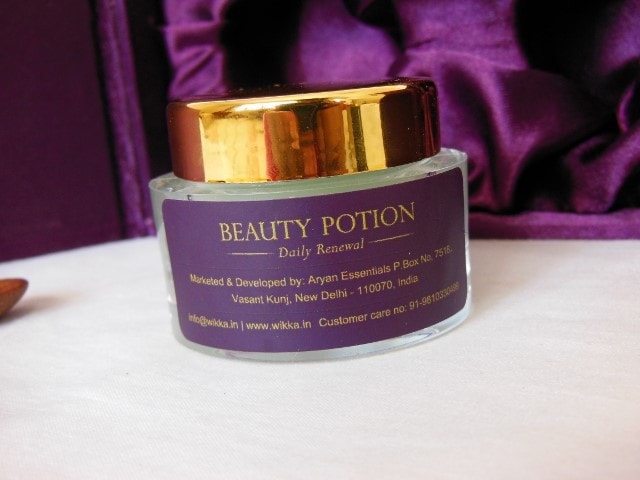 Product Claims: Its time to up the ante in the sphere of looks. WIKKAs Beauty Potion is all set to take care of that. With its rejuvenating and soothing properties, Aloe Vera along with the anti-ageing properties of Avocado Oil leaves the skin feeling replenished and exquisite. Patchouli and Chamomile German essential oils help in reducing the appearance of age spots, fine lines and wrinkles making you feel younger each day!
Directions for Use: WIKKA Beauty Potion is to be used on a freshly cleansed face. Take about a pea sized quantity with the help of a spatula. Spread it evenly on face and neck as the first layer on the skin. You can use make up over this. This is apt both for day as well as night use.
Price: Rs.1500 for 40 gms
Key Ingredients: Aloe Vera, Avocado Oil, Evening Primrose Oil, Hazelnut Oil.
Essential Oils: Chamomile German, Patchouli, Palmarosa, Rosemary.
Packaging: Wikka Beauty Potion comes in a small over shaped clear plastic jar with a screw lid. It comes with a spatula to scoop out the product from the jar but I feel a squeeze tube type packaging would have been better.
My Experience with Wikka Beauty Potion
Wikka Beauty Potion has a translucent appearance with thin gel like formula which spreads easily. It reminds me of the Votre day time moisturizer which has a similar texture. It has a strong scent because of the essential oils but it isn't overwhelming.
Formula: It gets absorbed quickly into the skin and while it is seeping through I can feel a nice cooling sensation ( which I like). It feels light and comfy on skin and doesn't get sticky or greasy unlike some of the gel based moisturizers. It doesn't leave any residue behind rather gives a soft hydrated almost Matte finish to the skin.
In summers, I loved wearing it during day time under my sunscreen for that added nourishment.
Results: I haven't experienced any significant change in skin's texture but I love how soothing it feels on skin during hot and humid temperatures. It is not a good pick for upcoming winters especially for my dry skin but if you have super oily skin and looking for a good summer time moisturizer this one would fit in nicely.
Recommendation: Wikka Beauty Potion is a light-weight gel formula which gets absorbed quickly into the skin leaving behind no residue. It gives a nice cooling sensation immediate after application which refreshes the skin and makes it a great pick for summers. Wikka Beauty Potion is priced on the higher side but if you are looking for good day time moisturizer free from all the harmful chemicals for your oily/combination skin with a nourishing formula but an almost matte finish. This one is for you. Recommended!
Rating: 4.5 /5
Have you tried Wikka Beauty Potion? Which is your favorite mattifying Face moisturizer?
PS: Product sent by brand for consideration