Matte Or Not: Faces Ultime Pro Velvet Matte Lipsticks
Hello Everyone,
Matte lipstick trend doesn't seem to die down and every other brand is coming up with their own version of matte lip color and today I will be sharing the ones from Faces, Faces Ultime Pro Velvet Matte Lipstick in "Swept Away" and "As you Like It".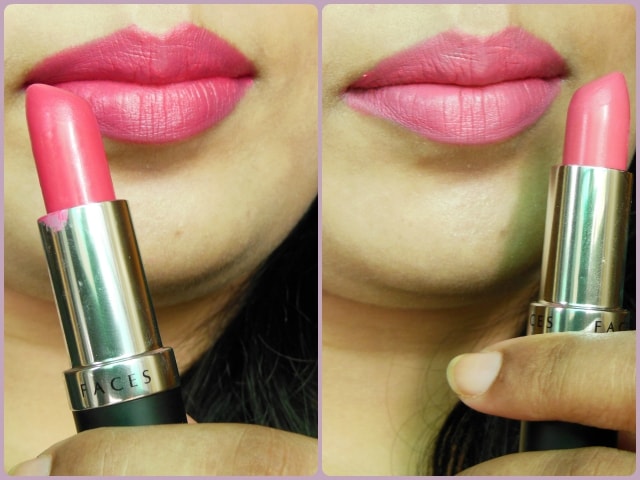 Product Claims: With 8 long hours of stay, FACES Ultime Pro Velvet Matte Lipstick is feather light, offering the ultimate sophistication to your lips. Great on performance, this collection of signature lipsticks cover your lips with pure velvet in just one go, leaving them sensual and bold.
Price:- Rs.649 for 4.5gms
Shelf Life:- 3 years from the Mfg date.
My experience with Faces Ultime Pro Velvet Matte Lipstick:-
Faces Ultime Pro Velvet Matte Lipstick comes in a black cardboard box where the bullet is house in a round black matte case with a silver band in the center. The packaging is pretty simple and nothing fancy .. read a bit boring!
Faces Ultime Pro Velvet Matte Lipstick has a satiny smooth formula which glides easily on arms but when swiped on lips it just refuses to give an even application. It emphasizes lip imperfection and will settle in fine line within minutes of application. The formula isn't matte rather semi-matte as there is slight creaminess to it and unlike usual matte lipsticks it doesn't stain and transfers like a normal creamy lipstick which is unacceptable from a Matte Lipstick. Both the lipsticks have different formula because Swept Away has good color payoff and smoother finish with almost opaque coverage but As you Like it lack pigmentation and needs multiple layers to give good color to the lips though there is still some translucency which doesn't work for pigmented lips like mine.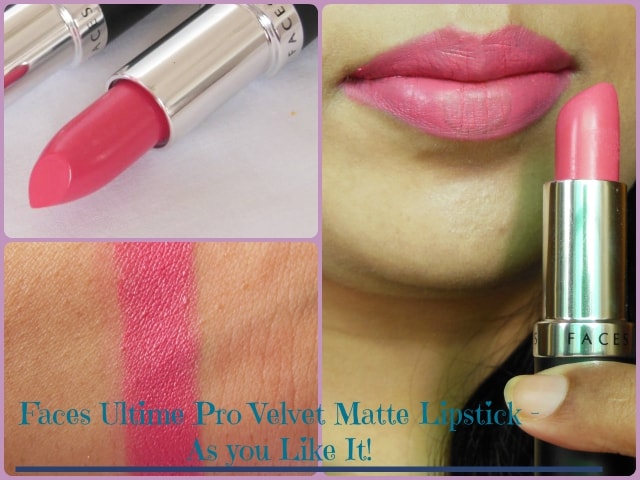 As You Like It : It is a muted cool toned pink shade with no blue undertones. The shade wont work on medium dark skin tones and will suit fairer beauties better as such color tends to wash out on darker/warmer skin tones. The shade is quite similar to the Zoeva Floral Crown shade just that it has a matte finish.
Don't Miss to Checkout: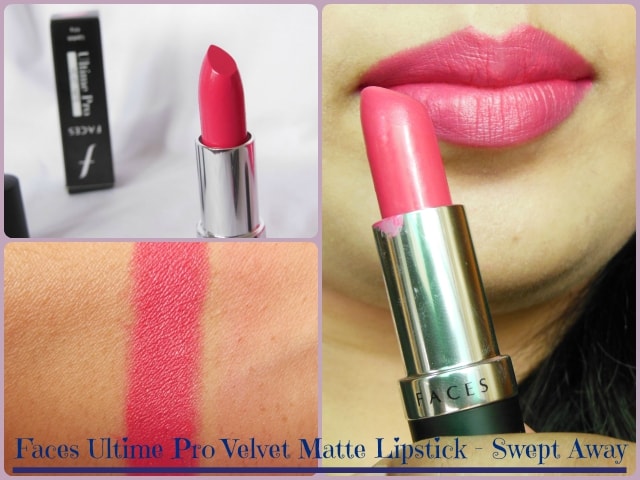 Swept Away: It is also a pink shade but with cool red tones which makes it more suitable for Indian skin tones. Swept Away is brighter than the As you like it and the shade works better for me. Swept Away applied much smoothly and evenly, though not as smooth and even as I would like. The formula also has better color payoff and stayed a bit longer on lips than "As You like It".
Recommendation:- Faces Ultime Pro Velvet Matte Lipstick collection has 12 beautiful shade and I had high expectations from these but I am quite disappointed with the formula, pigmentation and the staying power of these lipsticks. They are slightly hydrating because of the creamy texture but they give patchy finish, settles in fine lines, emphasize lip imperfections, tranfers like crazy, doesn't stain at all and most importantly doesn't have a full matte finish. Swept Away was better than As you like it in terms of pigmentation, finish and staying but I was expecting more!
Rating:
As you Like It! : 2.5/5
Swept Away: 3/5
Have you tried Faces Ultime Pro Velvet Matte Lipstick? Which is your favorite Matte Lipstick?
PS: Product sent by brand for consideration