Eye Makeup for every Occassion/Season
Eyes are one feature that never gets unnoticed and if done correctly they can catch everybody's attraction. Makeup has a great potential of enhancing our looks and with its help we can not only cover our imperfection but can look drop dead gorgeous.
I am sure, at times you would have got confused at times on what type of eye makeup you should go for or how to pair eye makeup with rest of your face.  Today I am sharing some of most amazing eye makeup types and tips on pairing them up with the whole look.
1. Monochromatic Eyes :- Monochromatic is the simplest eye makeup and rarely fails on anyone. Just swatch any single color eye shadow uniformly all over the lids and you are good to go. Make sure to go for well pigmented eye shadows that give good enough color in a single swipe. To make it look chic keep the rest of your face clean with some peachy or pink blush and an MLBB lipstick or n*de lip gloss but make sure not to pair with matching lipstick or blush as it will ruin the whole look.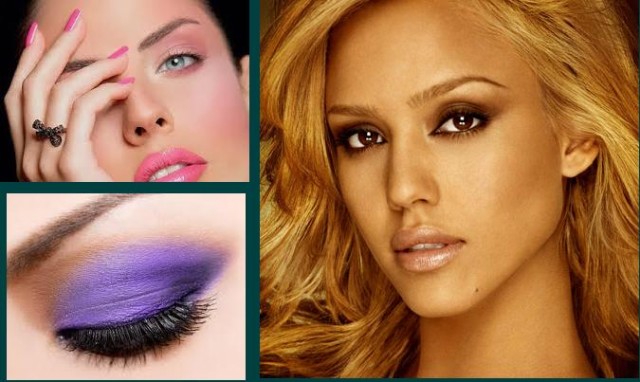 I did Monochromatic eyes using Colorbar Single Eye shadow in Spicy Brown, Colorbar Single Eye shadow Green Stroke and Maybelline Color Tattoo Eye Shadow Pomegranate Punk
2. Rosy Pink Eyes:-  Rosy eyes are perfect for day and night. This soft and sweet eye makeup brings freshness to the face and brightens it up instantly. With this feel free to play with the rest of your face as you can very well go for a matching matching pink lipstick and blush or a deep burgundy, Champagne, wine or plummy lip colors for a classy look. For subtle rosy pink eyes you can use shades of pink with a hint of red but make sure to go for slightly shimmery or pearl finish eye shadows for a better finish and the desired look.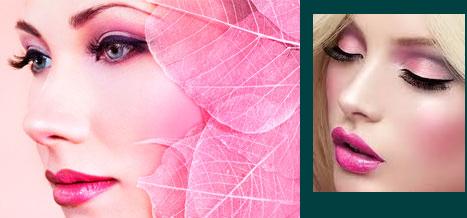 I did this Bourjois Ombre a paupieres Eye Shadow in Rose Tentation for rosy eyes.
3. Bold Eyes:- Bold eyes looks best during Spring season. Beauty of the season makes the bright colors on eyes makes stand out. Vibrant eyes paired with subtle face makeup make you look absolutely stunning with eyes remaining the center of attraction. Colors to achieve this look can be Blue, Green, Orange or Red which brings an alluring brilliant effect to eyes.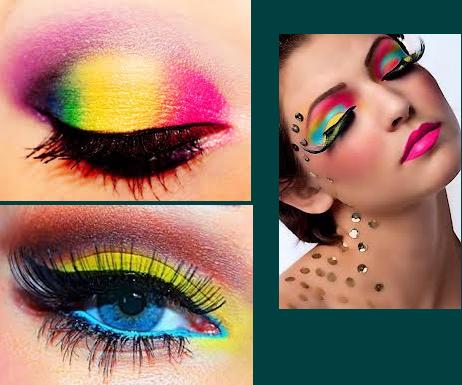 I tried this look using Maybelline Color Tattoo Eye shadow in Fierce & tangy here for bright Orange eyes. Also, used Green, Blue and Lemon shade from Inglot Eye Shadow palette.
4. Smokey Eyes:- Smokey Eyes is an evergreen eye makeup trend. You can go for Smokey eyes in variety of shades like Black, Brown, purple and even Green to name a few. Tone down the rest of the look so as keep the focus on your eyes only :). I would suggest to for light peachy-pink blush like Colorbar Peachy Rose or NYX Cream Blush in Glow and neutral lip shades like Revlon Colorburst Lipstick in Rosy Nude and Maybelline Color Sensational Lipstick in My Mahogany . Glossy lips looks extravagant with smokey eyes so , you can top n*de lipsticks with a clear gloss Or a sheer peachy nude lip gloss too.

5. Metallic Eyes:- Metallic eyes is the latest and upcoming fashion trend. One of the funkiest makeup looks which must be carried with grace and attitude to make it work for you. Metallic eyes are indeed a fashion statement but if done perfectly it will go well with both formal and casual occasions. It not only makes eyes look trendy but absolutely fabulous and breathtakingly gorgeous.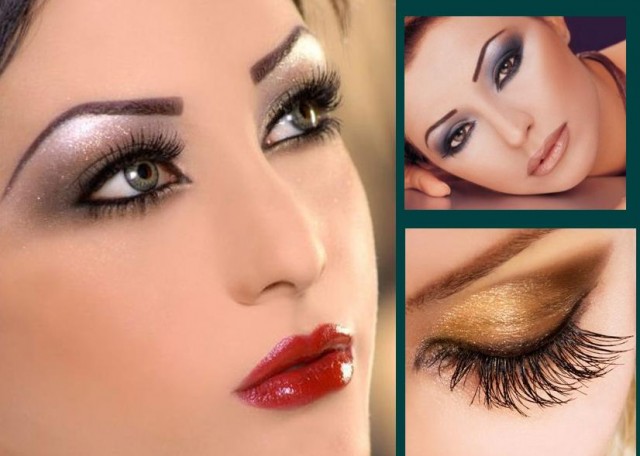 I did a shimmery Purple eye look using Maybelline Eye Shadow Quad in Lilac Mauve
For metallic look you can go for shades of copper, bronze, gold, silver. Eye shadows with metallic sheer will be good and to further enhance the look use shimmers/pigments in the similar shade and just pat them over the lids which will make the eyes pop but reserve metallic eyes for winter only and similarly just keep the rest of your face simple but clear. I still couldnt get my hands on any sort of pigments/shimmers but eyeing Inglot and Faces.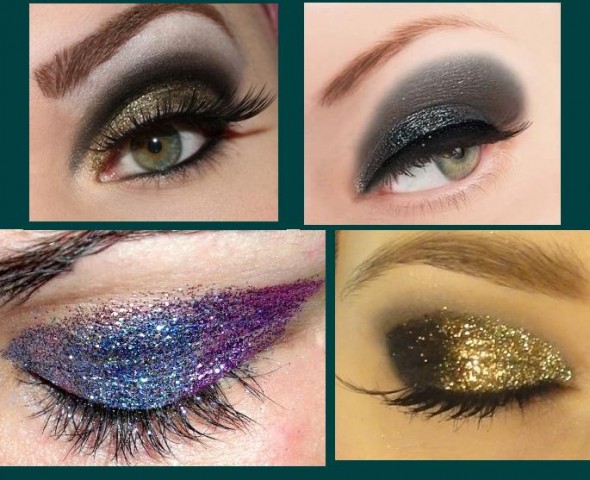 (Image Credit :- Google)

Don't Miss to checkout:
Which type of Eye Makeup would your pick? Do let me know about your thoughts through comments.