Makeup Tips: How to Apply Makeup
Today will discuss the Makeup basics and the questions that bombard in our head when we first of the term "Makeup" . There no guidelines on "How to apply Makeup" or This is the best way to apply makeup" . everybody has their own way of doing makeup. We evolve ourselves with makeup and find the techniques that works for me.
There is no defined way of doing makeup but there are some tricks you can use to get the best results from your application.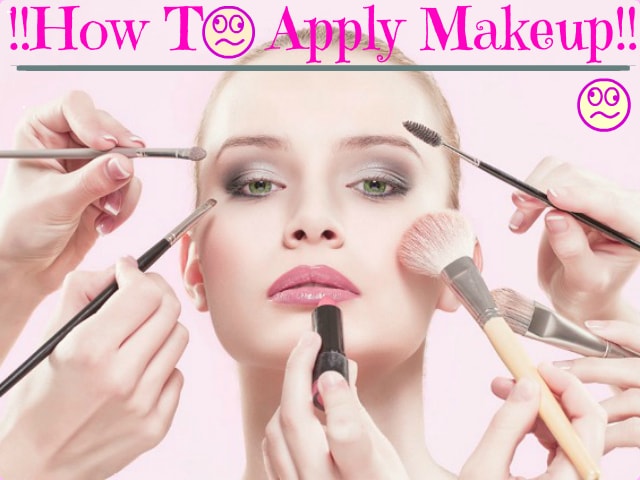 Here are 9 Tips to Apply Makeup
Prep your Face: Start with a clean moisturized face. This can be best explained with a Pizza example, no matter how amazing topping you add to the pizza, you wont like it until the base is perfect. Same goes with makeup -You can not get the makeup right if your base isn't prepared well.
Safe with Primer: This can be a ground breaking step in makeup application. Primer not only provides a smooth base for next stee by filling up any imperfections but also helps in keeping skin oils from coming in contact with foundation that leads oxidation causing it look darker. It makes the makeup last longer
Cover up with Concealer: If you have any acne marks, blemishes or any discoloration that needs extra help, dab some concealer on the problem areas before starting with foundation. Concealer will provide extra coverage and hide any imperfections on your face to a good extent.
Fake flawless skin with Foundation: After covering the trouble areas, start with your foundation. Its best to get the foundation based on your skin tone, skin type and your coverage (medium, light or heavy) requirements. You can apply foundation using a flat top kabuki brush or a clean make up sponge and blend it nicely all across your face, hairline and neck area.
Press with Powder: Once you are done with foundation application, set it with pressed or loose powder to finish off. Setting foundation with a powder give a natural look and also help it last longer on Oily skinned beauties
Blush or Bronze: You are done with your Makeup base and now its time to add some color to the cheeks with blusher. Blush should be applied on the apples of your cheeks, blended out toward the hairline. If you want to go for a sun kissed look replace blush with a bronzer but make sure you go easy on color and don't put too much color on the cheeks.
Get Set Eyes: Apply concealer under the eye areas to cover dark circles and pigmentation. You can do this step when you were covering face (Step 2) or can do it after foundation application, depending on the intensity of the dark circles. If they are light to medium you can apply concealer after foundation but if they are grave start covering them up before foundation application.
Line and Lashes:  Line your eyes with any of your favorite eye liner, apply kohl on waterline and finish off with mascara for long dramatic lashes and an open eye look. You can apply eye shadows in some neutral gold, beige shade over the lids and darker shades in corner to add depth but before eye liner application and make sure to brush away any fallout from under eye area and powder face once again to set the whole look.
Peppy Pout: Girlz with dry lips start should start with a light layer of lip balm while for pigmented lips one can use a lip base to cover up the pigmentation especially if you are planning to a light lip shade and don't want its colour to be altered Line your lips along the natural lip line and fill them up for a long lasting effect. Next, apply the desired color of the lipstick and top it up with a gloss if you going for a juicy lip look.
Don't Miss to Checkout:
It is not mandatory to follow all the steps every time you do makeup but yes doing them in this order will surely save you from unexpected makeup mishaps.  These are some Basic Makeup Steps that one can follow to achieve perfect application, hope these simple makeup application steps helps you with that 🙂
What all Makeup Steps do you follow or skip usually? Which is your favourite makeup step?