Makeup Lust List – March 2014
Hello fellow makeup addicts,
At times, I feel I need a makeup de-toxication session but the thought is as short lived as sneeze. ;). It comes and go away like it was never here. Another distraction could be blamed to all the pretty makeup launches by brands which bring me to my knees and I see myself bribing God to bless me with some of these beauties soon.
Me To God: I promise I will behave like a good girl from here on.. 😀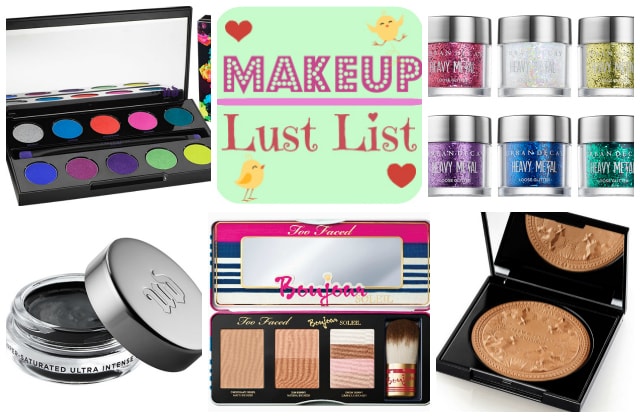 So, lets look what's Hot.. ** Super Hawwttt** in the makeup world these days.
Urban Decay Electric Pressed Pigment Palette ($49.00): It consists of ten bombastic shades with signature UD quality. The theme is all about being bold and colorful, I wanna give people Electric Shock with this UD Electric Palette
Urban Decay Heavy Metal Loose Glitter ($12.00): My love for pigments has never reached this level ever before. These are love at first sight, the superemely gorgeous loose glitters are blocking my mind at the moment
Urban Decay Super-Saturated Ultra Intense Waterproof Cream Eyeliner–Perversion Black: ($22.00) This isn't something amazing compared to the first two UD products but this paraben-free, waterproof cream liner was hard to miss for me.
Too faced Bonjour Soleil ($44) : This could be raved as one of the beautiful bronzing palette. The chocolate bronzer and golden accents makes it a delight to hold.
Givenchy Poudre Terre Exotique(£39.00): This is a part of Givenchy Croisiere Collection, a timeless beauty with its stunning three dimensional design.
Dont Miss to Checkout:
Would you like to pick anything from my Lust List? What all are you lusting for this month?