Makeup Lust List – January 2014
Fed up of being buckled up in jackets, boots and wanna shed all the weight and drape a light-weight floral printed dress and enjoy the breeze without frezzing.. wait spring is on its way just a little more. Till then let's take a look at the stuff that you might want to put on your face for that radiant glowy look.
Makeup brands keep coming up with tonnes of stuff every year, some for them are for permanent collection but lots of it are Limited Edition for every season. My lust list this month is all about the newly launched Limited Edition products for Spring's and I am sure they will sweep you of your feet.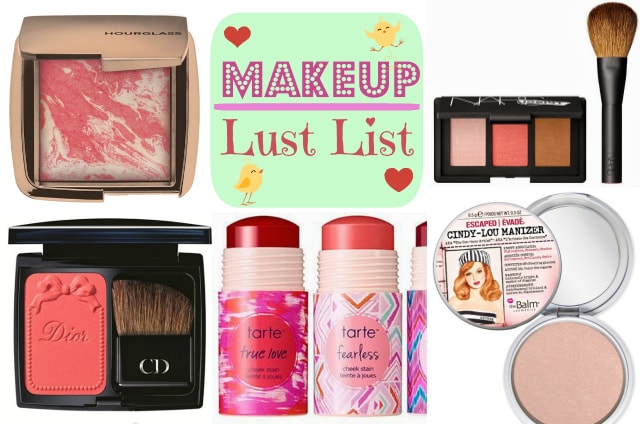 HourGlass Ambient Blushes($35): These are blushes with radiance with fabulous classy Golden packaging. Available in 6 super stunning shades. Dim Infusion, radiant Magenta and Mood Exposure are the ones that I would love have in my Makeup Bag.
DIOR Trianon Blush ($43) – These new launches from DIOR are here in two gorgeous shades Pink Reverie and Coral Bagatelle to steal the heart of all bow obsessed girls.  Not only the embossed Bow look pretty but the colors are lovely too, just look at how beautiful is this coralish orange Blush. I am hunting it dupes now.. any suggestion on the Dupe .. 😛
Tarte Cheek Stains ($30) : These come in chubby balm type packagings with colorful prints. Their striking packaging kept my eye balls rolling and I can stare at this beautifully packed cheek stains for hours. These are available in 8 fresh spring shades .. not able to decide which one I want more.. wait I would like to have them all in my armour!
NARS Narsissict Cheek Palette ($49) : The first thing that I ever came to know from NARS is it's "Orgasm" blusher. It has been all over the beauty blogosphere and have secured a definite place in the wish list of all. This time NARS made it 3 times better as they combined Orgasm in a cheek palette with beautiful Laguna and Devotee highlighter. It comes with a mini Blush Brush too which is cherry on the cake
theBalm Cindy-Lou Manizer ($24): theBalm's fascinating packaging's and amazing quality would lure you like anything and it is yet again affirmed by the newly launched Lou Manizer. I am on highlighter love these days and this Soft peachy Pink highlighter in frosted sheen will be perfect to add subtle radiance to my complexion this summers.
Basically this is the place where I will be listing down the products that couldn't resist coiong at and owing these will be no less than a dream come true… but will definitely need to rob a bank to satisfy my ever increasing makeup Lustt.. 😉
Don't Miss to Checkout:
I must have tempted you enough by now.. drooling drooling.. 😉
Would you like to pick anything from my Lust List? What all are you lusting for this month?
PS: The post was supposed to be up last month but my tight schedules didn t let me finish it on time.. 🙁