Makeup Geek Vegas Lights Palette Review, Swatch, EOTD
Hello Everyone,
Today I will be starting with the review of my first Makeup Geek Eye Shadow Palette "Vegas Lights". I have not tried any of the high-end eye shadow palettes like Urban Decay Naked series, Lorac Pro palettes, Too Faces Eye Shadow Palettes but was super excited to try this. So, lets check out how I liked this, Makeup Geek Vegas Lights Palette.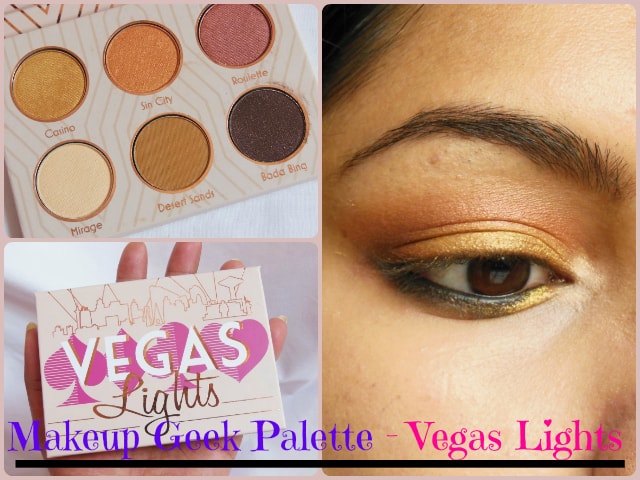 Product Claims: The Makeup Geek Vegas Lights Palette features 5 new and exclusive eyeshadows, plus our existing Bada Bing eyeshadow to provide a sultry lineup that will be winning you compliments with both your day-time and night-time cosmetic creations.
Perfect for on the go, the Vegas Lights palette closes tightly and includes a mirror. The Makeup Geek team spent quite a while designing the palette itself to be durable and elegant. It features pressed foil printing on both the outside and the inside for a subtle glow that captures the spirit of Las Vegas.
These Makeup Geek eyeshadows are made in the USA, Talc-free, and cruelty-free. Also, because we know many of our Makeup Geek fans like to depot and have pans in a Z-Palette, the Vegas Lights Palette is depot-friendly. It features a magnetic bottom that is just strong enough to keep the shadows in the palette, but giving you the ability to take them out with minimal effort and mess (no glue to hold them down). The eyeshadow pans are the same size as our standard Makeup Geek eyeshadows, unlike the smaller pans in other existing brands palettes.
The Vegas Lights Palette is a limited-time item. The eyeshadows are exclusive to this palette and are not sold separately.
About Makeup Geek Eyeshadows:
These are all highly-pigmented – just check out the swatches!
Half the price of high end shadows without sacrificing quality
All our shadows are cruelty-free — we do not test our products on animals
These eyeshadows are Talc and Paraben-Free
We ship worldwide at affordable rates
Price:-  $37.99 (6 Eyeshadows – 1.8gms each)
Packaging:- Makeup Geek Vegas Lights Palette is packed in a bright pink cardboard box. The eyeshdow palette comes in a sturdy cardboard packaging with a large mirror on the lid and a magnetic closure. The packaging is sturdy and compact which is easy to carry along.
My experience with Makeup Geek Vegas Lights Palette:-
Makeup Geek Vegas Lights Palette contains 6 standard Makeup Geek eye shadow pans with a mix of neutral warm shades and dark crease colors. The palette has a mix of finishes with 3 pearly metallic, 2 Satin Matte, and 1 matte-shimmery shade. The eyeshadow pans are held in place with magnets and can be removed easily to switch the shades in there.
The eye shadows have a silky smooth texture almost creamy soft which is easy to pick with brushes and blends in. The colors show up very well on lids and I don't feel the need to pack on the color, just few swipes and I am good to go. There is barely any fallout during application or afterwards. Also, I was amazed to see that eye shadows stayed in place without showing any signs of creasing or fading even after 6-7 hours on my oily lids and I am sure with a primer underneath they will stay easily 9-10 hours.
Eyeshadows in the Palette
Casino – It is described as "Shimmery saturated metallic gold with orange undertones". Casino is a bright yellow based golden eye shadow in superb shimmery metallic finish. The texture is buttery smooth and color sspayoff is intense. It blends in really well and can used for highlighting inner corners as well as lid color.
Sin City – It is described as "Shimmery golden apricot/golden medium orange". Sin City is a bright orange shade in frosted metallic shimmery finish. It has powery soft texture so have to tap off excess from the brush. The color pay off is good but it kinds of sheer out on blending and will require packing when used on lids.
Roulette – It is described as "A rosy, burnt shimmery sienna". Roulette is a medium copper brown eye shadow with red undertones. It has pearly metallic sheen and silky, smooth texture. The color payoff is intense like other shades in the palette. It can be used as a crease color or even all over the lids.
Mirage – It is described as "Pale matte beige with yellow undertones and a silky finish". Mirage is a light yellow based beige shade in satin matte finish. The texture is super soft almost powdery, so a lot of product gets kicked if brush is pressed hard on the pan. It works great as a highlighter shade, though it is very subtle for warm indian skintones but for soft eye looks it is perfect.
Desert Sands – It is described as "Matte, medium terra-cotta". Desert Sands is a medium almond brown shade with yellow undertones and satin matte finish. The texture is creamy soft and not powdery. I like to use it as a blending shade in the crease.
Bada Bing – It is described as "Deep brown with flecks of gold". Desert Sands is a dark brown shade with golden shimmers sprinkles in the formula. The texture is slightly stiff and the color pay off isn't as good as other eye shadows in the palette. Also the shimmers barely show up on lids but gives a barely there sheen. It is great shade for intense crease and outer-V corners or on lower lash line for a smokey look.
Don't Miss to Checkout:
Pros of Makeup Geek Vegas Lights Palette:-
Satiny Smooth Texture
Immensely pigmented
Shows up on lids without primer
Blends beautifully
Doesn't crease or fade for 6-7 hours
No Fallout
Affordably priced compared to other high-end brands
Talc and Paraben-Free formula
Cruelty Free
Eye Shadows can be depotted easily
Cons of Makeup Geek Vegas Lights Palette:-
Bada Bing has harder texture and poor color payoff
Recommendation:- Makeup Geek Vegas Lights Palette is a pretty warm toned palette with a beautiful mix of wearable shades that are perfect for a soft day time look and even for a dramatic smokey eye for an evening party look. The eye shadows have excellent color payoff and wear time is impressive as they don't show any signs of creasing or fading for long even without a primer on oily lids. The formula is silky smooth which applies and blends easily with no apparent fallout and shows well on lids. Makeup Geek is a great budget option to try high quality products and Vegas Lights makes a lovely travel palette.Recommended!
Rating:- 4.5/5
Have you tried Makeup Geek Vegas Lights Palette? Which is your favorite Eye Shadow Palette?