Make Up Academy (MUA) Extreme Curl Mascara- Black Brown Review
Today, I am reviewing my first MUA makeup product, UK based brand known for its quality and affordability. I do not experiment much with mascara's as they tend to expire soon, just 6 months from opening after which they start giving weird results. I better save bucks for other make up stuff like lipsticks and eye shadows and pick budget-brand Mascaras. If you are like me then stay tuned to read on about the affordable mascara which can change the game for drugstore mascara's in India, Make Up Academy (MUA) Professional Extreme Curl Mascara in Black.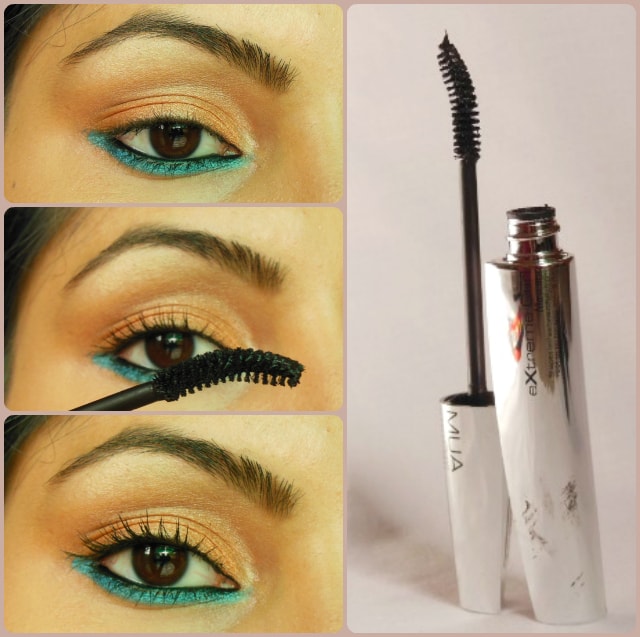 Product Claims: Extreme Curl Mascara shapes lashes beautifully from root to tip for long-lasting curl.
Ingredients:- Aqua, Acrylates, Copolylmer, Cera Alber, StearicAcid, Copernica Cerifea Cera, PVP, Clyclopentasiloxane, Dimethicone, Propylene Glycol, Trethanolamine, Xanthan Gum, Phenoxyethanol, Methylparaben, Propylparaben, Disodium EDTA, Panthenol, C1 77499.
Price:- Rs. 700 for 7ml (€2 in UK)
Packaging:- Extreme Curl Mascara doesn't come in the usual boring black tube which but in a curvy shiny silver metallic body which makes the packaging look  expensive. The packaging is light-weight, grips comfortably and can be easily distinguished from the rest of the mascara tubes, if you own a lot of them.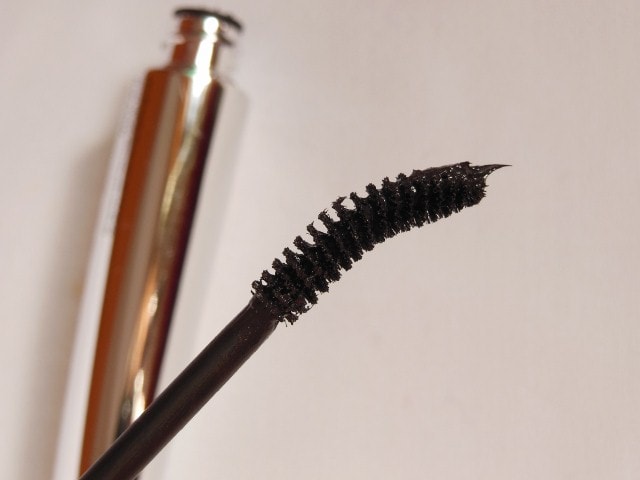 My experience with Make Up Academy (MUA) Extreme Curl Mascara:-
Extreme Curl Mascara comes with an appealing curvy wand which hugs your lashes while brushing.
I like to coat my lashes using the center of convex side of the brush (Here is a picture to help you with) while the concave edges ( brush tip) works best for coating the small inner eye lashes and the outer lashes.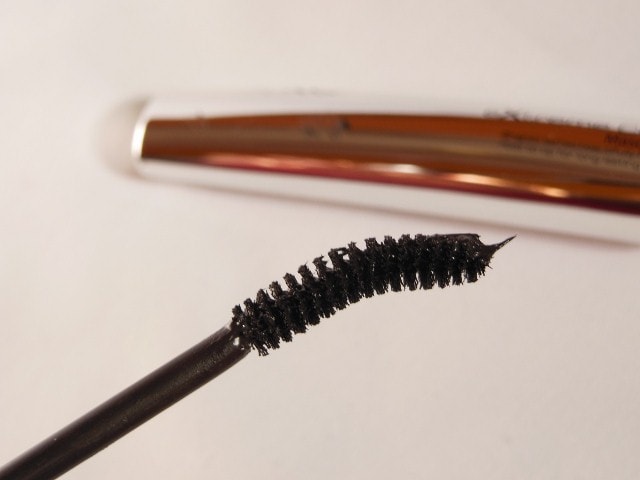 The mascara adds a good amount of length and volume in a single coat while the curved shaped wand works on curling up the lashes. If you have pretty straight lashes you might be able to achieve that curled look but on my slightly curved lashes I love the effect and doesn't feel the need of an eye lash curler.
The mascara gives quite natural looking lashes in a single coat which are best for day time wear and is my preferred way of flaunting naturally thick lashes any day but for a dramatic effect I have to layer the mascara. I require at least 2-3 coats to achieve denser, thicker and voluminous lashes.
The best part was the formula doesn't feel heavy even after 2-3 coats and is there no sign of clumped lashes too. The formula is neither too wet nor too thick and hence gives comfortable application and dries within 10 seconds of application which makes it easy to layer. The mascara does stay pretty well on my lashes and I haven't experienced any smearing or smudging ever after hours of wear.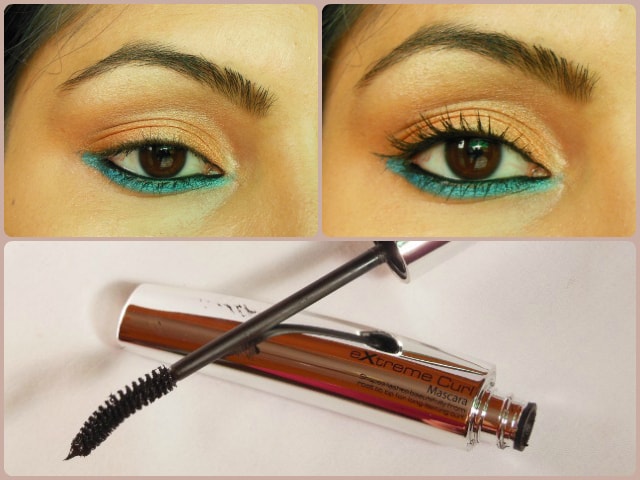 The only thing that I have to deal with while working with this mascara is the large blob of product that comes on the brush tip while taking the brush out. Shave off the excess of the sides of tube or clean up with a tissue.
Also, it doesn't melt like other mascara while washing rather flakes off from lashes so you have to be gentle on your lashes to it off completely but that somewhat makes it waterproof… isn't it.. 😉
Pros of Make Up Academy (MUA) Extreme Curl Mascara:-
Add decent length and volume to lashes
Curvy wand helps easy application
Curl lashes during application
Covers small hair on eye corners and lower lashes
Natural looking lashes in single coat
Dries pretty fast
Layers easily
Doesn't clump up my lashes
Doesn't smudge or transfer
Doesn't  melt on splashing water
Affordably priced
Quality is way better for the price paid
Stylish shiny silver packaging
Cons of Make Up Academy (MUA) Extreme Curl Mascara:-
Doesn't hold curls for more than 4-5 hours
Not waterproof (That actually a pro for me as I prefer non-waterproof mascaras)
Limited Availability in India, only online that too at exorbitant prices
Comes in only one shade – Black
Won't give false eye lashes like effect
Recommendation: Make Up Academy (MUA) Extreme Curl Mascara has got a unique curved wand which work on curling your lashes while adding a little length and making your lashes appear darker and denser. The formula is excellent which applies nicely, doesn't clump, dries quickly and can be layered for achieving voluminous lashes with feeling uncomfortably heavy. Overall, I feel quality and packaging with this mascara can be compared with any other high-end brand. The mascara is worth more than what it is priced at. I really enjoy using this mascara and if you also like more of naturally looking lashes I am sure you will be impressed with this one. Recommended!
Rating:- 4.5/5
Have you tried Make Up Academy (MUA) Extreme Curl Mascara? Do you prefer dramatic or natural looking Mascara?