MAC Matte Lipstick – Candy Yum Yum Review
I have been always lusting for MAC lipstick and topping the charts is MAC Matte Ruby Woo, though I couldn't lay my hands on that bright tomato red shade but today I have another matte bold pink shade to share with you, MAC Matte Lipstick in Candy Yum Yum.. such a yummy name 😉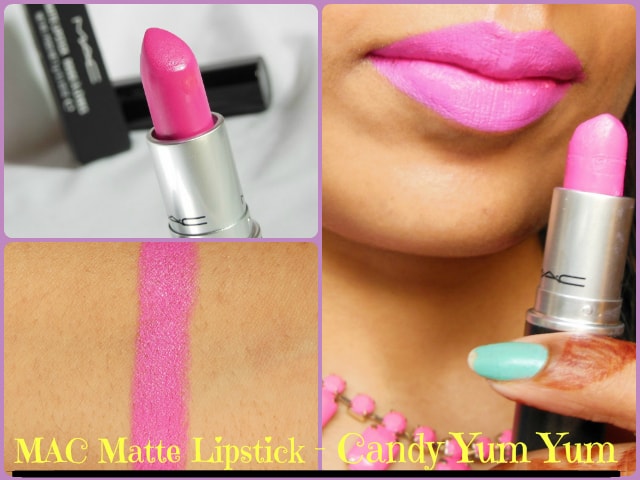 Product Claims: "The Lipstick dreams were made of" is back so you can get your fix of the vibrant, matte pink of Candy Yum-Yum. The colour most coveted by Makeup Artists and enthusiasts alike in M∙A∙C By Request is now available to you permanently. Enjoy!
Price:- Rs.1490 ( Again Hiked… 🙁 )
Shelf Life:- 3 years from the Mfg date.
Packaging:- Candy Yum Yum lipstick was initially a limited edition shade but now it part of permanent line, so it comes encased in a black cardboard MAC packaging with a cute egg-shaped cap. The shade and finish details are pasted at the bottom of the packaging but there is not indication of color from outside, so if you have more than one (like me) you are going to have a tough time locating the shade.
My experience with MAC Matte Candy Yum Yum Lipstick:-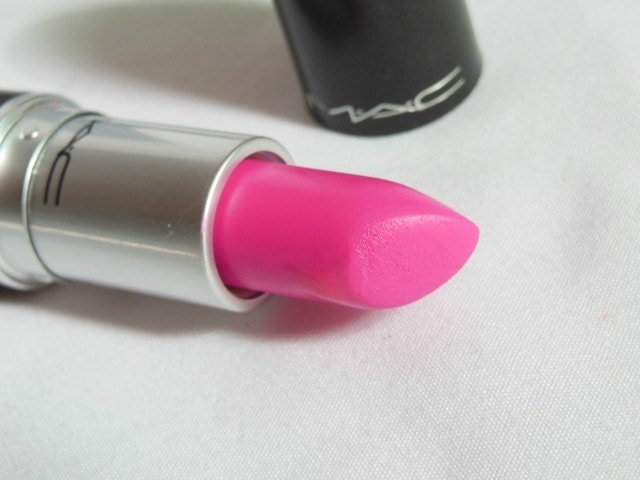 Shade: Candy Yum Yum is a bright, bold neon pink shade with strong blue undertones in matte finishThe shade is not very flattering on warm Indian skintones as its blue tones works better on cooler skin tones  but if you love attention grabbing shades, then you must have it in your kitty. Just the lip color may make you look washed out and out of place so, its best to wear this shade with well defined eyes and a peachy blush to balance the color on face.
Texture: Being Matte formulas the consistency is not creamy soft but it glides smoothly across lips without any tugging or pulling. The finish goes a bit flaky and uneven on dry lips but with prepped lips it applies smoother.
Pigmentation:  Candy Yum Yum is incredibly pigmented and provides rich and intense color coverage. There is no issue with getting opaque color coverage which covers pigmented lips completely but lip pigmentations tends to alter the shade a bit, transforming it to a deeper pink as it starts to fade off, after 5-6 hours of wear time.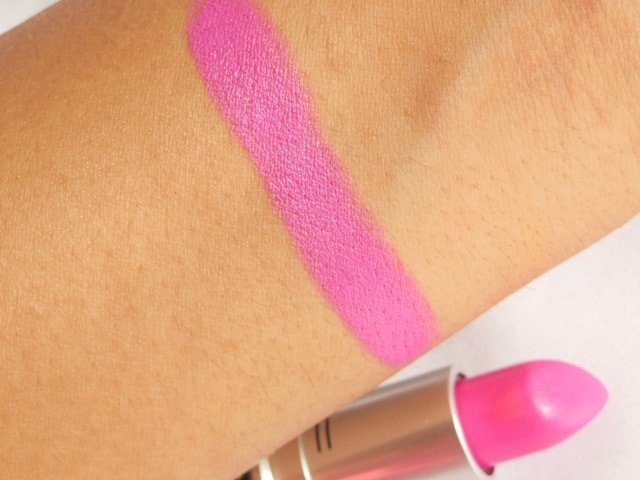 Staying Power: Candy Yum Yum is a long-wearing and it easily lasts 6-7 hours on me and leaves deep pink stain behind. It doesn't feel particularly drying on me but it can be somewhat unforgiving if you have drier lips as it will catch on any dry flakes and emphasize all the imperfection on lips.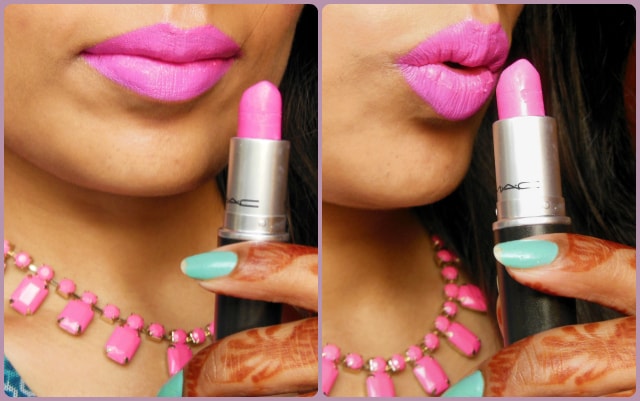 Pros of  MAC Matte Candy Yum Yum Lipstick:-
Neon Bright Pink shade for bold lip lovers
Glides on smoothly
Richly pigmented
Full cover coverage
Sets to a transfer proof finish
Stays on for whole day
Rich staining formula
Sturdy and travel friendly
Cons of  MAC Matte Candy Yum Yum Lipstick:-
Shade is not for everyone
Settles in fine lines
Need to exfoliate lips for a smoother application
No Shade indicator
Recommendation:- MAC Matte Candy Yum Yum Lipstick is an electric magenta pink lipstick in matte finish which not everyone will like or be able to pull off. The shade is looks super neon on lips and on warm Indian skin tones it can easily look washed out so one can't afford to miss on makeup base. The matte formula clings to lips and catches any unevenness or flakiness which forces me to prepare my lips well before slapping this shade on lips. It goes on smoothly on lips, super pigmented to provide complete coverage, long–wearing formula and staining pigments which makes the color last whole until removed with a oil-based makeup remover. I love this Neon Pink in my stash, brightest pink I have ever had :D. Recommened only for Neon pink lip lovers <3
PS: Please excuse those pimple scars on my cheeks.. 🙁 
Rating:- 3.8/5
Have you tried MAC Matte Candy Yum Yum Lipstick? Do you dare to flaunt such blod pink shades?