MAC Lustre Lady Bug Lipstick Review
I have been bitten by the MAC bug and haven bee hoarding quite a lot of MAC lipsticks just o see if they are worth the hype .. ( okayy I really wanted to add some MAC lipsticks in my stash no matter what.. :P). So the one I am reviewing today is MAC Lustre Lady Bug Lipstick 🙂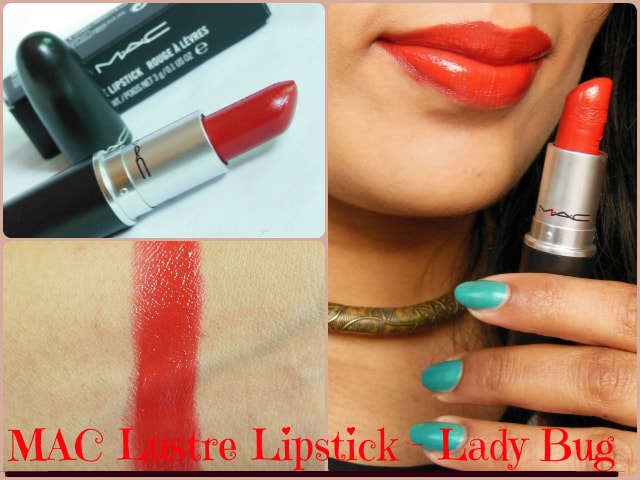 Product Claims: Colour plus texture for the lips. Stands out on the runway. Simmers on the street! What made M·A·C famous.
Price: Rs 1190 for 3 grams (Now hiked to Rs 1390 🙁 ). 
My experience with MAC Lustre Lady Bug Lipstick: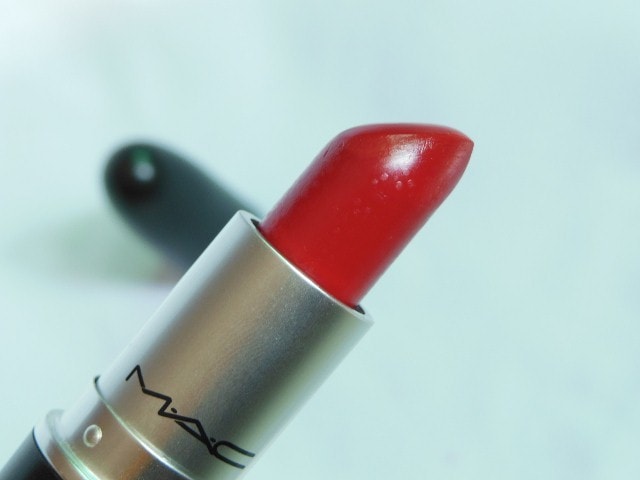 Shade: Lady Bug is a gorgeous warm red shade with subtle orange tones. It is not a bright and Red shade that will be difficult to pull off but a wearable red that would suit almost everyone. It might look brighter on fairer skin tones but on warm indian skin tones it makes a lovely red shade. The formula is shimmer free but has super-glossy finish which imparts a watery-glossy shine to lips.
Formula: It has buttery smooth texture, quite prone to melting in summers so you might need to store it in refrigerator. It glides.. actually slips easily on lips giving a smoother and even application. The formula is extremely moisturizing to lips so dry lips victims are going to be amazed by the fact at how smooth their lips look with this shade.
Pigmentation: Being a creamy finish it is not as opaque as other MAC lipsticks like Matte or Satin finishes and rather has buildable coverage. It goes quite sheer in a single swipe, great if you are looking for a hint of red on lips which can  be built to an almost opaque coverage with 3-4 swipes. It doesn't feel heavy or cakey even with so many swipes and love the way it covers my pigmented lips.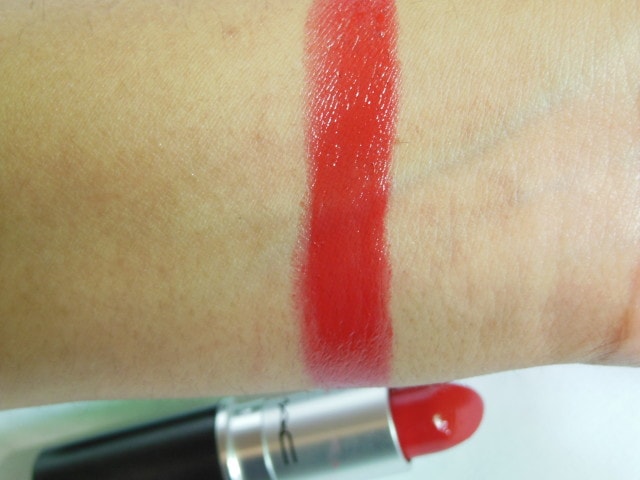 Staying Power: This is the only department where I feel this could have been better but wasn't actually expecting such a creamy lipstick to last forever on me. The lipstick last for 3-4 hours on me with snacks in between and after that only a red tint remains on lips.
Pros of MAC Lustre Lady Bug Lipstick:
Wearable red shade
Light weight formula
Glides smoothly on lips
Imparts a glossy shine
Doesn't feel or look cakey
Moisturizing to lips
Lips appear smoother
Buildable coverage
Cons of  MAC Lustre Lady Bug Lipstick:
Doesn't last for long
Sheer coverage in single swipe
Heavy on Pocket
Bleeds a bit post meals
Recommendation: MAC Lustre Lady Bug Lipstick is a super creamy lipstick with supreme shiny finish in a pretty wearable orangey Red shade. It feels amazingly comfortable on lips and gives that fake smoother looking lip look. The formula is moisturizing to lip but owing to its creamy texture the shade is prone to slipping around lip corners and fades quickly post snacks or meals. It has buildable coverage which covers lip pigmentation in 3-4 swipes. So, overall a great buy for dy lipped ladies but if you are looking for long staying lipsticks this is just not for you 🙂
Rating: 3.7/5
Have you tried MAC Lustre Lady Bug Lipstick? Do you like glossy or matte finishes in Red?